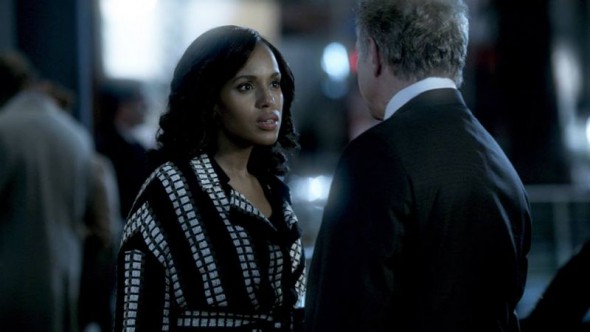 Season 7 just started for Scandal, and no one could've predicted we'd be where we are at now when the show first started in 2012. There are rumors that this might be where the story ends for the show, and we're finding it a little difficult to imagine TV without Olivia Pope and her smart group that combats political disgrace. Amidst all the current drama and plot twists, we've come up with our favorite fan theories about the show right now.
1. Olivia and Captain Jake
There is speculation that Olivia might rekindle her romance with an old flame. When actress Kerry Washington revealed that her character's future with former President Fitz would fizz out somehow this season, people started thinking of whom Olivia might end up with. We're thinking of actor Scott Foley's character, the same one that spied on Olivia so long ago only to fall in love with her. Jake is now married to Elise Martin, but that's never stopped anyone in the show before. And while they might be better as friends, there's something about Olivia and Jake that's just not completely resolved yet.
2. Fitz will die in the end
Another fan theory we're a little worried about is that of Fitz dying at some point. We're fairly certain that Olivia and Fitz are not going to end up together, and this might be because Fitz will not be alive for that to happen. The former POTUS will have a bittersweet ending. Some fans believe that he will finally figure out his position and relationship with Olivia, declare undying love and devotion, and shortly thereafter be killed somehow.
3. Olivia will be pulling the strings
Now working as the current president's Chief of Staff, there are fan theories that at some point during the season, Olivia will assume her most powerful position yet and somehow end up holding the reins on the presidency. Her working relationship with President Mellie Grant is vital to Olivia's position, and Olivia knows just how to properly influence even the most influential people. We'll see how Olivia pulls this off, but we don't doubt even for a second that she could.
4. Olivia is pregnant
One crazy fan theory claims that Olivia is actually pregnant. Whether she knows this now in the season or not is irrelevant, but when it's revealed to us all, it'll be a shock. We're thinking that the baby Olivia aborted last season was actually Jake's baby, and we think that we'll get a repeat of a pregnancy, but this time it'll be Fitz's baby. Fitz will find out about his baby with Olivia, declare undying love and devotion to her, be killed somehow, and then Jake will end up stepping in to care for Olivia and her baby with dead Fitz. Ridiculous, but it somehow makes sense in this show.
5. Mellie and Marcus will go public
Somehow this relationship will be leaked into the media, and it will cause a massive discord among the citizens of the nation. The rising racial tension will lead to a massive chaos putting Mellie and Marcus' relationship right in the middle. Actress Bellamy Young already hinted about her character not being safe, so we're thinking that one citizen or someone she's working closely with might take it to the next level and actually attempt a presidential assassination. Maybe Mellie will be the one to end up dead after all instead of Fitz. We'll find out soon enough, but we're still truly hopeful that no one ends up dead by the time this season or series ends.
Save
Tell us what's wrong with this post? How could we improve it? :)
Let us improve this post!