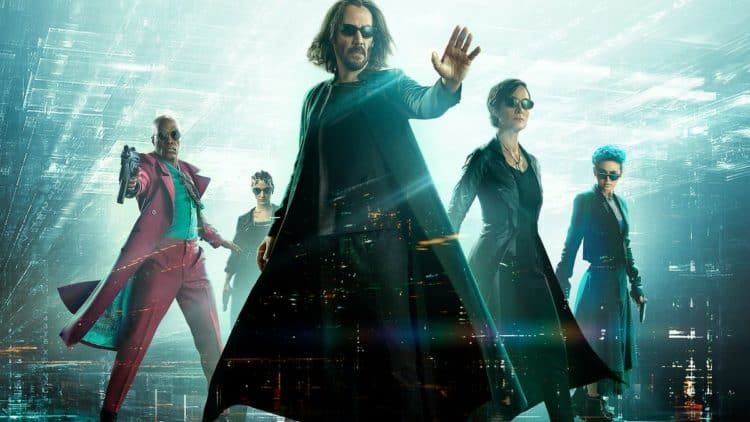 For the first time since 2003, Keanu Reeves returns as Neo, who must go back into the Matrix, which is stronger and far more dangerous than ever before. Carrie-Anne Moss and Jada Pinkett Smith also return to their starring roles of the world that once changed the rules of action and sci-fi forever. This article will list the five excellent movies that feature the cast of Matrix Resurrections. As always, animated features are exempt, as well as the first Matrix film and the entire John Wick franchise (FYI, those are awesome, and you should watch them still). Let's get started with the first film.
Memento
If there's only one Christopher Nolan film that you have to see then it has to be Memento. This mind-bending and twisty neo-noir stars Guy Pearce as Leonard, who's tracking down the man who raped and murdered his wife. The problem? Leonard suffers from a rare and untreatable form of memory loss, making his mission to locate the sadistic killer even harder. That ending! Memento is mostly remembered for the incredible twist ending; however, an excellent ending doesn't elevate a terrible movie. Memento gets more compelling as each of the clues are located, and Nolan does a tremendous job of directing such a complex piece without ever confusing the audience. What also makes Memento stand out is the cast of characters; Carrie-Anne Moss playing the femme fatale is brilliant! Natalie's actions and motivations are unpredictable, adding a necessary layer to an already complex film. Guy Pearce is great as the lead. His performance feels genuine and real because the actor was clearly immersed into the character of Leonard; however, the role also requires an important level of nuance and subtlety in his performance, something the actor nails with ease.
The Trial of Chicago 7
In this thought-provoking true story featuring an all-star cast, The Trial of Chicago 7 recounts seven people who were charged by the federal government, which stems from the chaotic protests that took place at the 1968 Democratic National Convention in Chicago. Aaron Sorkin does what he does best here, which is penning a compelling narrative that's already a juicy topic to begin with. Each of the core cast members are at top form here, especially Sasha Baren Cohen's Abbie Hoffman, who brings a raw and earnest performance to his role. The Trial of Chicago 7 may have a slow beginning, but those moments help to build up to a strong climax that will surely have you cheering for the good guys.
Gone Girl
This clever little drama sees writer Nick Dunne on the frantic search for his glamorous wife Amy. As the investigation grows deeper, Nick becomes the prime suspect in her disappearance. The negative media portrayal and police pressure forces Nick to scramble and find his loving wife, who has some dark secrets of her own. Writer Gillian Flynn does a superb job weaving the tricky plot seamlessly and David Fincher's strong direction provides gorgeous visuals and stunning performances. One of them is Rosamund Pike, who plays the cunning and sly Amy Dunne with gusto. The story asks Dunne to channel different emotions throughout the feature that could've resulted in Amy coming off as a cartoon character; however, Pike manages to keep her character grounded by never going over-the-top and perfectly conveying the tone that the film is going for. The ending may be a depressing reality; however, it does an excellent job of hammering home the message that the Gillian Flynn is trying to convey.
Set It Off
While the theme of good girls gone bad is nothing new, F. Gary Gray manages to elevate the source material and performances of the core cast of Set It Off. The film follows four friends who are dealing with financial hardships in their lives, so they end up robbing a bank. The success of their first robbery propels the group to continue stealing, though the stakes become higher with each attempt. The chemistry between Vivica A. Fox, Kimberly Elise, Jada Pinkett, and Queen Latifah is strong and the characters of all four women are well developed. Set It Off is able to make you laugh, cry, and tug at your heart strings without trying to manipulate its audience or bashing them in the head with its social themes.
Monster
This shocking story based on true events follows Florida prostitute Aileen Wuornos, whose life takes a turn for the worse after sees kills one of her customers. Aileen tries to get out of the prostitution lifestyle altogether; however, when she's unable to support herself and girlfriend Selby then she falls back into her own ways. More John Doe's die along the way, and Selby thinks that her lover may be the woman responsible. It's stunning how much Charlize Theron transforms in the role of Aileen Wuornos as the actress embodies the monster that's being portrayed. More importantly, Patti Jenkins is able to tap into the human side of Wuornos and explore a damaged and tortured soul. Christina Ricci is always great in her role as Selby Wall and helps balance out the humanity of the monster portrayed. A fascinating character driven story anchored by amazing performances.
Tell us what's wrong with this post? How could we improve it? :)
Let us improve this post!