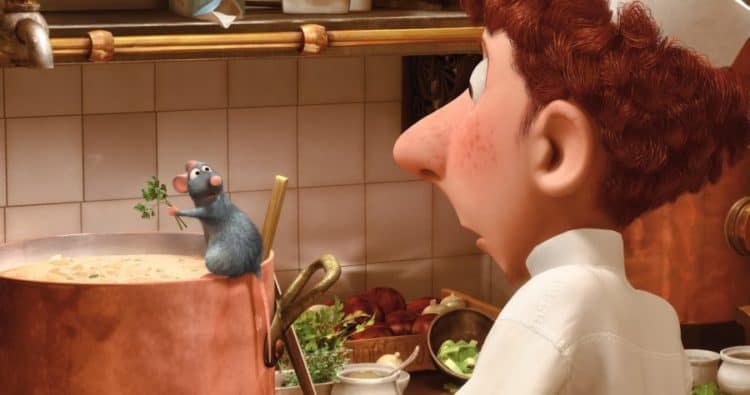 Contrary to the way people view them in everyday life – as pests and carries of disease– rodents have long adorned animation studios. Maybe it is because once you get up close with them, mice and rats can actually be rather cute. With furry faces, little noses and droopy eyes, as well as their natural underdog status in a world that has no time for them, animation gives us the opportunity to imagine them as under-trodden and misunderstood.
Their small size also helps to create a sense of scale – crucial to animation's sense of wonder – with the tiny creatures often dramatically contrasted against huge human-like surroundings. To celebrate the power of mice and rats in animation, we have created a list of five essential rodent-based tales for you to read below. What is remarkable about all five tales is that they are all from different animation studios, showing that mice and rats know no bounds when it comes to animated tales. Read on below to see what we have picked. Disagree with our choices? Let us know what you think in the comment section.
Flushed Away
This Aardman and Dreamworks collaboration takes us inside a London-like city in a sewer known as Ratropolis. Our protagonist is Roddy St.James, a upper class pet rat who lives in a Kensington Flat. He lives a cushy life until he gets flushed down the toilet and ends up in a world made up entirely of discarded junk. This fish-out-of-water-tale explores how he navigates this world, which is under threat from The Toad who wants to eliminate all rats in order to make room for his many offspring.
It's completely computer animated as opposed to using Aardman's traditional stop-motion techniques – a choice made because using water in stop-motion tales is complicated. While perhaps not as entertaining as the Wallace & Gromit or Shaun The Sheep films as a result, it is still an entertaining ride, especially thanks to the all-star voice cast that includes Hugh Jackman, Ian McKellen, Kate Winslet, Jean Reno, Andy Serkis, Bill Nighy, Shane Richie and many others.
Ratatouille
Easily my favourite movie on this list and an easy contender for one of the best films of all time. It features a concept so simple it is remarkable nobody thought of it before: the tale of a rat who dreams of being a chef, so moves to Paris to realise his destiny. Of course, rats are not meant to be chefs, the film exploring how he combats prejudice with through sheer force of will, human collaboration, and a large amount of ingenuity.
The message is that while not everyone can be a chef – after all, some people are just more talented than others – a chef can, conceivably, be anyone, including a small rat. The defence of this concept is excellently rendered by the hitherto snobby food critic Anton Ego, who eats the titular dish before championing the contribution of this rat to Parisian food culture. Here director Brad Bird uses the rodent trope as a means to explore exceptionalism, and what happens when the surrounding culture can't see talented creatures for what they do rather than who they are.
The Tale of Despereaux
Rats and mice are historically not friends. The Tale of Despereaux, which takes place in the Kingdom of Dor, puts the two rodent subgroups in different towns. There is the well-ordered town of Mouseville – where the mice are taught to cower and be afraid – and the chaotic, sub-dwelling where the rats live. But neither the mouse of this tale, Despereaux, or the rat, Roscuro – who like Remy from Ratatouille, is enamoured by food – wants to be defined by who they are.
Teaming up when the princess is in trouble, their unlikely companionship proves that rats and mice aren't so different after all. Considering that its based on a book written in 2003, its unfair to call it a Ratatouille rip-off like many critics did at the time. Additionally, its concerns regarding the importance of courage in the most difficult of situations is a different yet worthwhile take on inter-species relationships.
Fantasia
You can't really talk about mice in animation without mentioning the most iconic of them all: Mickey Mouse. He is basically the face of Disney itself, and the reason that it is nicknamed the "House of Mouse". Considering the tens of shorts and various feature-length animations that Mickey Mouse, with his characteristically large ears, has appeared in, we could've picked any number of films here.
We have picked Fantasia as it really showcases the pure power of animation in a way rarely bettered before or since. It is a series of eight animated segments, all set to classical music, ranging from Pyotr Ilyich Tchaikovsky to Igor Stravinsky to Ludwig van Beethoven. Here the fantasy world of great 19th century classical music meets the full possibilities of the animated form, resulting in some of the most indelible musical sequences of all time. Created as a Mickey Mouse-comeback vehicle, it certainly achieved that and then some.
An American Tail
Created by Don Bluth, An American Tail uses the mouse concept to explore Jewishness and emigration. Its set in 19th-century Ukraine, where the Mousekewitzes, a Russian-Jewish family, decide to set off for the USA as there are no cats there. Released just after Disney's own The Great Mouse Detective, its a fascinating downbeat parable about the immigrant experience and what it means to be Jewish in a foreign country.
Executive produced by Steven Spielberg, it thrillingly brings New York to life around this time, and the opportunities and pitfalls that the city brings. Our hero Fievel (Phillip Glasser), with his great big floppy ears and can-do spirit, may undergo much harder difficulties than any of the other rodents on this list, but he is a truly compelling character and fascinating symbol of the immigration experience. It was followed by three sequels: Fievel Goes West, The Treasure of Manhattan Island and The Mystery of the Night Monster.