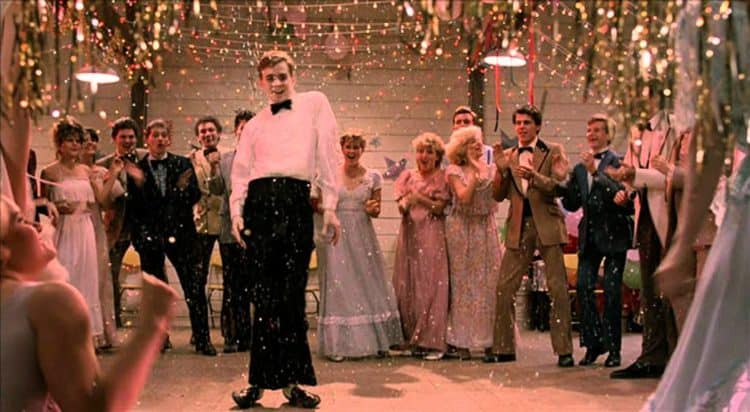 Kevin Bacon has a ferocious work ethic and a movie career so long and varied that our favorite movie game was spawned in his honor. Movie buffs challenge each other to find the shortest number of links between an actor and Kevin Bacon based on shared movie appearances to find the actor's Kevin Bacon number. September 2nd was International Bacon day, so to celebrate we have compiled a list of his top 5 movie scenes. With a career so prolific it was nearly impossible to narrow the list down to 5 performances but here are five worth noting:
1. Footloose: The Dance Scene
In 1984 Bacon stole our hearts in Footloose, the iconic film of the 80s, and secured his standing as an actor with leading man credentials. The film's premise is that of a young city boy who moves to small town America to a town where dancing is banned. Part romance, part buddy movie and part coming of age story the film explores Bacon's journey. And of course there's dancing. In recent years Bacon has revealed how disappointed he was that a dance double was used for parts of the iconic anger dance routine in the warehouse. The scene builds as a young man grapples with working out his feeling in the oppressive small town into an impressive gymnastics routine.
2. The River Wild: I'll Kill you Wade
In River Wild Bacon stars opposite Meryl Streep in a thriller about an American family on a white-water rafting vacation and become entangled with two violent criminals. In the scene Wade, played by Bacon exudes a terrifying menace. Streep looks at him coldly and tells him she's going to kill him. Bacon grins, takes a cool slug of his beer and says unemotionally "I don't think so".
3. The Woodsman: Alone in the Woods with Robin
The title of the film references the woodsman in Little Red Riding Hood who must kill the wolf to save the child. In the film he plays the most disturbing, yet oddly engaging character of his career. Bacon plays a paedophile who has returned home after a 12-year stint in prison for child molestation. In the heart of the film and of this powerful scene is his struggle to return to society. Robin, aged11 approaches him in alone in the woods and the exchange is terrifyingly creepy and ominous. Bacon manages to produce a multi-layered performance that is also heartbreakingly tragic and seeing the pain Robin is experiencing at the hands of his father he's forced to confront his darker self.
4. Mystic River: Is that my daughter?
A childhood tragedy has overshadowed the lives of three men when fate brings them back together. Mystic River is directed by Clint Eastwood Mystic River and stars Sean Penn and Tim Robbins alongside Bacon. Bacon plays the detective (Sean Devine) who investigates the murder of Jimmy's (played by Sean Penn) daughter. Dave (Tim Robbins) is implicated and tragedy inevitably ensues before he is cleared. The film is a haunting masterpiece and the scene represents Bacon at his most restrained. Confronted with his one-time friend's anguish we see his heart is being ripped from his chest and all the time he's making a detective's calculations.
5. X Men First Class: Sebastian Shaw the Grenade Scene
Bacon played Sebastian Shaw in X Men First Class, the fifth instalment of the Marvel franchise. "That's the boring part, the fun part is what I can do with it" Shaw played by Kevin Bacon intones to Colonel Robert Hendry (Glen Morshower). He casually takes the grenade, detonates it and demonstrates his ability to absorb energy. That pretty much sums up the approach Bacon took with the role. Throughout the movie he is clearly enjoying his function as suave socio-path hell bent on total world domination.
Tell us what's wrong with this post? How could we improve it? :)
Let us improve this post!