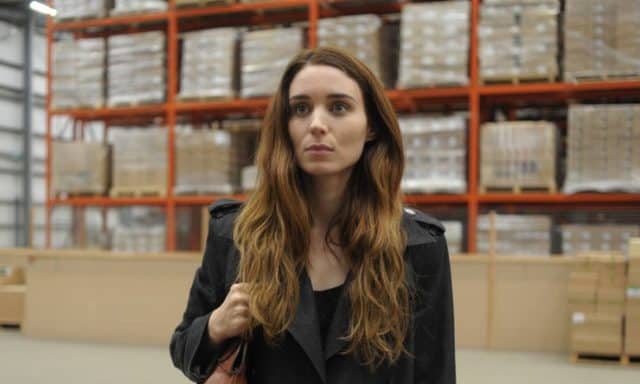 Every time a film about something taboo comes out, it's hard not to get interested. It's a big challenge to tackle difficult subjects, but with the release of the Una trailer, it seems clear that director Benedict Andrews has achieved something quite remarkable.
Stars Rooney Mara and Ben Mendelsohn can be seen in various clips of recent events and what looks like flashbacks. Mara plays the title role Una, a young teen who ran away with an older man Ray as played by Mendelsohn. It soon becomes apparent that Una and Ray had some type of relationship. It starts of feeling like a father and abandoned child dynamic, but as the trailer plays on, you begin to understand that it was way more twisted and messed up than plain abandonment.
We realize that Una and Ray must have had some type of sexual or emotional relationship while Una was still way, way under age. We hear their heavy-handed banter and we can't help but think to ourselves, "What in the world happened between these two?" From the trailer, we get the idea that the two were somehow separated, possibly by Ray's imprisonment. The trailer begins as we see Una searching for Ray and ultimately finding him. This psychosexual drama takes the story of good old Lolita and transplants it into the modern world.
Midway along the trailer, we realize that Una is still somehow attached to Ray either emotionally or sexually. Even though Una is of age now, Ray now has a wife and family and had hoped to move on from his previous life. At one point, he exclaims to Una that he was "messed up," and indeed he was. We don't know for sure what Una's motives were for trying to find Ray, but it looks like it's going to be one messy and emotionally drenching situation that both of them will have to deal with.
Rooney Mara has had strong performances in many films, but this one is looking to top her game. Alongside other indie veterans such as Mendelsohn and Riz Ahmed, who plays Ray's coworker and a possible love interest for Una, this film is already off to a great start. The trailer leaves you with a heavy feeling of guilt knowing that something happened to young Una that shouldn't have. You feel this even though you don't know the bulk of the story yet because of Mara's convincing and haunting performance.
We can't even begin to hate Ray's character because we also immediately see how haunted and damaged he was from the things he did in his early life. Una is based on David Harrower's Tony Award-winning play Blackbird. It's supposed to be based on real-life stories, but we don't need to hear any of that to appreciate the depth and darkness of this movie. Una is set to open on October 6 in New York theaters and October 13 for Los Angeles. We're not sure if the film will get a wide release, but we're certainly hoping it does.