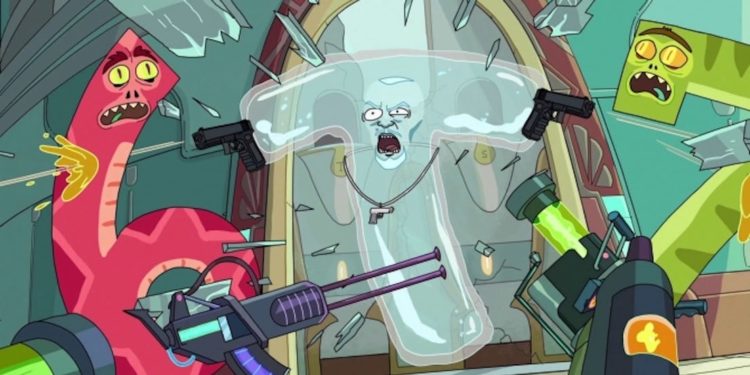 Capturing every side character and describing them when it comes to Rick and Morty might seem like a daunting task so we're going to stick to the ranked top-5 at this time. Since the show came back for a season 3 as fans are psyched and no doubt ready to go nuts at the nearest McDonald's for some more of that special but discontinued Mulan sauce that caused such a stir last season. Apart from that it will be time to welcome back a lot of the characters that Rick and Morty have interacted with over the past two seasons, including some that people might have thought were dead but might actually still be around. After all this is Rick and Morty we're talking about, the penchant for ridiculousness is abnormally high with this show and that could mean that anything and anyone could possibly pop up at any second.
Here's the top five characters as they stand right now.
5. Butter – passing robot
You wouldn't think that a robot like this would be much of a side character since to be honest there's not a lot to it, but in Rick and Morty there's such a propensity for silliness that it's kind of become one of the core principles of the show and the reason why people seem to like it. Even the robot doesn't seem to know what to think when it starts to realize just what it's purpose is and that there's nothing else for it to do since Rick is the kind of guy that will invent something for a singular purpose and then tell whatever it is to just get over it. Yeah, this character doesn't seem like much but it definitely fits the overall theme of the show.
4. Squanchy
This seems like one of the most compatible characters that Rick gets along with and it works on so many disturbing levels. This cat is just flat out disgusting and is the kind of character that you might expect to do pretty much anything. He's got a few different qualities from other cartoons that you should be able to see but overall he's his own distinct character and there's a lot more to him than you might think. In fact you might go so far as to say that he's the crazy, nutty friend we've all had at least once in our lives that we're glad to be rid of when the time comes. Yeah, he's that bad.
3. Mr. Meseeks
Mr. Meseeks are kind of like the perfect servants, so long as you know how to use them and don't get too complicated. His voice is something like Zedd from Police Academy if you took a set of pliers to his nether regions. It's hard to know how to feel about this character at first but throughout his history on the show it seems that Mr. Meseeks isn't exactly what he's cracked up to be since things have gone wrong a time or two with him around. Rick did manage to tell the family not to make things too complicated with Mr. Meseeks but of course that's not how things work when you give caution to others and then just walk away.
2. Tiny Rick
Rick as an old, angry man is disturbing enough, but after he transfers his mind into a younger clone of himself things tend to get a little crazier as you might expect. With Rick it's not just expected that life will be one thing after another, it's a foregone conclusion. Each and every way he's found to alter himself or just make a general nuisance of himself throughout the show has attracted more and more fans as the show has continued. With season 3 you can just assume that the craziness is going to escalate to new levels that you can't possibly imagine.
1. Mr. Poopy Butthole
Only in a movie or on Adult Swim could you possibly find a character with this kind of name, since quite honestly it would cause an uproar with parents if it was on daytime TV. But while the character does seem to serve a purpose on the show it's hard to really sit there and watch him if you're not a fan since that 'ooh-ee' sound might get a little annoying and tend to disrupt any rational thought that might try to pass through your head. It's not enough to say that the characters on this show are just flat-out crazy since the fans would definitely agree and say that this is one of the things they absolutely love about the show. But in all honesty if you're not a fan you might be looking at the screen with a dropped jaw and a wide-eyed stare wondering what you just watched.
If you're a fan though, there's plenty of reason to have been excited for season 3 to finally get here.