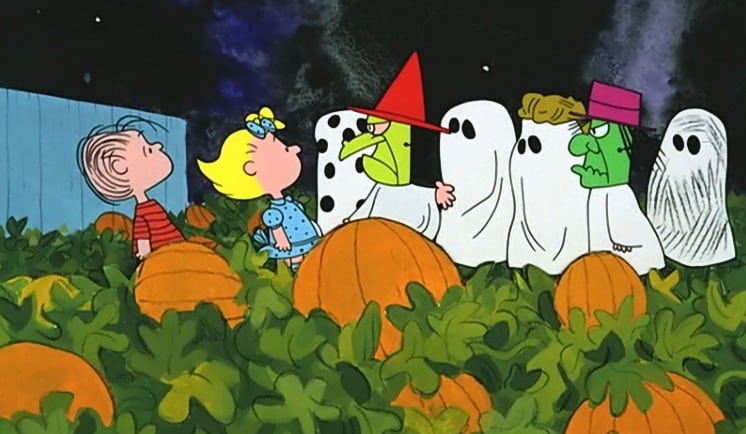 Halloween movies with the family can be just as fun as going out to see a gory, horror-slasher on your own or with those that have the stomach for it. The great thing with Halloween movies however is that kids tend to get a kick out of them so long as they're not too scary and feature at least a few memorable characters. And wouldn't you know it, Halloween is actually not that far off, so it's time to start brushing up on what you might want to break out when it comes to the ghoulish and creepy films that you'd like to enjoy with your kids. Thankfully there is a long, long list of Halloween movies that you and your family can enjoy without giving the kids the kind of nightmares that will take years of therapy to deal with. Of course you'll have to be a little selective since there's a good number of them out there, and there's only so much cute that one person can take until you need a break.
Here are just five of the best Halloween movies out there for the family.
5. It's the Great Pumpkin Charlie Brown
This one just had to be put in here because quite honestly it's one that a lot of us have grown up with and it can't be ignored come the holidays. Charlie Brown and the gang were a big part of our childhoods in one way or another and to ignore it seems kind of sacrilegious even if Halloween isn't a particularly religious holiday. It'd almost be like not having cranberry sauce on the table for Thanksgiving, you might not miss it initially, but if someone was to ask about it you would certainly start looking intently and then wonder who in the world was foolish enough to leave it out. Yeah, it's kind of like that.
4. Halloweentown
Halloweentown is a pretty popular movie for the season that has attracted a lot of viewers not only because it's family friendly but because it's also kind of a cool story. There have been a few movies in the saga to date and to be honest they're all what you would want your kids to watch since they're not too scary and they're good fun for the family. Witches, warlocks, monsters, and all sorts of scares await in this series, but it also goes through a great deal of morality and ethics that are to be found in many things that Disney has control of. In essence it's a Halloween story about a family that has great power but has to learn how to use it responsibly and in a sensible manner.
3. The Addams Family
As one of the classics that has been around since before some of us were born this movie finally brought to life the fabled Addams family, one of the most disturbing and yet fun clans that has ever existed in fiction. From the casting to the overall story this movie was masterful in a way that didn't get as much credit as it deserved but is still highly memorable. In fact it goes without saying that finding another person to play Gomez Addams would have been kind of a mistake when Raul Julia was still around. In fact every character within the movie was so expertly chosen that losing even one of them would have been a huge blow to the film. The sequel wasn't quite as good but it was still hilarious.
2. The Nightmare Before Christmas
Tim Burton hit one out of the park on this one since The Nightmare Before Christmas is just disturbing enough to be called a Halloween film but is still friendly enough that kids will be singing the Pumpkin King song over and over until you've grown tired of it. The characters are a bit scary but still fun and the whole story overall is a giant lesson in what it takes to truly accept who you are and be happy in the life you have. The story has actually reached cult status along with being a mainstream hit as people all over have been known to revel in the wonder that is one of Burton's greatest creations.
1. Hocus Pocus
Kathy Najimy, Sarah Jessica Parker, and Bette Midler hit a home run in this movie that will be showing in the next month or so every day and sometimes on the hour. Hocus Pocus didn't gain a whole lot of attention when it first came out but as the years have gone by and those of us that watched it when it first came out have grown up, our attention has been drawn back to the trappings of our youth and we've been reminded what was so great about our younger years. Hocus Pocus is silly, kind of odd in some ways, and definitely has a few adult moments that kids might not fully understand, but it's still one of the best and most endearing Halloween films ever made.
Hard to believe that October isn't that far off huh?