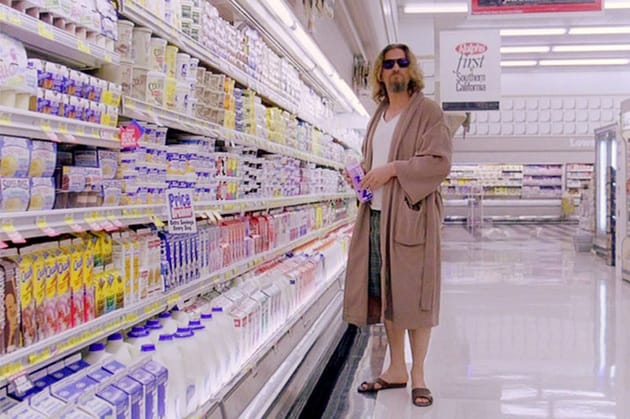 Some of the best and most memorable scenes from movies have taken place in supermarkets. It's kinda cool seeing our favorite stars in their characters shopping for groceries, just like the rest of us. Whether they're actually buying food, causing a scene, or writing a check for a whopping 50 cents, movies can make the mundane world of being in a grocery store a hell of a lot more dramatic and fun. We've put together a collection of the most hilarious scenes from films that stick in our memory.
Here are five of the very best supermarket clips from our favorite movies.
1. "Me, Myself, and Irene"
Jim Carrey's character is a super nice police officer that gets bullied by everyone in the town. People take advantage of him because he won't stand up for himself, until one fateful day. Charlie finally snaps, and his alter-ego Hank takes over. The results are a mix of hilarity with a little scary on the side. Hank is a bad dude. Charlie is in the supermarket with just a few items. A busy mom who has a whole cartload pushes past him because she knows she can. This is the point that he snaps. He grabs the loudspeaker from the clerk and asks for a price check on a feminine hygiene item that she has in her cart, and elaborates in a manner that totally humiliates. her.
2. "The Big Lebowski"
Jeff Bridges plays "the dude" who is a really mellow and laid back hippie type who tries to avoid work at all cost. The supermarket is the opening scene where we see him going into the store to pick up groceries. He only buys a carton of milk. It is hilarious to watch him write a check for fifty cents.
3. "My Blue Heaven"
Steve Martin plays the role of Vinnie in the 1990 comedy hit. He is a former mob hitman and he is placed into the witness protection program for testifying against a mob boss. During the time, he heads to the grocery store. He's a near do well who can't seem to change his shady and crooked ways. He finds a price tag machine and gives himself a hefty discount on some lovely cuts of meat. And don't forget about "you could melt all this stuff."
4. "Zombieland"
The Twinkies scene with Woody Harrelson is one of the funniest parts of the entire movie. He is notorious for seeking out the last of the Twinkies that were produced before the zombie apocalyps hit. Time is of the essence because their freshness is due to expire. It is the thing that seems to be his top priority in addition to staying alive.
5. "Home Alone"
This is perhaps the cutest and funniest supermarket scene that has ever been shot. Macaulay Culkin plays the street smart star of the show, Kevin. He made his list, grabbed his money and went to the grocery store to stock up on essentials. When he gets to the checkout counter, the clerk is suspicious of a kid his age out shopping alone. Kevin has a good answer for every question that she asks in this hilarious scene that he pulls off so well
Bonus: Mr. Mom – we've all been there
Bonus 2: Innerspace Scene
There's also this montage