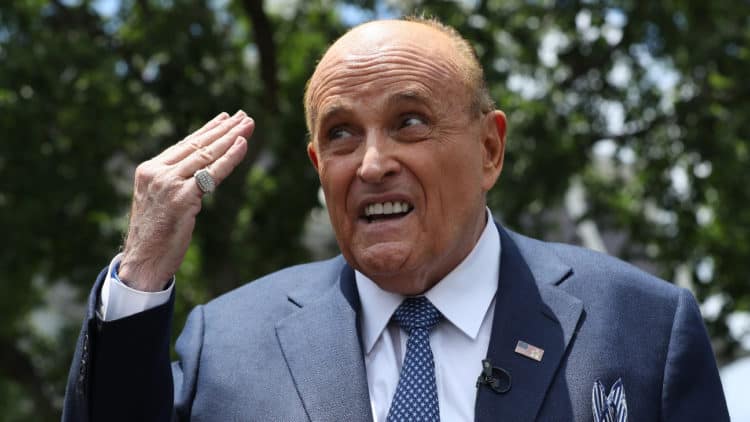 It's pretty easy to say that Rudy Giuliani has been the least favorite human being of a lot of people over the last year or so with the ongoing election year that finally ended. But while some people might still have a great deal of faith in him, others have done what they could to toss him to the side or possibly toss him under the metaphorical bus a time or two. One thing that's obvious is that sooner or later we're going to see a movie from someone that might have enough ambition and no fear of any kind of reprisals upon their career that will come up with a movie featuring Rudy and several other people attached to Donald Trump that will blow our socks off. If and when that does happen it's going to be necessary to see just who can take up this particular role and who will be able to play it out from start to finish. There are a few names that might be better than others, but there are likely more than this list will reveal since a lot of people have an idea of who would be best for the part and who might do the better job.
With that in mind, here are five actors that could probably play the part of Rudy Giuliani.
5. Kevin Spacey
His career has been hammered over the past few years but maybe there's something that can bring it back, and this role does feel as though it would be that something since it could be that there are enough people out there willing to watch. Whether he'll ever be given the same chance or even the same look again is hard to say, but despite anything he's done in his life or said he's been a good actor and it does feel as though with all the noise and garbage being flung about Hollywood that if we're going to ostracize people left and right while still allowing them to act, then Spacey should be given leave to do the same. You don't have to like him, but he's a good actor.
4. Gary Oldman
This guy is like a chameleon since he can play pretty much anything and hide his accent so easily that one forgets that he has one, to begin with. It might take a little doing to really make him look like Rudy, but considering everything he's done to this point it's easy to think that it could be done and that he would make the role work in a big way. Oldman has picked up roles that one wouldn't even believe were his doing if not for the credits that told the story. Keep in mind that this guy has effectively disappeared on screen thanks to the makeup effects that have been applied, so it's simple to think that it could be done again.
3. Bryan Cranston
This is one of those actors I happen to believe in personally and think could do a great job at this role since he's that good and he's someone that knows how to take on a personality when it's necessary. Some might not think that he has the range for this, but the truth is that Cranston has done things during his career that a lot of people didn't think he'd be able to accomplish and look where the guy is at now. Thinking he can't do something is the first mistake, but thinking that he has no range and can't accomplish one act or another is the second that a lot of people make for some reason.
2. Bob Odenkirk
Bob Odenkirk has become a guy that's easy to believe since his time in Breaking Bad and his other noted appearances throughout the years have made it possible. Taking him as someone that could possibly complete a role like this might not have been something that people would have considered years ago, but as of now, with all he's done and everything he's been able to show to the fans, it's definitely something that could and should happen if the chance is given since he could easily be a great addition in a role like this or he could knock it out of the park as a solo movie.
1. Robert Duvall
Taking into consideration that he's 90s years old, which is impressive, Robert might be a bit too old for this role any longer, but he would still be a great name to consider if he was willing to take it on. The fact that he is so old might make it less than possible, but if this were ten years ago or more, it would be something that a lot of people would probably say should happen. Now though, it's still worth mentioning, but probably not as possible.
A younger actor in a mask just doesn't feel like it would work as well.