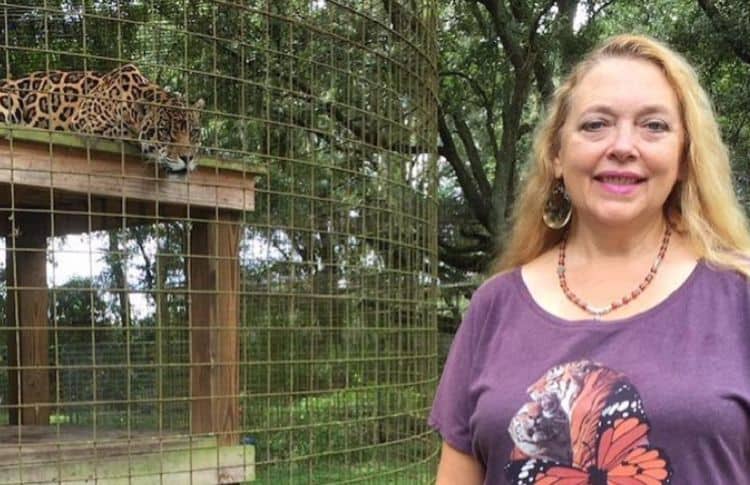 Netflix's recent limited series "Tiger King: Murder, Mayhem and Madness" has become a pop culture phenomenon. With many stuck self isolating and quarantined at home, the documentary about big cat's living in captivity has provided viewers with a "can't look away" true crime drama. Even celebrities have chimed in on the series with some even providing ideas for casting. There are already several "Tiger King" spin offs planned including a follow up documentary series and two scripted series in the works.
"Tiger King" follows the excentric Oklahoma private Zoo owner Joe Exotic and his long standing feud with Big Cat Rescue CEO Carol Baskin. Every character in the documentary seems straight out of a Saturday Night Live skit. Carol Baskin is a large part of the entertainment. The flower crown and cat print clad hippie turned big cat savior provides an interesting character. Is she a dedicated advocate for saving tigers from captivity or a crazy cat lady who thrives o n making money off of her own captive big cats in her Tampa, Florida sanctuary where everyone must play by her rules? More importantly, did she kill her multi-millionaire husband Don Lewis and feed him to the tigers?
Who should play Carol Baskin in a movie?
Kate McKinnon
Well, she's already got the role in a limited series in the work, "Over My Dead Body". The emmy winning SNL comedian and actress is also producing the latest spin from "Tiger King" based on her Webery podcast's second season. The series will follow the life of Carol Baskin. Kate McKinnon can easily pull off Baskin's looks and mannerisms. Certainly she can capture Baskin's eccentric looks and attitude. Certainly McKinnon will manage to capture the essence and mystery of Baskin. It will be fun to see McKinnon capture Baskin's creepy laughs and hear her say "Hey all you cool cats and kittens". McKinnon will capture the absurdity of Baskin as she tries to save big cats by harassing Joe Exotic while keeping her own big cats captive. Baskin has already spoken about about the series imploring McKinnon not to use real tigers and cubs when filming. McKinnon already has the role of Baskin in a limited series,, but she obviously could repeat the role in a movie.
Lisa Kudrow
While Kate McKinnon is definitely playing the role of Carol Baskin in her limited series, many have chimed in on other actresses perfect for the part. Even celebrities have chimed in about who should play the big cat activist, nemesis of Tiger King and possible murderess. Kate Hudson recently wrote an article for Pajiba expressing her dream casting for a "Tiger King" movie. Her pick for Baskin, Lisa Kudrow. Kudrow is a talented actress who could easily capture the complexity of Baskin including her hippie, kooky appearance and views on saving big cats, her menacing laugh and her questionable motives. Kudrow's most famous role, Phoebe Buffay on "Friends", embodies the essence of Carol Baskin. Phoebe was the ditzy, quirky, guitar playing, hippie masseuse on the outside, but she was always a question mark to her friends. She even proclaimed herself the "puppet master" of the group. Kudrow would show us what Carol may really be thinking on the inside while providing the obvious exterior of the big cat savior.
Laura Dern
The award winning actress has played dynamic roles in television and film since the 1980's. She could capture Carol Baskin's looks and her range of acting skills could certainly capture the essence of Baskin. Dern, who starred in classics like "Wild at Heart", "Rambling Rose", "Jurassic Park", "Marriage Story", Little Women" and "Big Little Lies" has proven her ability to play all kind of dynamic roles. She certainly would easily capture the flighty Baskin who could have a malicious, self-serving underside. It's easy to imagine Laura Dern capturing the complexities of Baskin who appears to have convinced herself that everything she does is for the protection of big cats but probably would do anything to promote her sanctuary that runs by her own rules. Dern would bring her amazing acting skills playing the role of Baskin in a movie while having fun with it.
Margot Robbie
Margot Robbie would be a dream pick to play Carol Baskin in a big screen movie. She's the obvious choice the role because she's proven that she can become her characters. The Australian actress is a big star right now. She's played several different roles over the past decade. In "I, Tonya" she captured the complexity and anger of Tonya Harding, the Olympic bound figure skater who became one of America's most hated ;person in the 1990's. Robbie recently played a femme fatale in "Dreamland", a sexually harassed Fox News reporter in "Bombshell" and Sharon Tate in Quentin Tarantino in "Once Upon a Time in Hollywood". Robbie would be perfect to play a younger Carol Baskin in a movie. She may be too big of a star to play Carol Baskin in a movie, but Robbie is perfect for the role of a young Baskin.
Debra Danielson
While Debra Danielson may not seem like a sure choice to play Carol Baskin in a movie, the realty star certainly looks uncannily like Baskin. Danielson is most famous as the mother of MTV's "Teen Mom" star Farrah Abrams. Danielson has appeared on several realty shows, mostly related to her daughter's issues. She's also shown herself to be motivated much like Baskin who did just about anything to make her dream become a realty. Aside from coat tailing on her daughter's fame, Danielson has pushed for a music career, starring in 2017's MTV sperical "Being Debra". She also published a book "Vapor" that includes her experience with a "catfish". She does have incite on the art of cat fishing. Carol Baskin could be the biggest cat fisher ever. It may be far fetched to think Danielson could carry out the role of Baskin in a movie, but she looks like Baskin's twin.