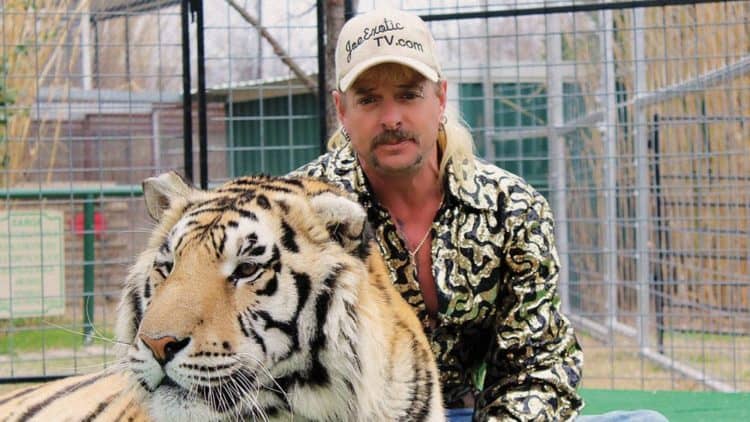 Joe Exotic is someone that will make your eyes widen when you read about him since he's easily one of the more controversial and somehow moronic individuals that finally received some comeuppance after a life spent doing who else knows what that might have gone under the radar. It's not hard to think that Netflix picked up a documentary about him that will show just what went into making a guy like this and possibly divide people over whether he was some kind of twisted genius or if he was just flat out twisted and fully deserving of the prison sentence that was handed down not long ago. At this point wondering who would play the part of Joe in a biopic is kind of easy to hand off to those actors that we know are a little out of the ordinary and could likely pull such a thing off by barely trying. However, if a movie was to be made of this guy and someone was selected to play the part of someone that would actually take donated horses and shoot them for his big cats to feed on, it might have to be someone that could take things to the limit in a way that some folks might not expect.
Here are a few picks that might work.
5. Chris Evans
It's true that we don't often see Chris in roles that paint him as a bad guy or even as a controversial individual without a lot of redeeming qualities. But given that he was the villain in Knives Out it might be time to see just how far he can push that envelope and really make it clear that he can play the part of the bad guy in a manner that can be entirely convincing. He's definitely shown that as heroic as he can be his character can also be insanely devious as well when he really puts forth the effort. This time around he'd have to really put in some work to make sure that he could become someone that's seen as just unrelentingly vile.
4. Brad Pitt
Brad Pitt has played the bad guy before, but the only thing about that is the fact that in Kalifornia he was just completely unhinged, whereas Joe Exotic had a method to his madness it would appear. It's fair to say that since those days Pitt has come a long way since the villainous Tyler Durden is the kind of guy that had a definite plan that was set in motion the moment that Fight Club was started. So to think that he might actually be the right person for this role isn't too hard since it's kind of obvious that he can go totally bad and create a character that's bound to let everyone know that he can play rough.
3. Robert Pattinson
He's been on a serious rise throughout the last year or so and it's not hard to think that he could pull this one off since his appearance in The Lighthouse was a great blend of a guy on the run to a crazed maniac that was being slowly eaten away by the isolation of his post. To think that he could possibly redirect that kind of nutty behavior into something that would fit the life of Joe Exotic isn't too hard believe, plus there's the fact that Pattinson has been showing more than one side of his character for several movies now and doesn't show any signs of wearing down any time soon.
2. Chris Pratt
This one might be kind of a stretch since Pratt tends to play such upbeat and positive characters a lot of the time. But it could be that it's time to see just how he might fare when playing someone that's anything but stable and could possibly challenge him in a big way. We've seen him and several other actors in the MCU playing strong roles for so long that it might be time to finally see just what they can do when they're forced out of such a comfort zone. Really, what could be the harm?
1. Sebastian Stan
Sebastian has definitely played someone that was reviled since in I, Tonya he played the role of Jeff Gillooly, former husband to Tonya Harding, and he played it so well that a lot of people ended up hating the character just as much as they hated the real-life inspiration. Sebastian is another guy that's been coming up in a big way when it comes to his acting and it's shown since not only has he been big in the MCU in recent years, but he's been prominent on the big screen and small screen for years now. It's time to see just how deep he can go when it comes to being the bad guy.
It might be a while before anything comes of it, but these picks do sound interesting.