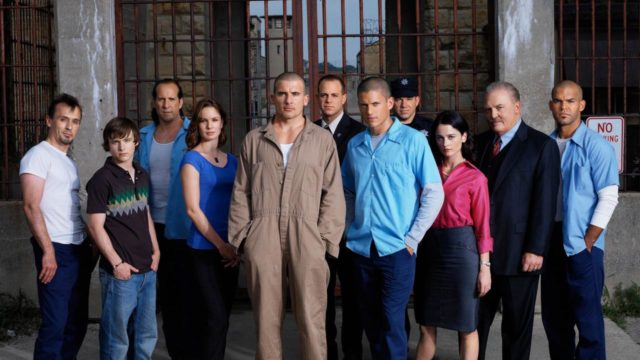 Fans of the television series "Prison Break" were thrilled when it came back for another season after its cancellation seven years ago. The popularity of the series has made it legendary as Michael Scofield and his brother Lincoln Burrows, played by Wentworth Miller and Dominic Purcell respectively, escape prison after prison, bad guy after bad guy, and a host of dangerous situations. And, their band of merry men with a few beautiful women thrown in for good measure backed them up throughout each riveting season of the show.
The majority of the integral cast has remained intact, however, many great actors and actresses have come and gone as well. Although there are certainly more than five of them, I picked the top five that I think have been perhaps forgotten by viewers when maybe they shouldn't be. In many cases, they'll live long in our hearts and minds for their contributions to this great show. So, here they are:
As Veronica Donovan, Linc's longsuffering but brilliant legal eagle of a girlfriend, she shines during the episodes she was in prior to her untimely death. She was killed by the bad guys while trying to gather evidence to get Linc exonerated of the bogus charges that landed him in prison in the first place. She was an integral part of the early episodes in season #1 of Prison Break.
Stacy Keach
As Warden Henry Pope, Keach's character ruled Fox River Prison with an iron fist in a velvet glove. He entrusts Michael with building an intricate model of the Taj Mahal for his beloved wife's birthday. Doing so ends up meaning that has to leave the inmate in his office at times and leads to the first escape attempt and the warden being locked in a closet. Mr. Keach is a great actor and was a welcome addition to the show.
Wade Williams
As Captain Brad Bellick, his character ran the gamut from evil abusive prison guard to pathetic prisoner. And, in the end, as a member of the Scofield/Burrows gang, he shows his true colors. His character was a complicated man who loved his mother and became a hero. He gave his own life to save the lives of his friends. Quite the turnaround!
Silas Weir Mitchell
As Charles "Haywire" Patoshik, he was one of the prisoners at Fox River who was actually being held in the prison Psych Ward. He murdered his own parents and was serving 60-years for it. He was also Michael's cellmate and later became one of the escapees. He also believed that he could build a homemade boat and sail it to Holland. He was not only bipolar, but also schizophrenic, and Mahone coerced him into committing suicide by jumping from an overpass.
Last but not least is the one character that we all thought would be coming back for the new season of Prison Break. As FBI agent, Alex Mahone, he started out the series as the baddest of bad guys, murdering anybody who got in his way. As the seasons went on, however, he became a prisoner himself, breaking out with Michael and the boys. By the end of the show's first run, he did a 180 and turned into a good guy who was only trying to protect his family but ended up grieving for his son who was murdered by a Company assassin. Most Prison Break fans wish that he would leave that silly sitcom he's on now and reprise his character in the upcoming season. After all, he wasn't killed off like so many other great Prison Break characters, so why not?
Tell us what's wrong with this post? How could we improve it? :)
Let us improve this post!