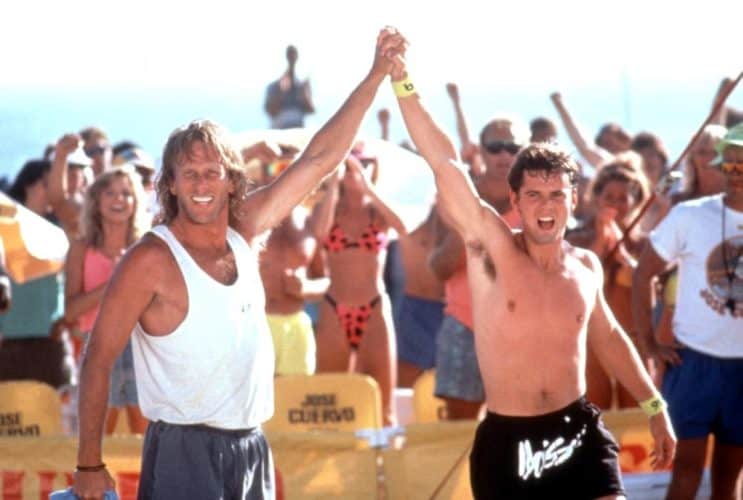 There are admittedly a lot of movies that were made in the 90s that are just so bad that they were actually considered good. Yes, that seems like a very odd thing to say but it's even harder to admit that a lot of us probably watched these on VHS or DVD until we wore them out simply because they were comforting, they were easy to watch, and they didn't challenge us all that much. But it could also be because the 90s were almost a decade that made you go to the edge or stay in your comfort zone kind of time. If you weren't watching the edgy stuff then you were likely kicking back and watching something that didn't make you think too much and was just fun enough to engage you for an hour and a half. Otherwise, when we look back at them now, we wonder what in the hell we were thinking.
Here are a few movies from the 90s that are considered to be so bad they're good.
5. Side Out
It's a classic tale of a guy that wants to hit the big leagues in the corporate world only to find out that it's a soulless, mindless job when you start at the bottom. Some people put their heart on lockdown in order to get to where they want to be and then others tend to see just what else is out there. It might not be the best life, the most advantageous, or even one that's spent in the fabled ivory towers that some people dream of, but for some it's a lot more meaningful and grants a lot more satisfaction to be hot, sweaty, and aching at the end of the day. Of course when you spend your days playing volleyball you're bound to get all three of those with only the hope of making a living.
4. Tank Girl
It's kind of amazing that no one's reputation or career was tanked by this movie. Yes that was a shameless pun, but this film was something else when it came to the story of a meteor hitting hte earth and almost wiping out the water supply. Then of course there's bound to be an evil corporation that takes over what's left with just one holdout that they don't control being used by the main protagonist and those that refuse to join with the corporation. And to add even more topping to this already chunk-filled fruitcake there are kangaroo/human hybrids called the Rippers that help Tank Girl to bring down the corporation. A lot of people did happen to like this film, but at that box office it, well, you can guess what I was about to say.
3. The Island of Dr. Moreau
This is one of those classic tales that many people don't seem to take seriously because quite honestly the science behind it is not only miles away from reality, it's something that many people would consider more heretical than denying God in the middle of a church filled with real believers. The tale itself however is more about the morality of mankind and what it truly means to be human, while the idea of blending humans and animals is something that was created to give it a little more pep, at least that's what it feels like. Val Kilmer was likely the best actor in the whole bunch during this film, but David Thewliss did deliver one of the best lines of the movie "..and I go, in fear."
2. Clifford
There's something disturbing about Martin Short playing the part of a 10-year old boy when he was at least 40 at the time this film was made. Added onto that the fact that it seems as though they're doing a Problem Child theme and it's not really hard to see why this one didn't take off all that well. Clifford didn't really work as a film largely because it wasn't as believable due to putting an older man in a young person's role. If they thought they would have success then it almost seems as though the writer's or the director, or both, were under the influence of something that might have convinced them animals could talk as well. It was pretty funny in some places but still a wonder why it made any money at all.
1. Idle Hands
From the time he was young until a certain age Devon Sawa was making good on his career and had a lot of promise. This kind of killed that to be honest. If not for Final Destination a lot of people might never have known about him in the first place, but in this film his hand becomes possessed by a demonic spirit. Just his hand, not any other part of his body. He tries getting rid of it by slicing it off with a bagel slicer, which promptly breaks when it hits his wrist. Then he chops it off and…wait, didn't we see this in Evil Dead 2? In fact, aside from the hijinks and lazy friends that turn into zombies it does kind of take the evil hand scheme and run with it, so to speak.
Some movie are just that bad that you want to watch them again to see if they get better. They do eventually, provided you're drunk.