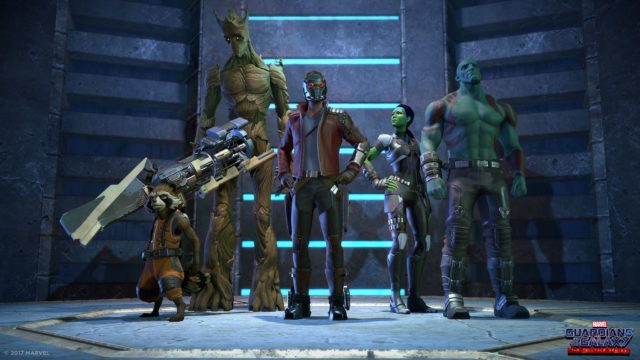 And here comes the serious marketing for Guardians of the Galaxy Vol 2! Get ready for an onslaught of images, videos, merchandise, anything and everything revolving around Guardians of the Galaxy from now until the day the sequel is released in theaters. It's about to get pretty real. The latest? Marvel's Guardians Of The Galaxy: The Telltale Series, to give it its full title, will be released as early as this spring, even though these screenshots are the first that's been seen of the game.
So when is it being released? Spring? Interesting. May 5th is when Guardians of the Galaxy Vol 2 gets released. Color me crazy but isn't that in the Spring as well? The story will be brand new, but it's not clear whether it's supposed to be set in the Marvel Cinematic Universe or not. Although judging by the costumes and the fact that they're only calling him Rocket, not Rocket Racoon, suggests it is.
No one from the movie will be doing the voiceovers but if you're interested in the cast, here they are: Nolan 'Nathan Drake' North as Rocket. The rest of the cast includes Scott Porter (Friday Night Lights, The Walking Dead: The Telltale Series) as Star-Lord, Emily O'Brien (The Young and the Restless, Middle Earth: Shadow of Mordor) as Gamora, Brandon Paul Eells (Watch Dogs) as Drax, and Adam Harrington (The Wolf Among Us, League of Legends) as Groot.
Check out screens below: