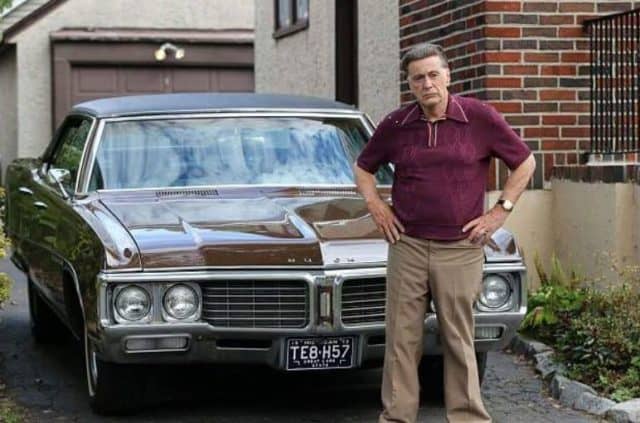 If you're wondering just what Al Pacino is doing now he's mugging for the camera, or so it would seem, in Martin Scorcese's upcoming film The Irishman, which is due to come out in 2018. Pacino, along with Robert DeNiro and Joe Pesci, has worked with Scorcese in the past, and has worked with DeNiro on more than one occasion. Amazingly Pacino and Pesci have never really worked together before, so this might be an interesting treat for the avid fans that have followed these stars throughout their long and illustrious careers. It seems as though Scorcese is doubling down at this point with the big names he's bringing into this movie. One can only hope that it will be a gamble that will pay off when all is said and done.
The Irishman is going to follow the life of noted gangster and labor union official Frank "The Irishman" Sheeran. DeNiro will be playing the role of the titular character while Pacino will be taking on the role of Jimmy Hoffa, the infamous President of the Teamsters. Pesci will be playing the role of mob boss Russell Bufalino, who was the eventual mentor to Sheeran. If you've read anything on Hoffa or Sheeran or even Bufalino then you know things aren't going to end well.
Hoffa was for better or worse the kind of jerk that wouldn't take anything lying down and seemed to love to fight with those that opposed him. From his own point of view he was most likely the hero since he was fighting for the union and for equality for his cause. He gained a lot of negative attention once he allied himself with mobsters and organized crime in order to get his agenda pushed through, which allowed people to demonize him in a way that allowed for the media to spin the fact that he was anything but a savior among the people. The movie however is not about Hoffa, at least not entirely, but about the man that was supposedly assigned to assassinate him, Frank Sheeran.
Sheeran was for a while Hoffa's right hand man, but he still answered to Bufalino. That's what made it so difficult for Sheeran to actually pull the trigger, if his story is to be believed. The Irishman is a call back to mystery of what happened to Jimmy Hoffa from the point of view of the man that is said to have been the one to pull the trigger. Hoffa was attempting to regain power with the Teamsters, and the mob didn't want that at all, which is why Sheeran was tapped to do the job.
Assembling this cast means that Scorcese's run towards Sheeran's story is going to be something worth watching but, unfortunately, also something that might need to be taken with a very large grain of salt. After all it is a movie and there's nothing to say that Scorcese won't embellish a bit when and wherever he feels the need.
With this cast it should be worth watching though.
Save
Tell us what's wrong with this post? How could we improve it? :)
Let us improve this post!