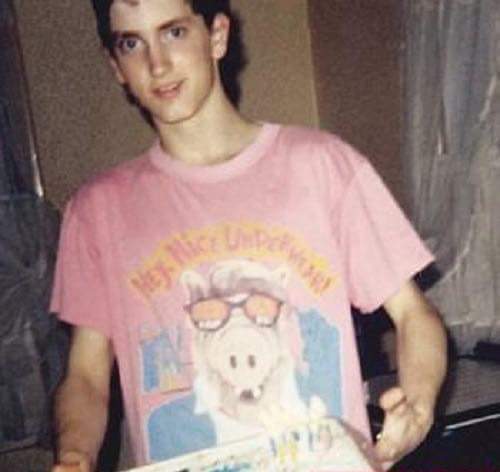 If you've seen this picture of Eminem I apologize. Actually I don't apologize at all. I think I should be posting this picture at least once a week for the rest of my life. Are you kidding me? Wait a second. I thought Eminem was always this hard guy from Detroit. You mean to tell me that while he was wearing far and away the best Alf shirt ever he was spitting out rhymes and writing them down like no one's business? P.S. this is a picture of him on his 18th birthday.
I'm just a little confused. At what point did Alf shirts become rapper gear? Do you think Eminem would have pulled off rapping success by wearing this get up? Something tells me he wouldn't have been accepted by the Hip Hop community quite as much. Then again, how unbelievably tough and courageous would it have been if Eminem actually tried becoming a superstar rapper wearing shirts like this?
I'm making the call right now. We need a Hip Hop star who wears Alf T-shirts like nobody's business. I'm talking lyrics about the same serious issues, the same tough upbringings, only the person has to wear an Alf shirt all the time. That's a rapper I can get behind.
Save