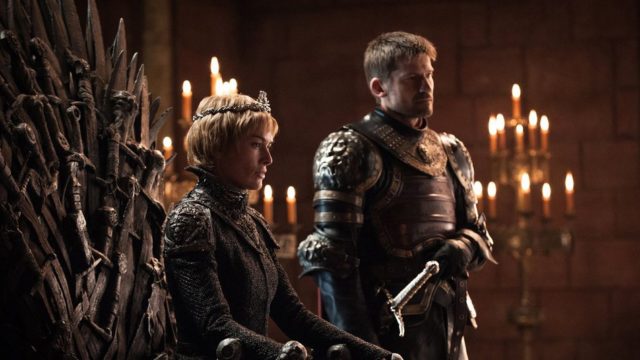 When fans found out that Game of Thrones would more that likely last into eternity with HBO's announcement that four spinoffs were in the works, reactions were mixed. On the one hand many rejoiced knowing that their favorite show would go on in some way. On the other, there are a number of "purists" who would be happy with Game of Thrones leaving a legacy as being one of the greatest shows ever and simply leaving it at that. These spinoffs will "explore different time periods of George R. R. Martin's vast and rich universe," according to an HBO spokesperson.
Unfortunately there's no other information out there other than that for the time being. So while writers aren't in any hurry to complete any scripts or divulge any information about what these spinoffs will be about, naturally the internet decided to chime in with their own ideas. Twitter has been overflowing with series spinoff titles under the hashtag #GameOfThronesSpinOffs and some of them are the stuff of legends.
Here are some of the funniest.
Ramsay Bolton's Kitchen Nightmares#GameofThronesspinoffs pic.twitter.com/EvyqFAEgqL

— Reid Parker (@ReidParker_) May 5, 2017
Keep up with the Lannisters #GameofThronesSpinoffs

— giovanni (@givagivaz) May 4, 2017
That's So Three-Eyed Raven #GameOfThronesSpinOffs pic.twitter.com/z4dX2EGCvH

— D-J Gordon (@iamdjgordon) May 5, 2017
You're gonna need a bigger graveyard – it's 'Game of Thrones: SVU'. #GameofThronesSpinOffs #GameofThrones@ThePoke pic.twitter.com/HHLYT6XPA3

— Alexis Taylor (@lexistwit) April 25, 2016
Hardhome Improvement #GameOfThronesSpinOffs pic.twitter.com/Dn3Dt909h5

— D-J Gordon (@iamdjgordon) May 5, 2017
#GameOfThronesSpinOffs Channel 4 News with Jon Snow pic.twitter.com/RbdDh9atYr

— Tommy Cross (@JollyReprobate) May 5, 2017
https://twitter.com/vcocozza76/status/860385872939765760
@mrtonymartin what about The Hung and the Wristless #GameofThronesspinoffs pic.twitter.com/5U1hV28ZtD

— Dave H (@Harchpops) May 5, 2017
Eddard Stark rises from the dead to claim the Iron Throne in "The Walking Ned."
#GameOfThronesSpinOffs

— G.P. Burdon (Author) (@gpburdon) May 5, 2017
"@danygonebad: #GameOfThronesSpinoffs pic.twitter.com/hUkr2nGGfV" @aehooks11

— Hannah Hooks (@eatmybananaaa) May 29, 2014