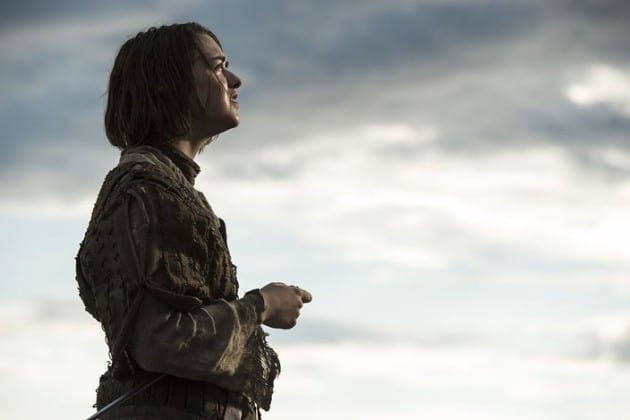 "The House of Black and White" is like the first episode of Game of Thrones: The Next Generation – as the power vacuums left from the War of Five Kings sort themselves out (not to mention what's going on out in Meereen), there is a generational shift in power in Westeros. "Black and White" embodies this by focusing on characters, large and small, reaching the next step in their evolution as human beings. The title focuses on Arya's journey to the aforementioned house of the Faceless Men, but her journey is really one that applies to many characters in this episode, people whose very identities are being challenged by the situations they're currently in.
At first, it appears "Black and White" would be another meandering episode of Game of Thrones: after opening on Arya viewing the protector of Braavos, "Black and White" hops around Westeros, visiting places known (Dany's brewing civil war) and unknown (Oberyn's brother and wife make their first appearance, seen on a balcony overlooking a garden in Dorne). Yet as it moves deftly across the expansive map of Westeros, "Black and White" begins drawing specific connections between characters: Jon and Dany reluctantly trying to guide their over-loyal followers, Jaime and Bronn making the best out of their raw deals in life, and, of course, Arya and Sansa abandoning their identities as Stark girls, heading off into uncharted waters with shady people.
In each story, these young characters are guided by their loyalties, many stemming from the banners hanging from "every pile of s***" in Westeros. They're willingly putting themselves in a particular ideological box: Arya with those who are nameless, Sansa with Littlefinger and his questionable ethics, and Jon, whose nobility when it comes to the Night's Watch overshadows his greatest childhood dream (giving up the title as Bastard of Winterfell, and becoming a true Stark). As Varys and Tyrion discuss in the episode's greatest scene (and most important; everything that follows is established in those moments), sometimes these invisible cages are necessary. They keep people limited and safe, though as we've seen so many times through four seasons, it also gets you killed; an undying loyalty to anything almost is never a good thing (unless you're Brienne, though she's got a few surprises awaiting her still), something that seems to damn one generation after another, from Westeros and beyond the Wall (oh, Ygritte… you've missed so much).
However, Game of Thrones is a series about breaking out of these traditions and cyclical stories of people blazing new trails down worn out, bloodstained old trails. The changing of the guard in such a tumultuous time in Westeros is endlessly important to the entire construction of the series. This fractured world of a "united" realm is coming apart right when the world's darkest threat stands ready to attack, pitting the old (very, very, very old – and undead) against the new in a very literal way. That battle between old and new has always raged, be it in small council elections in King's Landing (sorry, Cersei, but Uncle Warbucks ain't having it from Your Highness), or in the deep recesses of Jaime's tortured soul (poor guy is trying to save his incest daughter by murdering a bunch of people his family has been screwing over for years… to say it's "noble" is a bit of a reach), but it's never happened in such a critical moment, when the deepest freeze ever to hit Westeros lays waiting at the realm's doorstep (insert environmental metaphor here… or just go watch Fortitude).
How "Black and White" depicts these various connections is interesting. The first fifteen minutes of the episode are mired down in the same allusive nature many conversations on Game of Thrones have, particularly those just starting to catalyze important story beats. After a spot with Varys and Tyrion in their large, comfortable box, "Black and White" begins to kick in long-awaited bits of story: Jon takes over the Night's Watch, Arya enters the house of the Faceless Men, and Tyrion and Varys begin their journey to Meereen. This naturally makes the second half of the episode engage with viewers a lot more, tying things together beautifully with the final scenes in Meereen, where Dany's vision of herself as a leader comes into conflict with her public perception (which is pretty bad, considering she just killed a young man who killed a slave owner out of vengeance). It's part of her own maturation process, that moment of self-discovery when she realizes she's taken her stance too strongly, and can't back out of her own allegiance to the law (who's the slave now, Dany?).
Those moments of self-realization are always laying dormant on Game of Thrones. Sometimes, it feels like there are entire seasons spent waiting for these obvious progressions to kick into gear. It's what makes an episode like "The House of Black and White" so freaking satisfying: not only are we seeing major steps forward for important characters, but it's happening with a level of thematic unity that elevates every other story its material relates to. And it's all capped off with the wonderfully haunting, heartbreaking image of Drogor visiting his Mhysa, then flying away without a second thought, a touching reminder that no matter how the next generation of power players in Westeros rule, they're not going to do it by anybody else's rules or customs.
[Photo via HBO]