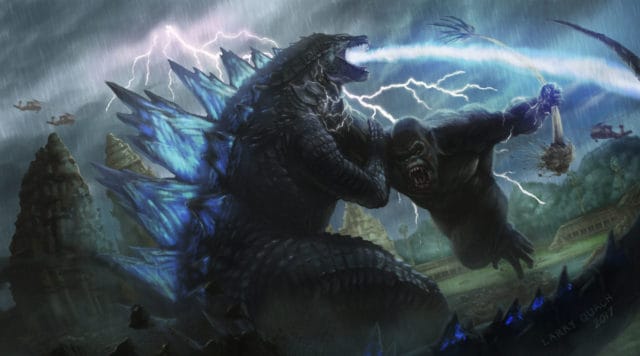 Fans are already chiming in on what Godzilla vs. King Kong is going to look like and this representation seems like it might actually be pretty accurate. It doesn't really show either monster with the upper hand but it does show that a stalemate of sorts could take place for a short time in between attacks. Warner Bros. is hopefully busy making this film happen but until there's further word we really don't know. What we do know is that it's one of the more anticipated films to come and should be something quite epic to watch if Warner Bros. wishes to keep their reputation intact.
One thing that's important to notice is that it looks like this might be taking place in Japan or somewhere close by. This is perhaps where the fan thinks the fight might be taken, and they could be right. The helicopters hovering in the near distance are no doubt those that are either watching the titanic battle or are attempting to harry the two titans in a way that would only serve to make them even angrier as they would possibly vent their frustrations on the choppers before going back to each other.
One thing is sure though, Godzilla is going to be relying on that atomic breath as much as he can, and will no doubt bring his thickly muscled tail into the mix as well. His mobility doesn't seem quite as good as Kong's, but his sheer size and toughness should be able to counter Kong's aggressive tendencies and inordinate strength, as well as his agility. It might take only one time of being nailed with Godzilla's breath to really mess Kong up, so chances are he'll be staying away from it as much as he can.
One big issue with this however is that there are supposed to be more monsters in the upcoming film. Since we've seen that Kong will side with the humans so long as they're not shooting at him, and Godzilla will only continue to damage the city so long as he's got something else to fight, it stands to reason that both of them would possibly attack the shared enemy in an attempt to vanquish the foe and then get back to fighting. But then again there's a chance that if they continue to scrap without a decisive win for either of them that they might actually come to realize that they're both inordinately tough and are better off not messing with each other.
After all Kong has been shown to reside in the same place where Godzilla was reportedly seen, yet Godzilla has apparently been laying dormant so long that he hasn't been a problem for Kong. You would think that if the two did happen to reside in the same location that the Skullcrawlers would have been just as much of a problem for Godzilla.
The two are destined to meet and have it out just as the picture suggests, but there's no telling just yet if they're going to continue to be enemies or find some common ground eventually. It'd be a shame to lose either one of them.
Photo via