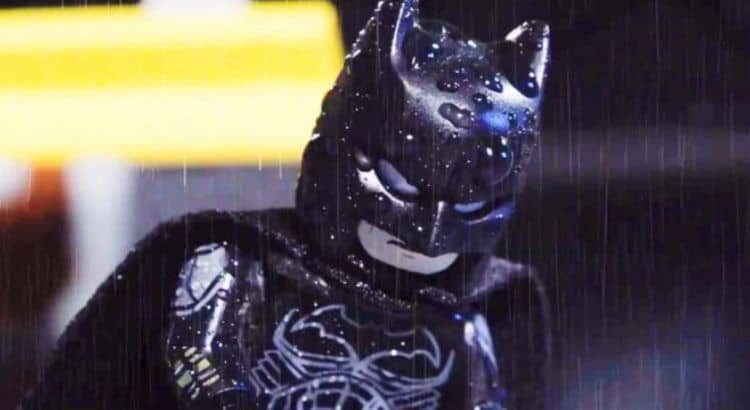 Somehow the Lego trailer for The Batman is just as intense as the live-action trailer and it looks pretty cool, but it also looks like something that wouldn't ever happen since the Lego Batman movies have always been a lot more upbeat and despite being a little controversial at times they've still been aimed at kids, meaning they've pulled a lot of punches. This trailer pulls absolutely no punches since it makes it clear, in Lego form, that The Batman is going to be a return to the hard-hitting vigilante that a lot of people might have wanted to see for a while, which Christian Bale and Ben Affleck did bring back to their credit since the days of Keaton, Kilmer, and Clooney were making Batman look kind of clownish given that Gotham was made up of massive statues in one movie, had villains that were a bit over the top in a comedic sense, and had started to look rather silly. This version of Batman by Robert Pattinson and Matt Reeves is coming out swinging but unfortunately as Bruce Wayne he kind of looks like a depressed young man going through a serious emo phase. It could be that we're not seeing enough to really make a sound judgment about the movie yet, but that's the impression that some folks have been given all the same at this time.
The downside is that thanks to so many delays we won't get to see it until 2022, presumably in March. During the pandemic, it's been important to maintain patience and simply accept the fact that Hollywood has had to dial back production on a lot of projects since many movies that should have been out this year have been delayed until later this year, if possible, or are being rescheduled until next year or the year after. The safety of the cast and crew is important to be certain and since the main star contracted COVID-19 it was unavoidable to delay, but at this time it's still hard to think that we're going to be waiting a couple of years to see how the movie pans out. Until then it's likely that people will be theorizing what will happen, how likely it will be that we'll see a sequel, and whether or not the villains will be as believable as we want them to be. With Batman, that's a surprising question to ask since he has so many to pick from and so many that are impressive when it comes to how dangerous they are and what kind of a threat they pose, but in past years it's been seen that a few of them really haven't had a lot of good representation on the big screen.
It's easier to say this about some of them than it is others since Jim Carrey's Riddler was kind of fun when Batman Forever came out, but Tommy Lee Jones' Two-Face was a mess. The Joker has been given a couple of great acts in Jack Nicholson and Heath Ledger, but definitely faltered when it came to Jared Leto. As for Catwoman, people adored Michelle Pfeiffer but could have done without Halle Berry and somehow Anne Hathaway, who didn't inspire a lot of faith in fans for some reason. Tom Hardy's Bane was received fairly well, and Gary Oldman as Commissioner Gordon, eventually, was definitely someone that people enjoyed, while J.K. Simmons was barely there for the role. In short, Batman is a hero that has been mostly adored by fans but has managed to run into a few pitfalls along the way when it comes to how he's been received by fans. As far as his place in DC goes, it's likely that he won't see an end for quite a while since there's almost always someone coming along that would love to play the role and put on the suit, but we'll have to see how Pattinson does before anything else can really be attempted since a lot of people are thinking he'll do just fine, while some folks are waiting in order to pass judgment.
The Batman legend is one that a lot of fans will enjoy and possibly revisit from time to time or stick with as long as they can since he's a popular hero and someone that people enjoy watching for various reasons. He's been one of DC's main go-to characters for a while now and has also been one of those that have gained the most popularity under the DC brand when even Superman was waning for a while. Pretty much anything that has to do with Batman is going to get people excited, and somehow, Lego Batman has been one of the best representations in recent years. People are bound to like anything as long as it has to do with the dark knight, that much is proven.