A lot of us should be able to remember the rascally little kids from this show as a part of their childhood or adolescence. Whether you watched it religiously and knew every episode or just watched it because there was nothing else on you should recall the main stars of the show. Sure they looked a little creepy sometimes and got into a lot of trouble that your own kids have tried by now, but that's what made the cartoon so funny and why you can relate to it still. And if you don't have kids then maybe the memories are still just as fond.
Isaiah Stephens Art and Illustration drew this cute fan art series of what Tommy, Dil, Phil, Lil, Chuckie, Kimi, Susie and Angelica from Rugrats might look like all grown up…
Tommy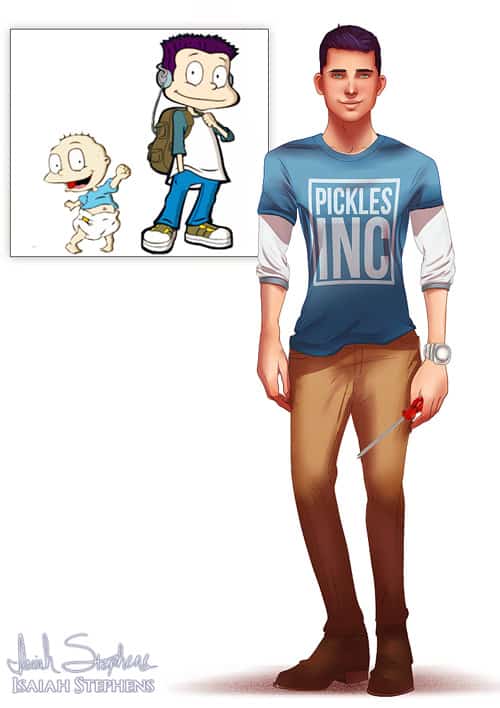 The kid that tended to have all the ideas and get things done, Tommy grew up to be pretty handy if that screwdriver in his hand is any indication. He still has a love thing going on with pickles it would seem and is rocking the hair so black it's blue or purple look.
Dil
Dil, obviously the youngest and the newcomer to the bunch, would at this point still be in his twenties and if not he'd be close. He'd still be a rather goofy person it seems and love to just play around most of the time. It's great because too many of us lose that quality later in life.
Phil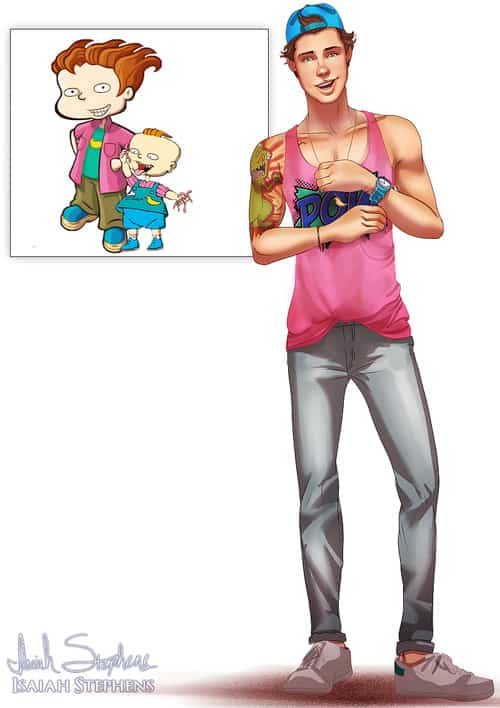 Phil is all about nostalgia rocking the Reptar tattoo and still being partial to pink. It definitely looks good on him though and the front lock of hair coming out of the hole in his cap is a nice throwback to the character as a baby.
Lil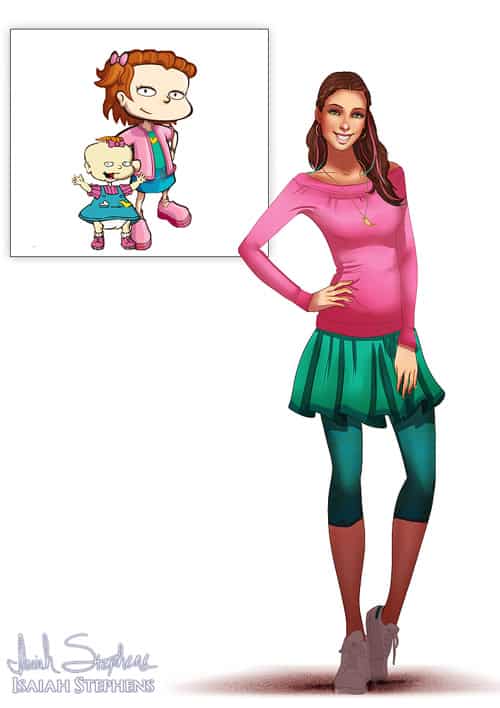 She might have gotten rid of the bow but she's still a lover of pink and teal for her signature look. Lil and Phil were always two of my favorites. I don't know why, they just were.
Chuckie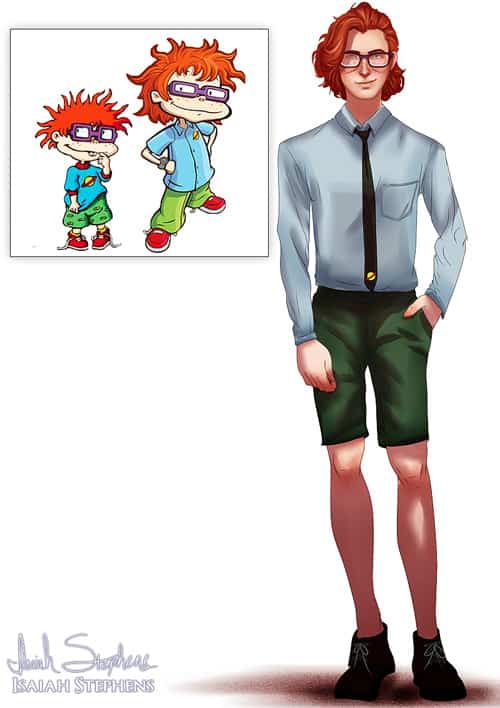 Chuckie was always the most nervous, neurotic kid you could imagine. He still managed to find his place in the group which made him a part of them, but man was he a wreck most times. It's cool to see he still has that mop of red hair and those freckles, and that the logo on his shirt has now gravitated to a smart-looking tie.
Kimi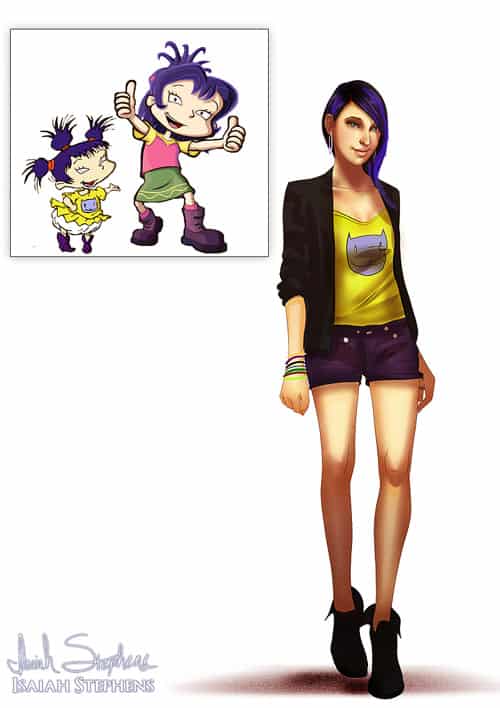 I'll be honest and say that I don't know much about Kimi. She might have come along after I stopped watching but obviously she became an integral part of the show. The kitty shirt she wore obviously never went out of style.
Susie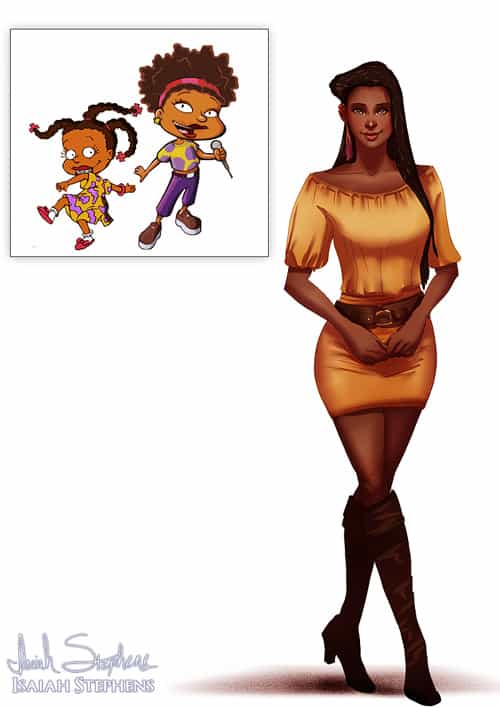 Stephens actually drew several pictures of Susie, who was almost a match for Angelica but much nicer. In the other images he drew however Stephens gave Susie what looks like a much more natural hairdo that goes along better with her dark frizzy locks. If you go to his page you should be able to see them.
Angelica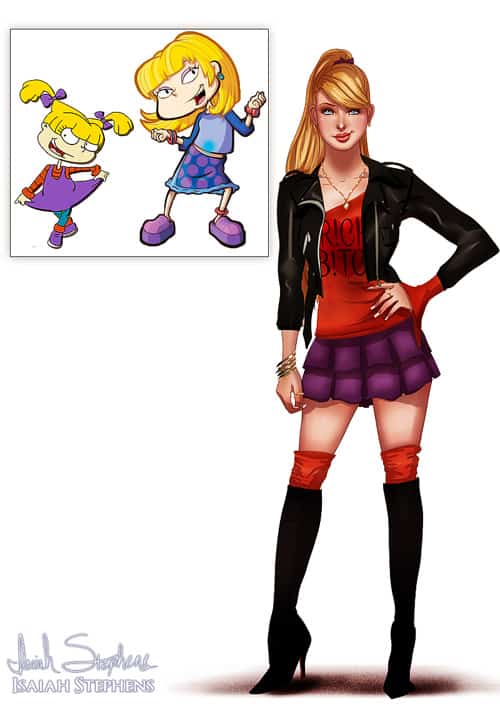 Always the sassy smart-mouth princess. Even her grown up shirt says it all in terms of attitude and who she really was. It took a tremendous effort for Angelica to be a good person, and it might be easy to say the same for the adult.
Give Isaiah Stephens a lot of credit, his vision was pretty spot on.
Save
Tell us what's wrong with this post? How could we improve it? :)
Let us improve this post!