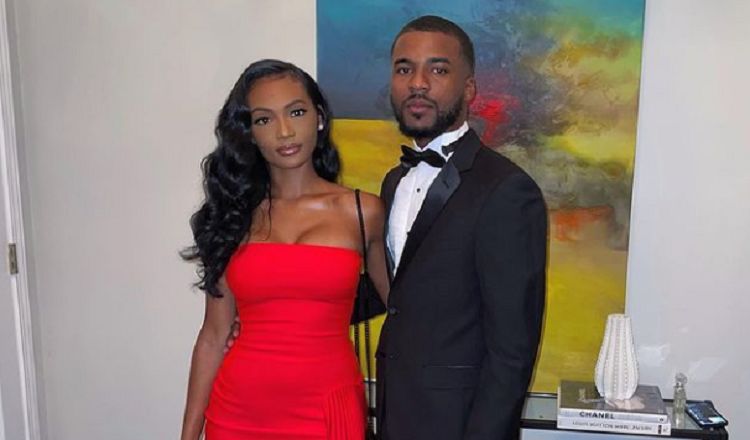 Falynn Pina is a woman who recently changed her name to honor a dear family member. You know her as Falynn Guobadia, the Real Housewives of Atlanta star who was married to Simon for two years before their divorce. Their story was one that made headlines with two quick new engagements, rumors of cheating, and a new baby. Here's what we know.
1. She is Recently Divorced
This reality star has had a busy few years, but she's not worried about how quickly her life is moving. She was married to Simon Guobadia in 2019, and their short marriage ended in July of 2021 after. Her ex-husband is a man who is worth a lot of money as he is the founder of SIMCOL Petroleum. He also has six kids of his own.
2. She is Engaged
One thing that really shocked her fans is the fact that when she was married to her husband, their marriage ended quickly. However, it was a fact that she announced her engagement to Jaylan Banks only three months after her divorce was finalized. She moved on quickly, and she wouldn't change it for the world.
3. She Just Welcomed a Baby
In the spirit of continuing to do this quickly and efficiently in her own life, she's a brand-new mother. Her divorce is only 11 months old at this point, but she is a brand-new mother. She welcomed her daughter, a sweet little one whose name is Emma, on November 26, 2021. She and her now-fiance announced their pregnancy in August of 2021, he proposed in October, and their baby was born in November. It's been a quick year for them, but they love every second.
4. She's a Model
When she's not busy working on her reality television career, she is working on her modeling. She's spent a long time in the industry, and she knows a thing or two about working her angles and showing off any particular item. She is good at what she does.
5. She is Already a Mom
Baby Emma is not her first child, but she is the first little girl to make her entrance into the family. This little girl joined her three big brothers in 2021. Their names are Troy, Dylan, and Liam, who were 14, 13, and 8 at the time their little sister was born. Their mother was 32 at the time.
6. Her Ex Moved On Quickly
According to his new fiancé, Porsha Williams, Simon filed for divorce in January of 2021 because he was ready to end his marriage to Falynn. She wanted to be clear on the fact that yes, it looks a little bit horrible to become engaged to your friend's husband, but that he filed in January of 2021 and they did not get together until after that. They were engaged in May of 2021. It was fast. She does, however, want to make it very clear that their romance happened long after a divorce decision was made.
7. She is a Class Act
When she was asked by the press if her ex-friend, Porsha, is the reason that she and her husband ended their marriage, she said that the only people to blame for the end of her marriage was herself and her now ex-husband as they were the two in the marriage, and they were the two responsible for the marriage. She said they are both to blame, and that they both failed, and that is the end of the discussion.
8. She Was Hurt By Her Ex-Husband's Engagement
She found out about her husband and her former friend being engaged at the same time the rest of the world found out. She had no idea, and she was equally shocked. She was still married to this man at the time, even though they were in the process of a divorce. She was deeply hurt that her friend and her still-legal husband would do this to her.
9. Her Husband Convinced Her to Join the Show
It was Simon who pushed her to be part of a reality show, and it did not work well for their marriage. It is not a secret that many reality show marriages don't make it after the cameras are in their lives all the time, and theirs didn't make it.
10. Her New Fiance Was A Friend First
Her new fiancé is not someone the world is unfamiliar with. He's been Falynn's friend for a long time, and they have been close for years. There are many who did have some questions about their relationship timeline, too, but she's not addressing any of that.