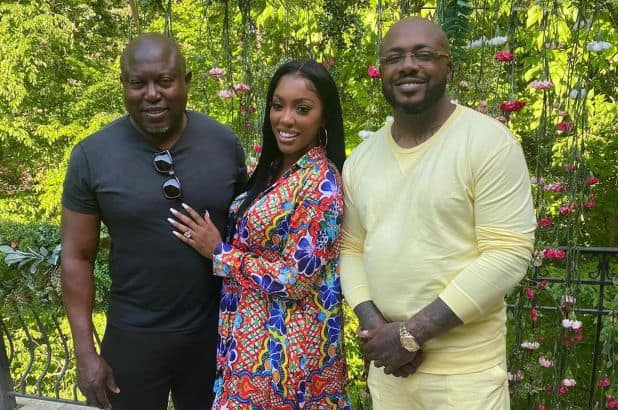 Simon Guobadia is famous for being a producer, but he's really famous for being the new fiancé of Real Housewives of Atlanta star Porsha Williams. Their engagement took the world by storm when everyone realized the star was engaged to the ex of one of her very own co-stars on the show. Porsha and her own fiancé welcomed their daughter in March 2019 and then ended things. In May 2021, Williams announced that she and her costar's estranged husband were engaged and in a relationship. The entire situation is shocking to all involved, and now we get to see it all unfold in the press. What fans want to know right now is just who this Simon Guobadia really is.
1. He's Very Wealthy
According to the internet sources we found, he is worth something like $40 million. He has numerous businesses, he is a producer, and he works hard to ensure that his businesses all thrive. He's a wealthy man, and that's why he and his wife were featured as part of the housewives franchise.
2. He's Been with His New Fiance One Month
While the rest of the world was shocked when Falynn Guobadia announced she and her husband were separated not that long ago, it seems that her husband moved on quickly. In fact, he began seeing Williams only a month ago. He also asked her to marry him a month into their new relationship. His words are that they check all of one another's boxes, and that is all that matters.
3. His Marriage Ended In April
When Simon Guobadia and his wife, Falynn, ended their marriage, it was only a month before his engagement happened. They announced in April 2021 that their two-year marriage was over. They began dating in 2016, got married in June 2019, and ended their marriage fewer than two years after exchanging their vows. If there is one thing we see here, it's that Simon likes to move quickly.
4. He Filed For Divorce in January
There are some who are confused about the timeline of this marriage and new engagement situation, and Porsha Williams has clarified that. She says that Simon Guobadia filed for divorce from his estranged wife in January 2021. The fact that they chose not to make that announcement until April was their own business. She wants the world to know she did not move in on someone else's husband.
5. He Believes in Manifestation
Simon Guobadia is a man who believes in the power of manifestation. He speaks of it on his Instagram page, and he makes it clear that everyone can do it if they simply do not allow anything to block the situation that they are manifesting. Keep your life on the above ground level of making things good and peaceful, and it works out well for everyone involved.
6. He Advocates for Mental Health
He's a man of many mysteries, but he certainly does make his feelings clear about mental health. He is someone who believes that the world should make it clear that mental health is important, and that things should be spoken about and made aware. He wants the world to know that they can speak about things that are often thought of as not ideal, and that it is okay to do that.
7. He Spends Time with His Kids
Something he has been doing lately is spending individual time with each of his kids. He's been taking them out and spending much-needed quality time with them in a way that allows them to get to know him and for him to get to know them on a one-on-one basis. He believes that it's important to spend time alone with each child since they did come into the world alone and without their siblings, and it is important to get to know your kids as individuals.
8. He Believes in Mentors
He is a man who thinks everyone should have a mentor, but he also wants the world to know that most people have no time to sit down and actually take the time to mentor others. However, he believes you can spend your time focused on things like watching your mentors work, seeing how they grow, and following them closely by watching how they move and what they do.
9. He's Thankful
Simon Guobadia is a man who is thankful. He spends time each day finding things to be thankful for and things to make his own. He is not looking to the world to make him happy. He is looking inside himself and for things that keep him grounded and make him a better person. He speaks of it regularly on his Instagram account in his captions.
10. He Struggles with Health
Most of his life has been spent living unhealthy. He developed health concerns such as diabetes and high blood pressure on top of high cholesterol. When his doctors placed him on diabetes medication, he knew it was time to make some life changes that are healthier and far better for them than what he was doing. He's been working out, eating better, taking vitamins, and making an effort to live a healthier life, and it's been working well for him.
Tell us what's wrong with this post? How could we improve it? :)
Let us improve this post!