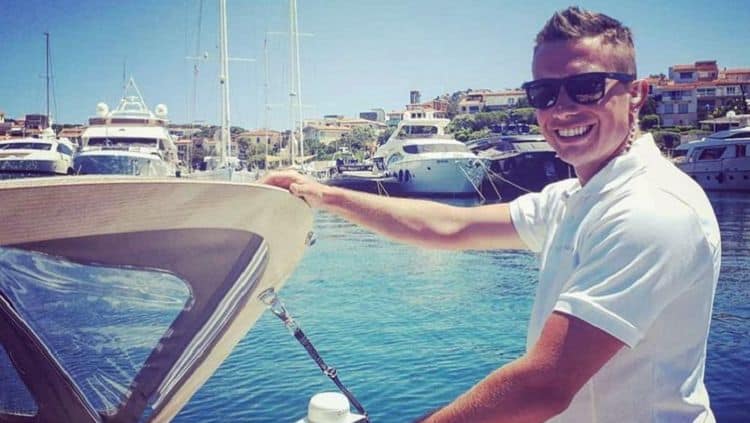 Since debuting in 2016, Below Deck Mediterranean has been a very welcome addition to the Below Deck family. So far, each season has had a very entertaining cast and season six is shaping up to keep that momentum going. David Pascoe is of the cast members who has already started to get a lot of attention. Although he likes to work hard, he also likes to play too. As we've seen with other people on the show, being able to find that balance will be very important to him. Hopefully, he's able to get through the season with a minimal amount of drama, but we'll all have to keep watching to see how things go. Continue reading to learn 10 things you didn't know about David Pascoe.
1. He Was Born In Italy
Moving around to different places has been a part of David's life since the beginning. David was born in Italy, but he was primarily raised in the United Kingdom. As a result, he can speak both English and Italian. David is very proud of both of those cultures that have helped to make him who he is.
2. He Has An Account On Cameo
Even though David is still new to the reality TV world, he's already built a pretty decent fan base. As a result, he's created an account on Cameo where he records and sells personalized video shoutouts. These videos can make a great gift for someone who would love to hear from David on a special occasion. He is currently charging $20 per video.
3. He's Had a Few Odd Jobs
David's journey towards working in the yachting industry had quite a few twists and turns along the way. He's held quite a few jobs over the years including being a lifeguard and being a caretaker for people suffering from brain injuries. Now that he's found yachting, however, he's happy with his path.
4. He Loves Taking Pictures
Long before David got the opportunity to be on TV, he was already doing his thing behind the camera. David loves taking pictures and making videos and he's very good at it. This also blends perfectly with his love for traveling and adventure. He loves sharing some of his work on social media.
5. He's A Dog Person
Although it seems a little ridiculous, most people would agree that knowing whether someone prefers dogs or cats can give you an important glimpse into their personality. For those who were wondering, David definitely loves dogs. David's Instagram profile is full of adorable dog pictures. However, it's unclear if he actually has a dog of his own.
6. He Loves A Good Adrenaline Rush
Living on the edge has always been something David enjoys, and he isn't afraid to take risks and try new things. Basically, if there's a chance for an adrenaline rush, you can bet that David is going to be down to give it a try. Although this quality has put him at risk of getting seriously injured, it's also allowed him to have some great experience.
7. He's Spoken Out Against Cyberbullying
Being in the spotlight comes with a lot of benefits, but one of the biggest downsides is that it opens you up to comments and opinions from countless people – and they're not always nice. In an Instagram post in July of 2021, David wrote about this and suggested that everybody work on being nicer to one and other.
8. Below Deck Is His Only TV Experience
David may be a natural in front of the camera, but Below Deck Med is actually his first time doing it. As far as we can tell, he has never been on any other TV shows. At the moment, it's unclear if he plans to make this a one-and-done kind of thing, or if he wants to try to stick around in the entertainment industry.
9. A Friend Got Him Into Yachting
The best things in life tend to come around when you least expect it, and that's exactly how David ended up getting into yachting. In a Q&A on his Instagram profile, David shared that a friend randomly introduced him to the idea of working in yachting. At the time, he didn't realize he would like it so much.
10. He Didn't Watch Below Deck Before Joining The Cast
Some of the people who are cast in Below Deck have been longtime fans of the show. However, that wasn't the situation for David. In his Instagram Q&A David revealed that although he had seen some clips from Below Deck on the internet, he'd never watched an entire episode before he was cast.
Tell us what's wrong with this post? How could we improve it? :)
Let us improve this post!