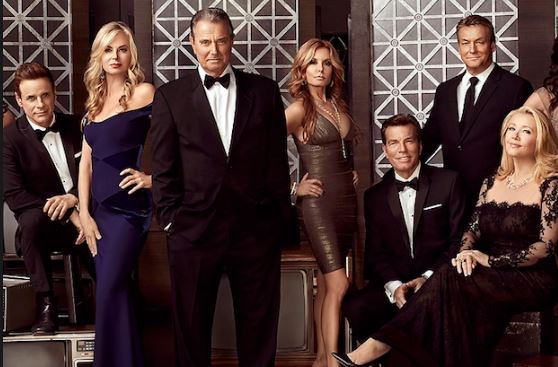 Young and the Restless fans have been hanging on for decades watching their favorite characters come and go, but it's always changing. From faces that are new and old, there are some things that never chance (Victor) and some things that never stay the same. And that means you might think you know all there is to know about this show, but you know you don't. There are at least 10 things we can tell you that you didn't know (maybe).
The Innocent Years
Um, yeah. It doesn't work for us at all. Did you know this was the original title of the show? The Innocent Years? There is not one innocent thing about anyone who has ever been on this show, and that makes us laugh more than you can imagine.
Gloria Was First Jill
If you've ever wondered how Judith Chapman got her role as Gloria, it was after subbing for a while as Jill. She was in need of someone to take over her role for a quick minute, and that's what Chapman did. And then she was Gloria. What a fun story.
The Old Victoria and Billy Are Siblings
You know Heather Tom as the woman who plays Katie on the Bold and the Beautiful, but she was also Victoria Newman for a moment. She played the role from 1990 to 2003 — which is certainly more than brief, if we are being honest — and it was her own real life brother, David, who was Billy Abbot from 1999 to 2014. Thankfully, they weren't romantic during this time.
Jeanne Cooper Was Around the Longest
She played the bold, the beautiful, and the powerful Katherine Chancllor for 40 years. She was given the role in 1973, and she played the role until 2013. She was subbed occasionally for periods of leave, but she was never permanently gone from her role on this show. She was always there as a main character.
Jeanne Cooper's Death
In fact, the powerful Katherine Chancellor was done as of May 3, 2013. She had her last scene on the show that day, and the actress died only five days later. You could say she was giving her all to this show, and it would be fairly accurate and very correct.
Paul Williams Continuing Role
Doug Davidson might be the shows longest actor in a role, but he also has a long history in another manner, too. He never once left. He didn't take a leave. He didn't have a sub, and he was never gone from the show. That's dedication to the job, if you ask us.
The First Star
Did you know that this is the first ever soap to have a star? We're talking about the stars you find on the Walk of Fame in Hollywood, of course. We aren't talking about those you find in the sky. Jeanne Cooper was the first actress from a soap to get a star.
Kate Linder's Real Job
You know her as the woman who occasionally comes onto the show to play Ester, the woman who worked for Katherine as her sort of off and on maid and close, personal friend. But did you know she's always been a flight attendant? She never left her job when she took this role, and she's been flying the friendly skies ever since. You can find her with United.
There Were 3 Sharons in 1994
When the role of Sharon was written in, it was given to one actress. She was fired the same year. It was then given to another actress. She left the role the same year, and then it was given to Sharon Case. That's when it finally stuck. The third time was a charm this time around.
A Lot of Crossovers
While there are a lot of crossover stars and people on shows like this, it's always the other CBS soap that seems to get the most. It seems that almost everyone from the Bold and the Beautiful has been on Young and the Restless at one point or another during their career. It's amazing, but we kind of love knowing that fact.