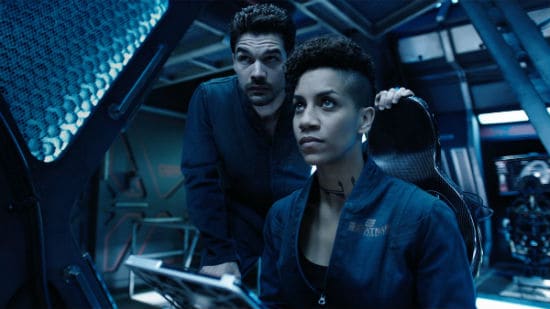 Since The Expanse came out in 2015, many have considered it to be one of the most underrated sci-fi shows on TV. What many people don't know is that The Expanse is based on Leviathan Wakes, the first book of James S.A. Corey's (the pen name of Daniel Abraham and Ty Franck) The Expanse Series. While books will always change to adapt to a visual medium, The Expanse has done a great way of differentiating itself from other adaptations. It's been a well-thought out show so far, with most of its adaptation changes being reasonable and sensible so far. Here are 5 different ways The Expanse show has differed from the books.
The series opening
The book Leviathan Wakes opens up with James Holden's perspective of the prologue. When the show opened, we were seeing what was happening to Julie Mao as in the prologue, but this was more taken outside of Holden's perspective. We were then introduced into life in the 23rd century and what large-scale problems could exist there. This was an efficient adaptation as any, especially since the book's prologue goes into a lot of detail that will just take too long to translate otherwise.
The Avasarala introduction
One of the biggest changes to the book was the introduction of Earth's U.N. undersecretary, Crisjen Avasarala. In the books, Avasarala doesn't come around until much later on, but her character is so central in the story that it needed to be on screen as soon as possible. It helps that we have Shohreh Aghdashloo playing that part. She's brilliant as Avasarala and even makes us think at times that maybe the book got Avasarala's timeline all wrong. Maybe not.
John Holden's promotion
Holden's character itself changed quite a bit, from being too idealistic to someone more realistic. There isn't a lot of time to introduce this character from the get go, so the writers changed his backstory. In the show, Holden is the product of antigovernment radicals in Montana.
Avasarala's life
There were a lot of changes made into the character's life besides the fact that she was introduced much earlier. Her son died differently in the show; instead of dying in a ski accident, Avasarala's son on TV was a UN marine who was killed in Mars. This change makes a few episodes make more sense on TV. Another big change that Avasarala got was the switch in her talking. Book Avasarala was a foul-mouthed official. She liked to swear, and people liked her for it. It proved to be too much for the network to handle and so Avasarala became who she is now, a prim and proper lady.
The Ceres action
According to readers, the action in Ceres was intensified tremendously for the purpose of the show. There's a lot more detail in there that the book couldn't care less to elaborate on–a somewhat reversal of roles here. There are characters on the show that are just not in the books.