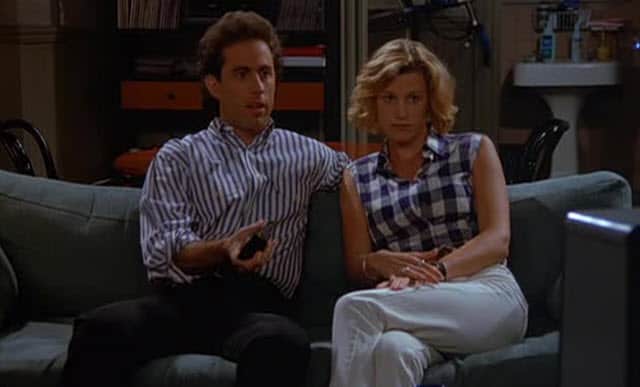 It may be common knowledge that one of Bryan Cranston's earliest roles was that of Tim Whatley on Seinfeld, the dentist who was a recurring character on the show, and eventually ended up dating Elaine and famously calling Jerry an "anti-dentite." But did you know that Cranston was not the only Breaking Bad cast member to get his start on Seinfeld? That's right, Mrs. Skyler White herself, Anna Gunn, also appeared on an episode of Seinfeld called "The Glasses" as Jerry's girlfriend of the week. She may not have been as memorable as famous girlfriends like "they're real and they're spectacular," "man hands" or "puffy shirt," but she got her start there all the same.
The plot of the episode revolved around George thinking he sees Jerry's girlfriend (Gunn) kissing his cousin across the street. But he doesn't have his glasses, so it's hard to be sure. In any case, the episode is spent trying to trap Gunn in her lie, yet when George gets his glasses back he realizes that what he actually saw was a policewoman petting her horse. Now that's bad vision. Though Seinfeld wasn't technically Anna Gunn's first role, it was her most prominent to date. Previously, she'd been a part of the cast for the little-seen show Down the Shore, and before that, had guested on Quantum Leap.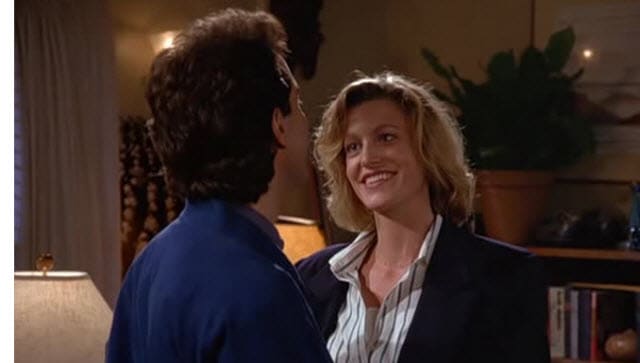 After Seinfeld, Gunn started racking up the TV roles, appearing in shows like NYPD Blue, Murder One, Drew Carey, Judging Amy, and The Guardian. Eventually her next big break was a big part on The Practice in 1997, where she appeared for 10 episodes. After that, HBO fans will recognize Gunn from Deadwood, a show which she appeared on from 2005 to 2006 where she had a solid role for 24 full episodes opposite Timothy Olyphant. The show was unfortunately cancelled prematurely, but it remains one of HBO's best offerings in the storied history of the network. And then of course, after a few more minor roles, that led Gunn to land her big break in Breaking Bad. By then she was no stranger to hit shows or prestige TV, but it would eventually become the biggest role of her career by far.
Gunn describes the first time she ever met Cranston, and how the audition process went for Breaking Bad: "They were really great about the setup of the test. They had us all go in and spend about 10 or 15 minutes with Vince and Bryan before we had to go in and do the actual test, which was nice because it's very nerve-wracking that situation. We had that funny scene, where Skyler is multitasking, as it were, in the pilot. It's such a funny, sort of strange scene. It's a bit daunting to do in a casting situation. We got right to that and trying to figure out how we would do that so that it wasn't completely ridiculous but would still be kind of funny and real at the same time."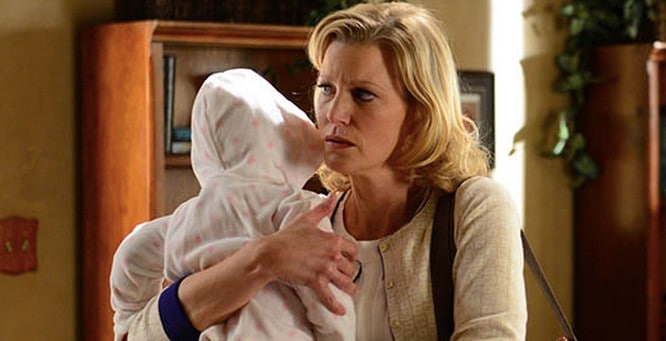 "Bryan and I just started having a really good time working out the mechanics and started laughing and joking around, and Vince kind of stood back and just watched us go to town. I think he enjoyed the chemistry that was between us right away. It was really fun. I remember really distinctly that we had a really good time. It was almost like a comedy audition, in a way. You wouldn't have known how dark it was going to get between them at that time."
In the end, it was her and Cranston who had the chemistry, and got the parts. It's interesting to think of how Breaking Bad really could have been perceived as a comedy in some parts, particularly in the early seasons, particularly with known comedic actor Bryan Cranston in the lead role. And yet the show got progressively darker and darker, and eventually Gunn won an Emmy for her role as Skyler White as the show kept drawing more and more incredible performances out of her as things went to hell. And it all started with Seinfeld, which more or less began the careers of the two stars of one of the best shows ever made. Funny how the industry works, isn't it?
[Photos via NBC and AMC]