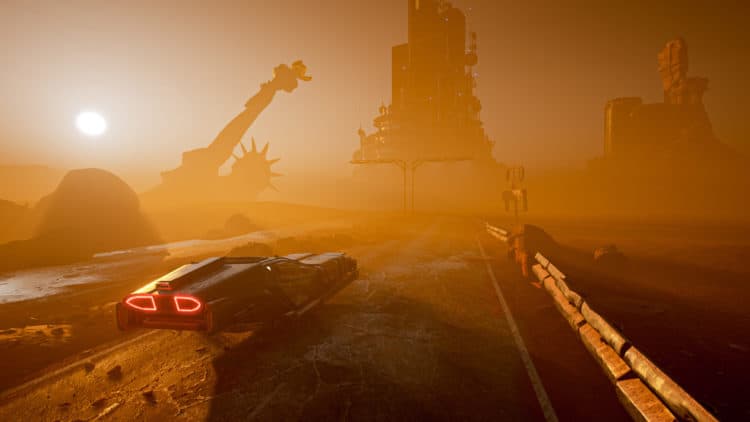 Exekiller is a new IP being developed that could be the antidote to the sour launch of Cyberpunk 2077. The gaming industry seems to go through some fads and it's currently happening now. Between solving time loops with 12 minutes and Deathloop, the sub-genre of Cyberpunk is secondarily there. Exekiller is the latest incarnation of this type of landscape and it kind of has a John Carpenter-esque flavor to it. Set in New York City in 1998, the world witnessed a cataclysmic event known as "The Great Fire Disaster." This burned down most of the planet, which left nothing behind except a charred desert-like landscape. Thusly, 70% of the world's population was wiped out and created a breeding ground for corporations to take over. Players will take control of a bounty hunter who hunts down outlaws to collect chips called, S.O.U.L.S. These chips are recording devices that collect information about people. Also, these chips also have ways to control people, too.
Paradark Studio is a Polish developer that seems to be a fan of 1980's cinema. There are definitely some hints of inspiration of range from Blade Runner, Mad Max, and a variety of westerns. This is certainly an interesting mix of ideas that can potentially make up a vibrant world. From what was shown in the trailer, this is going to be a first-person shooter with vehicular combat and exploratory options. There isn't a whole lot of details laid out about this game, but it's definitely garnering some interest. There are going to be some RPG mechanics in Exekiller that will focus on augmenting skills and the like. The story will take players across a slew of horrid landscapes with changing weather patterns and roaming enemies.
Video
Alternate Hellscape
Even though Exekiller is centered on a retro-futuristic aesthetic, the game is indeed taking place on Earth. The story is basically an alternate reality to where devastation has already ravaged the planet 20 years ago. Therefore, players will recognize certain places on the map. In the trailer, it appears that the main protagonist was driving toward Boulder, Colorado at one point. It's not known how authentic Paradark Studio would want the American landscape to look. Chances are that there will be some historical landmarks to point out during the adventure. Players will be able to freely drive across the landscape in their car in pursuit of their targets. This title will come with dynamic weather patterns which will randomly happen. Rain and radioactive sun storms will be just a couple of examples of how Mother Nature will pose a threat. There will be various wastelands to explore that each offers a new set of natural challenges to overcome. Plus, there will also be bandits roaming the lands that will attack and scavenge everything a player has.
Players will need to make choices throughout the campaign, which will affect the rest of the game. There will be branching story paths that players will need to carefully consider. In some instances, players can choose to take out their target, or just let them go. Sometimes, they can even drag them to jail alive for a different payout. This will have lasting effects throughout the rest of the playthrough. Players will have full freedom to approach any situation they best see fit. This will also include how combat will work. Go in guns blazing, or simply sink into the shadows and sneak around. There will be a fully functioning stealth system where players can sneak around and assassinate enemies. Exekiller will be molded to fit any playstyle that suits the player. Exekiller seems to be striving for a fully organic world where everything grows and evolves based on the player's actions. C0onsidering how small a team that Paradark Studio is, this is an impressive goal to reach. Based on the trailer, everything seems to be coming together nicely and there's a good chance that his game will become a gem among the cyberpunk sub-genre.
Ways Of The Wasteland
Exekiller will have complete flexibility with enemy encounters. The bounty hunter can wipe out everyone in the area, or he can just sneak out unnoticed. There will be a myriad of skills and abilities to unlock. Plus, the environment itself will be loaded with contextual takedowns. As seen in the trailer, the bounty hunter will be able to neutralize the enemy by shooting an electrical node standing nearby. The environment itself can be used as a tool to capture fleeing targets, among other things. As things appear in the trailer, the character seems to have a "Dead Eye" ability of short that's reminiscent of Red Dead Redemption 2. Obviously, this is only a small sample of the abilities that players will be able to unlock and utilize during the story.
Currently, Exekiller is slated to be released exclusively for the PC. Even though Paradark Studio is a small team of developers, this doesn't mean they don't have other plans. Right now, they don't have a publisher that can help out with distribution duties. However, it is still possible that Exekiller could be coming to consoles, but it will take a little time. With the next-generation consoles now on the market, a game that is a PC exclusive can easily transfer over to consoles without much downgrading. Of course, we shall see how Paradark Studio will decide on what to do with their title upon release. As of right now, everything is in early development and release specifics are up in the air.
A Bounty Hunter's Life
Exekiller sounds like an ambitious title. There is a lot going for it and it is all a matter of how things are executed. Both the Cyberpunk and Western genres are pretty hot right now and making a game with this vibe is suitable. Gameplay specifics are thin right now, but the world that Paradark Studios is crating seems to be worth visiting. Any player that is yearning for more of a dystopian adventure with a '90s aesthetic might want to check out Exekiller. This game will be a PC exclusive upon launch with no release date currently set.range from Blade Runner