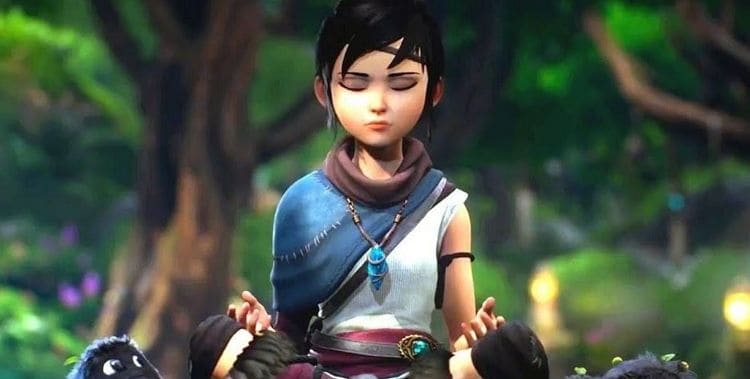 Kena: Bridge of Spirits is a shining reminder of how far gaming has come. Any seasoned gamer that grew up during the 16-bit wars and endured the brutal transition to polygons and ellipsoids can feel that we all crossed a threshold. We are finally at the point that games are fully interactive movies. In the case with Kena: Bridge of Spirits, there is no question that this new IP from Ember Lab was inspired by Pixar movies. One glimpse of the art design from this game makes it difficult to distinguish between the two. The game follows a young spirit guide named Kena that is tasked with assisting newly deceased people to find their way to the spiritual domain. A cataclysmic event has caused turmoil across the land and there are wandering, lost spirits that need to be found. During her quest, she will be accompanied by little spiritual beings called The Rot, as they battle enemies and solve puzzles together.
From a gameplay point of view, Kena: Bridge of Spirits appears to be a mix of Zelda, Event Horizon, and even a little bit of Pikmin peppered in. In fact, The Legend of Zelda plays as a major backbone to the layout of this game, especially when it comes to the epic dungeons and puzzle-solving elements. This would be at no surprise since the developers of this game actually made a short animated film titled Terrible Fate, which is centered on the world of The Legend of Zelda: Majora's Mask. The key difference with this game will be the implementation of The Rot. These little critters will tag along with Kena throughout the course of the game. They will play a vital component in her arsenal. Kena, by default, will be equipped with a magical staff that she can swing around as a melee weapon. As a secondary mode, the staff can morph into a bow to where Kena can shoot mana arrows at enemies. The kicker is, that whenever an enemy becomes weak during combat, The Rot will be able to jump in and finish it off. They will swarm the enemies, overwhelming them in numbers while also having the ability to, shape-shift, shoot projectiles, and more.
Video
Crossing Over
Even though Kena is a spiritual guide, she will have a guide of her own called "Pulse." This comes with two main factors with the gameplay. The first is that Pulse can be activated for environmental clues and puzzle-solving. There will be an assortment of puzzles to solve throughout Kena's adventure and Pulse will assist players with figuring things out. The second is for protection during combat. Pulse will create a force field that will need to be managed with its own health bar. The map for this game will have a Metroidvania layout, where certain items will be needed to bypass blockages and discover new pathways. The Rot will be a key component to solving puzzles and they will need to learn new abilities to help Kena in this aspect throughout the course of the game.
This game won't be open-world per se, rather it's going to have more of a "wide-linear" design. Players will have a main path to follow, but they will be connected with other places to explore at players' own leisure. Yes, exploration will be encouraged with Kena: Bridge of Spirits and there will be a slew of things to find. Even though this game is inspired by the Legend of Zelda series, it won't bear the same heavy RPG elements that it has. Instead, Kena: Bridge of Spirits will be light with the RPG mechanics. Yes, Kena will have some abilities and skills that will need to be upgraded to progress through the game, but it won't have the same depth that other games have.
Spirited Away
Even though Kena: Bridge of Spirits may hold all the hallmarks of an epic story, the developers have noted that this game will have a medium-length campaign. It has been mentioned by the team over at Ember Lab that this came can potentially be completed within just a few days. Although this may drive away from some gamers that could be clamoring for something more, it's not to say that this game won't have any replayability. The main story may be done within a single weekend, but there will still be plenty of nooks and crannies to explore to pad out the playthrough. Sometimes, a short journey into another realm is more than enough to quelch the hunger of trying out something new. There are indeed quite a few gamers out there who simply don't have the time to spend hours upon hours exploring a realm. Having an IP that offers a shorter and more streamlined tale sometimes is exactly what players are looking for.
Kena: Bridge of Spirits was originally going to be released on August 24th, but it has been delayed. The team over at Ember Lab felt that the game isn't quite up to their standards just yet. Therefore, they decided to delay the game to September 21st. The extra month will provide just enough time to polish up the title and iron out any bugs that it may have. It will also give it an opportunity to not get buried with other titles that are coming out this August like 12 minutes and Psychonauts 2. September seems like a much better slate to release Kena: Bridge of Spirits and have it garner the recognition it deserves.
A New Journey Ahead
Gamers have had their eyes on Kena: Bridge of Spirits for a while now and rightfully so. It seems like a nice palette cleanser from all the FPS's and post-apocalyptic titles that are out there. Hopefully, this installment will be the start of a bigger story with sequels. Luckily, players won't have to wait much longer for the release of this title since it is only a month away. Kena: Bridge of Spirits will be available for the PlayStation and PC on September 21st.
Tell us what's wrong with this post? How could we improve it? :)
Let us improve this post!