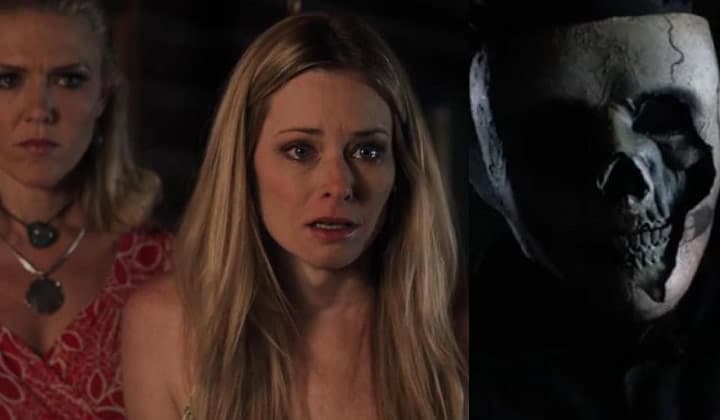 Best known for her previous work as Jennifer Rappaport on One Life to Live, Morris is currently the lead in the hit mini-series Ladies of the Lake, which is available now on Amazon. She plays trophy wife Crystal Amhurst who is willing do anything for her husband's attention and love. The series is based on the novel by Days of Our Lives producer Ken Corday and follows four wealthy wives as they go through life in the gated community of Avalon. After each of their husbands turn up dead, an investigation is launched that unleashes the many secrets hidden within the community.
Her performance earned her a nomination for Best Lead Actress in Drama at the 2018 Indie Series Awards and the show was nominated for Best Digital Drama Series at the 2018 Daytime Emmys. The highly-anticipated second season Ladies of the Lake: Return to Avalon is available for streaming now. The new season picks up six months later when the women of Avalon return to face the repercussions of their decisions while also battling some old rivals and new enemies.
Things are not slowing down for Morris. She will next be seen in Art of the Dead as Gina Wilson. When Dylan Wilson purchases a collection of seven paintings to hang in his wealthy estate, he has no idea what horrors he has unleashed for himself, his wife Gina and the rest of their family. The film is set to be released this October. She stars alongside Tara Reid and Richard Greico Morris is also set to be seen as the lead in Tom Six's latest horror thriller The Onania Club. The plot is currently underwraps and promises to "be one of the most vile, inhumane movie experiences of all time." Anyone who knows Tom Six's past work on the The Human Centipede trilogy knows he'll deliver. The film is currently eyeing a Fall 2018 release date.
Luckily we had a chance to connect with Morris who happened to answer some questions of ours. Here they are!
1. Ladies of the Lake: How did this opportunity come about?
Ladies of the Lake is based on a novel by Ken Corday. Ken, Michael Caruso, Barbi Caruso and Kyle Lowder teamed up to produce the series. Having met Michael before, he reached out to me because he felt that I would be right for the part. I'm very thankful for the opportunity.
2. Everyone knows you from One Life to Live: What's your fondest memory of the show?
I liked when some of the cast and crew would go to charity events together as a show. It was great to be able to support the causes, such as St. Jude's Children's Hospital, and to spend time off the set together. It really made us feel like family. Also, doing love scenes with all of the cute boys lol
3. How did being on a soap opera help you in your career today?
I learned so much on that show. I learned how to access emotions very quickly, since we only ever got 1 or 2 takes. I also got used to learning mass amounts of dialogue in a short amount of time. I would shoot up to 40 pages a day sometimes.
4. You've worked on TV as well as in movies, which do you like better and why?
I like both for different reasons. I love that in film you get a little more time to play around with the scene and really get creative. In TV, things tend to move faster. But there is stability in TV, which is wonderful.
5. Who is your favorite actress and actor and why?
I'm really into Cate Blanchett right now. Well, I always have been because of her talent, but lately she is blowing me away. She is still such a hot femme fatale and she inspires me very much.
6. What is your favorite TV show of all time?
I don't have one of all time. I like different ones at different points in my life. Right now, my favorites are The Handmaid's Tale and Westworld.
7. What is your favorite movie of all time?
There are so many amazing movies. Legends of the Fall has always been one of my favorites.
8. Who were your mentors?
I've been with my manager, Debralynn Findon, since I first started my career. She had a career as a model before becoming a talent manager. She has always guided me and looked out for me and been a "role model" for me;)
9. What advice would you give to aspiring actors?
Make sure you are in it for the long haul. A lucky handful of actors do become overnight stars, but most of us work for many years before seeing any real movement. You have to truly love what you do, whether you are booking roles or not.
10. What other projects are you currently/set to work on?
I'm starting an action/thriller next month called "Chase" with director Michael Matteo Rossi. It's a captivating script and I can't wait to throw myself into it.