A source of much speculation leading up to the new movie's release next month was what role Sylvester Stallone was being given in Guardians of the Galaxy Vol. 2. Other than being a Ravager — the space pirates that Starlord double-crossed in the first Guardians of the Galaxy — there really wasn't much to go off of.
Writer-director James Gunn promised that old Sly's role was "a very, very key, important role," although he went on to clarify that, saying that "it's not a huge role. He's a great and key supporting actor." But with Marvel's largely untapped roster of cosmic characters, that could have been just about anybody. Uatu the Watcher Vance Astro, Adam Warlock and one of the Elders of the Universe were all possibilities being thrown around since his involvement in the movie was revealed.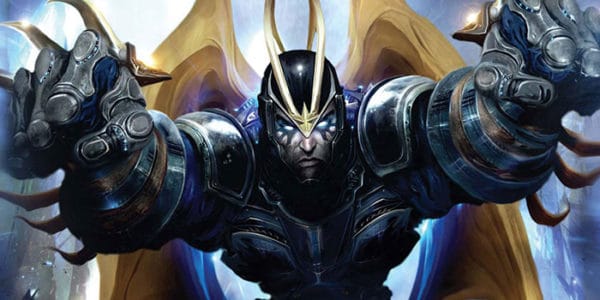 Now, however, we know exactly who Stallone will be playing, although that's not much consolation to the vast majority of Marvel fans who have never heard of the character before. As it turns out, he will play Stakar Ogord, better known as the superhero Starhawk.
I know that James Gunn loves dredging up the obscure characters — I mean, Guardians of the Galaxy's post-credit scene featured Cosmo the telepathic Russian space dog and Howard the Duck — but he really outdid himself here. Unless you've been reading the recent Guardians 3000 comic, chances are you've never crossed paths with Starhawk, who has one of the more… let's call it "interesting" backstories in all of Marvel comics.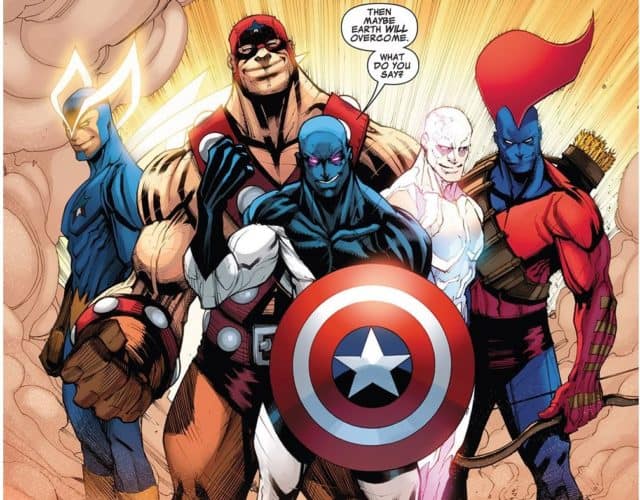 In the (then) future year of 2001, Mars launched its second attack on Earth (following the 1901 invasion detailed in H.G Wells' War of the Worlds). The superhero Quasar (long story) rescued his wife Kismet (another long story) who was pregnant with his child. After giving birth, the baby Starhawk was kidnapped, deposited on a distant planet, adopted, orphaned and then joined up with the Ravagers who orphaned him in the first place. Eventually a Hawk God would conjoin him with Aleta, his adopted sister and love interest, to create the superhero Starhawk.
But wait, it gets even weirder from here. Stakar is caught in a loop of endlessly reliving his already immortal life. This gives him a knowledge of the future that is functionally precognition. Dubbing himself as the "One Who Knows" and "the wisdom and the glory of your ancestors," he used his extensive foreknowledge to manipulate the course of history on a galactic scale, including the formation of the original Guardians of the Galaxy.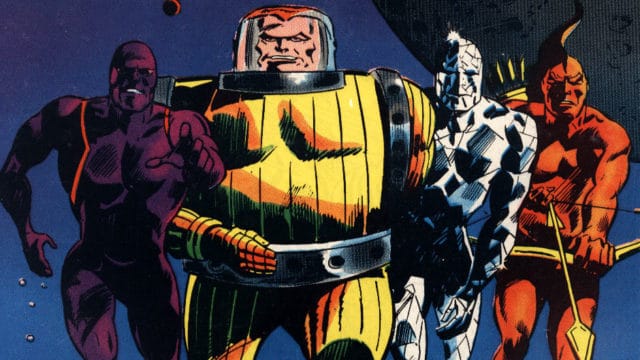 And as far as powers go, he rivals Superman for "everything but the kitchen sink" level of abilities. He is as strong as Thor, having duked it out with the Asgardian Avenger in the comics. He can fly at the speed of light (or even faster using the "solar sails" in his costume) and can survive in the vacuum of space. He can fire off blasts of photonic energy and essentially has the powers of a Green Lantern (generating solid light constructs in any shape he chooses). He doesn't age and is immune to all disease and infection (plus he has that whole perpetual reincarnation thing going for him).
The movie version of Starhawk is allegedly going to have a history with Yondu, the blue-skinned Ravager who abducted Starlord from Earth as a child. While the exact details are a bit scarce at the moment, Starhawk evidently took in Yondu in much the same way that Yondu did for the young Starlord; he also crossed his surrogate father similarly to how his "adopted" son did to him. This evidently resulted in him leaving Starhawk's Ravagers and forming a group of his own, leaving a lot unsettled between them.
So yeah, kind of a big deal. Not only is his character well-connected with the other obscure cosmic characters that Marvel seems to enjoy playing with these days, he is a master manipulator who probably had something to do with the events of the first movie and any number of movies coming down the pipeline. And given his connection to the Guardians 3000 series, where he is a high-profile member of the team, he'll probably continue to interact with this version on the big screen.
Save