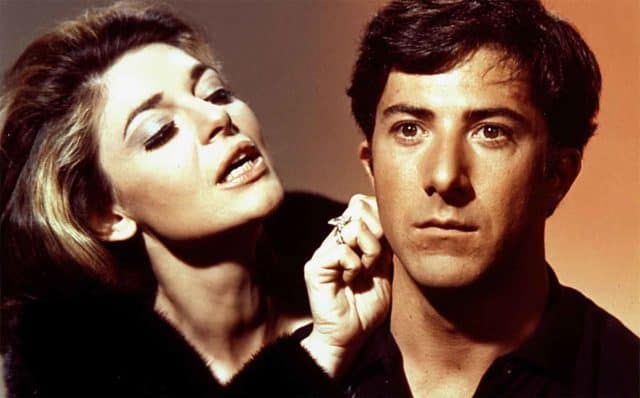 The Graduate is more or less about the desire of a younger man to get involved with an older woman and the fallout that results as he realizes that becoming romantically involved with her daughter is perhaps a bad idea. Unfortunately he starts falling for the woman's daughter and has to own up to the fact that he has to tel her eventually just what went on between the two of them. The bad part of this is that she's already told her daughter and made up a wild tale of how he assaulted her and did unspeakable things, all as a way to keep the control she felt slipping away when he decided to go after her daughter.
Oh what a tangled web.
10. Anne Bancroft didn't know that Dustin Hoffman was going to grab her breast in the hotel scene.
Hoffman was reportedly very shy and felt completely awkward on the set and so he felt it was necessary to do something that would stand out.
9. Hoffman was mistaken for a window cleaner when he showed up to audition.
Much to his credit he decided to audition as a window cleaner to show the casting director he could do it.
8. Hoffman's awkward manner was what got him the role.
He really appeared to have no idea what he was doing and because of this he seemed always at a loss for what to do. It was just what was needed for his character.
7. Hoffman was also set to do Mel Brooks' film The Producer at the same time as this film.
Brooks didn't think that Hoffman was going to get the role so he allowed him to go and audition.
6. The pastor of the church that Hoffman was pounding on almost threw the cast out.
During the church scene Hoffman had to pound on the window of the church, which was quite fragile. A compromise had to be reached with the pastor so that the window would remain intact and the scene would still be preserved.
5. A lot of men had sexual fantasies about Anne Bancroft after watching this movie.
There's something about an older women that seems to appeal to some men, but not all of them.
4. Bancroft was adamant about not doing any nudity.
There are rumors that a stripper was brought in as a body double to do the scenes, but that's still highly debated to this day.
3. Many women either auditioned or were interested in playing the part of Mrs. Robinson.
The list is very, very long, but while some might have worked, others were just a little too old or too young to really make the part work.
2. In the novel Ben stops Elaine before she says "I do."
In the movie he gets there right after she says the words, but she still manages to run away with him all the same.
1. Hoffman fainted during the church scene.
He had to do the scene about twenty times on a very hot day and needed oxygen by the time they were done.
It's still one of the most talked-about movies ever.