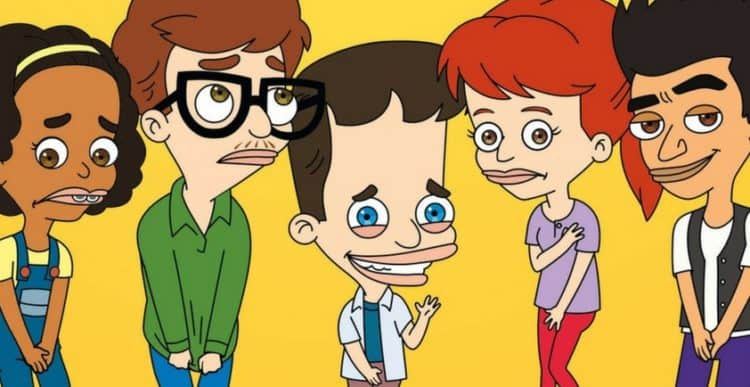 Spinoffs are derivations of narratives from already existing shows; they are not a new thing in the entertainment industry. Since the 1980s, many of America's famous TV shows have been recreated to develop spinoffs that focus on specific elements of the original shows. In the world of animation, the first animated spinoff was "The Yogi Bear Show," which aired in 1961, and since then, producers have followed suit to create the best spinoffs ever. On October 3rd, 2019, at the New York Comic-com event, Netflix announced that they would be creating a new spinoff off their animation show, "Big Mouth." "Big Mouth" is an adult sitcom that has been running since September 29th, 2017, and its third season premiered on February 8th, 2019. Primetime Emmy Awards and MTV Movie Awards nominated it for the Outstanding Animated Program and Best show, respectively, in 2019. Here is all that we have gathered so far about the "Big Mouth" spinoff.
Its title
Fans have been yearning for the show's spinoff since the release of its second season, and they now have a reason to smile. According to Variety, several producers are already working on the new series, which will be known as "Human Resources" and will contain workplace humor.
Its producers
A team of four behind creating the series is working on a new course to develop the spinoff. The four are Nick Kroll, Andrew Goldberg, Mark Levin, and Jennifer Flackett. All of them are renowned actors, voice-players, creators, and producers of various television shows and films. For instance, Nick Kroll, the lead executive producer, is famous for producing and acting in his show known as "Kroll Show" that aired on Comedy Central. He also has voice-acted in many blockbuster animations such as "The Secret Life of Pets 2," "Uncle Drew," and "Sausage Party."
Andrew Goldberg, Nick Kroll's childhood friend, is the show's screenplay writer. He has written other notable works such as "The Family Guy" and has published numerous books, including "The Lost Art of Being a Man," which was a success. Mark Levin is another co-producer of the sitcom. The 51-year-old American has been producing, directing, and screenwriting TV shows and movies for more than two decades. Mark is famous for his role as the director of "Little Manhattan" and "Nim's Island." He is married to fellow producer Jennifer Flackett, and they have two children together. Flackett has written the scripts of "Earth 2" and "Beverly Hills." She is currently developing a show known as "Confusing" for NBC TV Network and another one titled "The Courtship of Eddie's Father" for Warner Brother TV.
Its plot
It is a sitcom that depicts events taking place in a world of monsters. Its plot revolves around the different hormone monsters that were in the second season of "Big Mouth." The hormone monsters showed children journeying to their office spaces to seek their monster's guiding voice. The new animation is set to be a bigger hit than "Big Mouth." Producers are planning to include almost everything that guides people and create something more than a world of monsters. According to Distractify, "Human Resources" will look deep into human lives as they maneuver through their anxieties in various monster office spaces.
Its trailer
Producers of TV shows and films often give fans the chance to view shows before they premiere. Fans of the adult sitcom are already excited as Netflix released a 29-second clip to provide us with a glimpse of the upcoming series. Netflix shared the preview on its official YouTube channel, and it shows a monster walking towards big giant gates labeled "Human Resource: We manage People." As it nears the big gates, the horned beast opens its wings and spreads them in a sign of triumph. The trailer was released on October 3rd, 2019, and has since accrued over 150,000 views on YouTube.
Anticipated characters
Even though Netflix has not yet announced the official cast of the series, fans are too excited and can't stop guessing who it will cast. One of the most anticipated actresses in Maya Rudolph. Fans are hoping the company will add her in their circle of voice-actors and have her voice a character in the upcoming series. She has starred in several highly rated movies such as 'Bridesmaids' in 2011 and 'Grown Ups' in 2010. Fans are also hoping the show's executive producer, Nick Kroll, will voice-act in the show and portray his exemplary narrating skills.
It is part of a deal
The four producers of "Big Mouth" have a production company known as Brutus Pink, which recently struck a production deal with Netflix. The agreement which will run for more than one year states that the team will create three more seasons of "Big Mouth." Additionally, their company will produce multiple animation shows and films that contain adult content, which is humorous and emotional.
Its tag line
Its producer's not only titled the series but also gave it a tagline, "we manage people," as we can see on its released trailer. It is a reflection of the role of monsters in the series whose work is to operate in people and guide them in making various decisions in their lives.
Its will be educative
Similar to "Big Mouth," this spinoff will expose multiple issues that young teenagers face in their puberty stage. "Big Mouth" confronts several societal problems such as the youth discovering their sexuality, feminism, and unnecessary masculinity. Similarly, the spinoff will contain more than fun and humor as fans can learn a thing or two from its plot. Teenagers are expecting it to address various contemporary issues that they are facing, especially when it comes to making the right decision concerning those problems. The show is likely to explore other concerns besides sexuality, such as youth empowerment that will be instrumental in molding young minds.
Tell us what's wrong with this post? How could we improve it? :)
Let us improve this post!