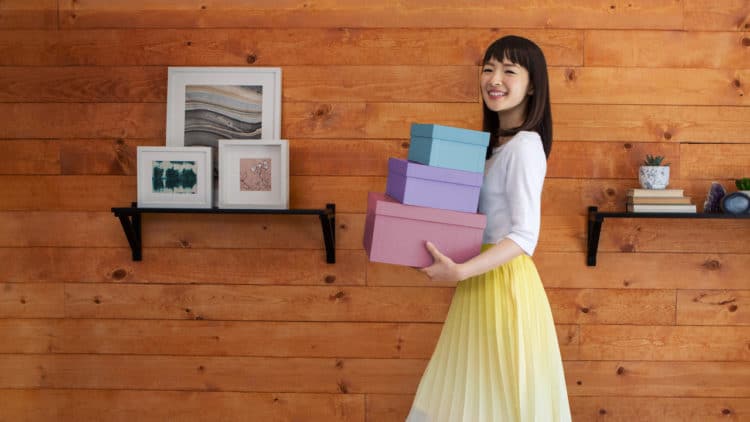 It's 2022 and we're all excited to have a fresh start. We're planning all the lifestyle changes we want to incorporate in our lives, whether it be fitness, getting better at organizing, or being more sustainable. If you plan to declutter your home, organize your closet, or live a more minimalist life, here are five shows you can start binge-watching to set off the year with a good start.
Tidying Up With Marie Kondo
If you haven't joined the Marie Kondo craze when it became big in 2019, it's time to binge the show on Netflix and help you tidy up your home and your life. Tidying Up with Marie Kondo features tidying expert Marie Kondo, who helps people declutter their homes and leave more space for joy in their lives by guiding them in the process of discarding and sorting. Before the Netflix series became a hit, Kondo first gained worldwide attention in 2014 with her book The Life-Changing Magic of Tidying Up: The Japanese Art of Decluttering and Organizing, and this was followed by Spark Joy: An Illustrated Master Class on the Art of Organizing and Tidying Up in 2016. The Atlantic published an article about the organizational guru and praised her empathic attitude. "If not exactly supernatural, Kondo's effect on people is transformative, and that's because her attitude is rooted in empathy rather than in judgment or in a prescriptive approach to outward appearances. Chatting with her interpreter, Marie Iida, on the walk from the car to the front door of her clients' home at the beginning of each episode, Kondo finds something genuinely nice to say about every house before entering." Variety also reviewed the series saying, "Her featherweight touch leaves space for the audience to imagine changes they might make in a year ahead that's, in its first hours, as blank and open to possibility as a KonMari'd room."
Master The Mess
The TV series Master the Mess, from Reese Witherspoon's production company, Hello Sunshine, features professional organizers Clea Shearer and Joanna Teplin, the creators of Home Edit. The organizing gurus have worked with several celebrities, including Gwyneth Paltrow, Rachel Zoe, Khloe Kardashian, Thomas Rhett, and Christina Applegate to name a few. The duo helps people transform their homes through their organizational skills and some episodes also include celebrity clients. You can binge the show on DirecTV or U-Verse and learn from the quirky organizers. Southern Living wrote about the show, raving about the hosts' magic in organizing. "They're home-organization magic makers, and once they've finished a room, it's a beautiful thing to behold. It's not always smooth sailing, though—they never know what they're going to unearth when they start working on a new space."
Bea Organized
Beatrice Copeland has been hailed as the "Martha Stewart of Millenials". You can stream her show Bea Organized on YouTube or Amazon Prime Video and learn how to organize your home and change your perspective about your possessions. She shares a lot of DIY stuff and her series has garnered relatively positive reviews on Amazon. Bea is also the creator and host of Refinery29's room-makeover series and is part of Cheddar @Home's series, where she gives professional advice to homeowners. In an article by HuffPost, they wrote about Bea Copeland's closet makeover for their fashion editor Annie. "Beatrice breaks this process down to a set of manageable, (almost) painless steps, beginning with removing everything from the closet. Next, like any meticulous organizer, she separates Annie's wardrobe into piles to keep, sell, and donate. Finally, she gets to the most satisfying part, putting everything Annie chose to keep back in a way so neat and tidy it looks like Marie Kondo's closet heaven. In the end, Annie's remaining clothes looked better than ever, thanks to Beatrice's expert hands (and with a little help from some brand new hangers)."
Queer Eye
New episodes of Queer Eye dropped on Netflix last December 31, gearing everyone up for 2022. The reboot of the Fab Five is serving us a lot of lifestyle inspos and heartfelt episodes for their latest season. The Fab Five comprises of Antoni Porowski on food and wine, Booby Berk on interior design, Jonathan Van Ness on grooming, Tan France on Fashion, and Karamo Brown on culture, all of whom help deserving individuals find their confidence and start their lifestyle improvement. The sixth season of Queer Eye can surely bring you happy tears, and aside from learning a thing or two from Fab Five's advice, the stories of the featured heroes this season are definitely worth the watch. In an article published by Texas Monthy, the show's latest season set in Texas was described as "Healing Work of Pandemic Art." "This season, the narrative plays out differently—change is an ever-present fact of life, especially now—and that difference is present in our own lives, too. It'll probably be a while before we experience the catharsis, release, and growth from the pandemic that the best art can help us feel when trying to make sense of the major events in our lives—but season six of Queer Eye is a good start."
The Minimalists
Aside from getting better at organizing and decluttering, the minimalist lifestyle is something that most of us would like to try. There's no better way to learn the foundations of minimalism than by watching the films and series by Joshua Fields Millburn and Ryan Nicodemus, who have built the minimalist movement. The Minimalists duo have been helping people live a better life with less. The Minimalists have been featured in the New York Times, Wall Street Journal, and Forbes to name a few. If you want to experience the positive change of making the switch to a minimalist lifestyle whether for financial reasons or environmental reasons check their projects that you can watch on Netflix and YouTube. Their first documentary film in 2015 Minimalism: A Documentary About the Important Things was directed by Matt D'Avella and discusses the importance of minimalism and how such a lifestyle is essential for the future. It also featured people who live by the principle of minimalism. The film was followed by Netflix documentary The Minimalists: Less is Now which The Hindu wrote about in one of their articles. "The film exposes our consumer patterns, explains why we hold on to junk, gives a 30-day declutter plan, and educates on the benefits of intentional living in an encouraging and non-judgemental way. Besides its minor flaws in execution, Less is Now is an inspiring film with a great deal of reliability." You can also binge on The Minimalists' video essay series Let's Talk About Less and Living Room Conversations on YouTube.
Tell us what's wrong with this post? How could we improve it? :)
Let us improve this post!