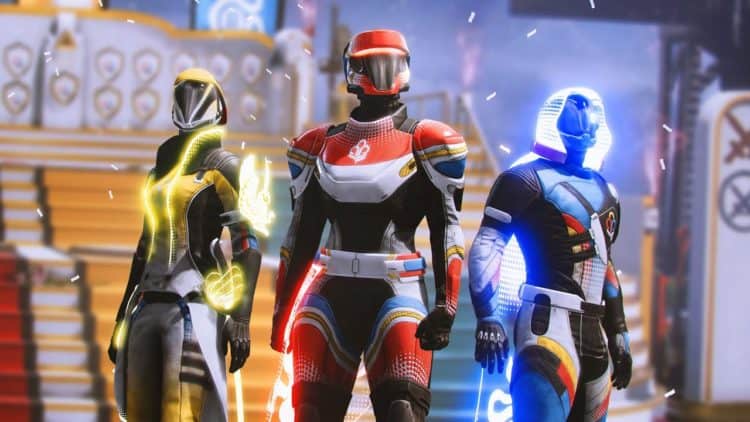 The second iteration of Guardian Games in Destiny 2 is almost upon us, and after last year's "stomp of the Titans" as I'm dubbing it, players are ready and eager to once again prove who is truly the best class. While many were disappointed with quite a bit of last year's event, as it did seem to be lacking any sort of real substance, it seems that Bungie is switching things up a bit this year, with some new features, new rewards, and of course, a new set of Guardian Games Universal Ornaments available for each superior class. So what exactly is the Guardian Games event? Why is it such a big deal in the Destiny community? More importantly, what can you seek to earn from the activity?
What is Guardian Games in Destiny 2?
Guardian Games is an annual event that began last year in 2020, and it seeks to pit all three Guardian classes (Hunter, Titan, Warlock) against each other in a competition for the ages. Within the event, you are able to collect elemental laurels and complete bounties in order to further advance your class' position in the global Tower "leaderboard." Last year, the class that no one thought even had a remote chance of winning – Titans – took home the gold and have now proudly displayed their slightly less-than Titan-size trophy at Zavala's side. If there's any event that promotes class superiority and some light-hearted (and not light-hearted) toxicity, it's definitely going to be Guardian Games. Each week, there will be a podium ceremony to grant Guardians with distinctive gold, silver, or bronze auras, which will last the rest of the week. The winning class will be recognized at the Guardian Games Closing Ceremonies, complete with fireworks and a trophy displayed in the Tower all year long.
Activities
Laurels
In order to participate in Guardian Games, you will need to have escaped the Cosmodrome to unlock the Tower. After that, you'll be able to earn Laurels in all activities. There are a couple of things to note, however:
Players must wear their Guardian Games class item to generate Laurels and progress any Guardian Game bounties.
Previous Guardian Games class items (the Cunning Rivalry Cloak, Mighty Rivalry Mark, and Sage Rivalry Bond) will not generate Laurels or progress any Guardian Games bounties.
Laurels do not drop on the ground in Gambit or Crucible, and are instead rewarded directly to players.
Unrecovered laurels do not go to a player's Postmaster and must be picked up to count towards their total.
Medals
Players can earn medals from Triumphs, Contender Cards, and activity completions. These medals are stored in the Medal Case found in the Quest inventory, turning in these medals to the Tower Podium will increase your team's score.
If the Medal Case is full, Medals earned through claiming Triumphs will be lost.
Contender Cards
Players can purchase Contender Cards from Eva. Completing the Trials or Nightfall Contender Cards will award a Platinum Medal. Completing the Strikes, Gambit, or Crucible Contender Card will award a Gold Medal.
Rewards
Last year's Guardian Games in Destiny 2 gave us the timed-exclusive Exotic "Heir Apparent." The Heir Apparent is an Exotic Machine Gun that is almost identical to a Cabal machine gun, and allows the user to spin up the weapon, but can only be fired when fully spun up. The perk "Armor of the Colossus" allows the weapon to protect you with an Arc Shield if you spin up the weapon while at full health. This year's Guardian Games will allow you to obtain the Heir Apparent if you hadn't done so during last year's event, but we will also be receiving an Exotic catalyst for the weapon this time around. It's currently unknown what this catalyst will do, but my hope is that it reduces the time to fully spin up the weapon, though I strongly doubt this would be the case. We'll probably just end up getting a larger magazine or a higher rate of fire. You'll also be able to earn a brand new Exotic Sparrow, Legendary class items (one per class), two emblems, and a pair of shaders as you participate in the Guardian Games event. There's also a new set of Universal Ornaments available for each class; these ornaments remind me a lot of the Sparrow Racing League (RIP SRL) armor sets, but I'm not getting my hopes up for a return of the legendary event. As with last year's event, there are also 3 class-specific Ghost Shells to collect including the Rival Titan, Warlock, and Hunter shells, however these are not locked to a specific class, so you can wear them on any class you'd like.
Bungie Rewards
Bungie Rewards is probably why Destiny has always been my favorite game of all time, because it allows you to earn physical rewards to celebrate your in-game triumphs. Now, with the 2021 Guardian Games in Destiny 2, Bungie is also adding a few items to the Bungie Rewards pool for unlocking the Exotic Sparrow, and participating in the final weekend's Closing Ceremonies. These rewards include a Guardian Games track jacket, as well as a gold pin commemorating the winning class. Hopefully the winning class will be yours (no worries if you have three different class characters), or else this will probably just be salt on the wound.
When does Guardian Games happen?
This year's Guardian Games will take place from April 20 – May 11, 2021 and will be free to all players that would like to participate. It's great to see that Bungie is still allowing players to participate in seasonal events even if they don't purchase the latest Season or expansion. However, you'll probably want to spend some of your hard-earned cash on some of these in-game items that won't necessarily be earnable.
Known issues
There are a few issues that Bungie is aware of, and has made players aware of these issues surrounding Guardian Games:
Several Quest items, such as the Medal Case and Contender Cards, will not be removed from player inventories after Guardian Games has ended.
If the Medal Case is full, Medals earned through claiming Triumphs will be lost.
Class items acquired from Zavala are awarded at 1250 Power Level instead of at 1300 Power Level, which can be acquired from Eva.
Players will not be able to deposit Medals if they were acquired in the Tower after players have already deposited Medals of the same rarity. Players can return to Orbit and head back to the Tower to deposit those Medals.
The Laurel acquisition step of Heir Apparent Exotic Quest only counts laurels picked up off of the ground.
Non-masterworked Guardian Games ghosts purchased from Eva display a 'Completed' objective.
Certain shaders may erroneously remove the glow from the Eververse Warlock Guardian Games Universal Ornament set.
While I wasn't exactly the biggest fan of last year's Guardian Games, I still had fun competing for the winning class (Warlocks will always be winners in my eyes) and even most of the grind for Heir Apparent was fun too. I'm really excited that Bungie is changing it up again to make this event seem more substantial and less of a mindless grind. Who do you hope to see take home the gold this year? Will Titans be able to take the throne yet again, or will Hunters claim their victory this time around?