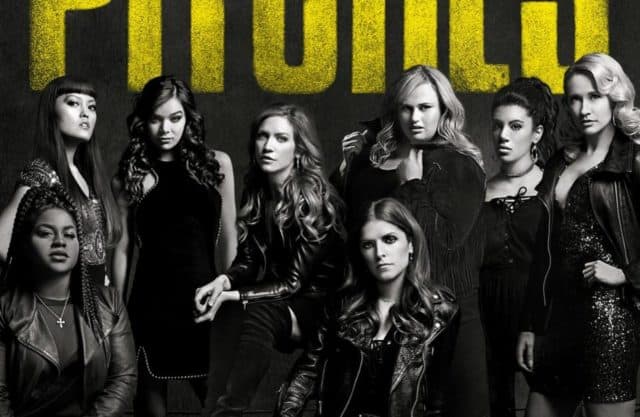 If you're a Pitch Perfect fan then you're probably chomping at the bit to watch the third installment, but sadly you're going to have to wait until December when it finally comes out. Just calm down and practice your pitches a bit and you should be fine. Until then you can at least find out what's going on in the film and what you can expect when it finally does come out. Needless to say some things you might be surprised by and some you should have learned to expect by now. Not much should change, but there ought to be just enough to keep all you would-be pitches amused for a while.
So take a look and see just what we you know so that you can breathe and weather the months to come.
The biggest stars will be back.
You didn't really think the movie could move forward without the biggest stars did you? Anna Kendrick, Hailee Steinfeld, Brittany Snow, Anna Camp, and Rebel Wilson will all be back reprising their roles. You seriously cannot have this movie without them, but there are bound to be a few new characters here and there just to keep things interesting and moving along.
Ruby Rose is in the house.
Fresh off her meteoric rise to fame, Ruby Rose will be appearing as Calamity in the new film and will be rocking it as a singer as well. She's been seen in Orange Is The New Black and XXX: Return of Xander Cage. She already looks like she's about as tough as they come, and will be bringing that new bad girl attitude to the group in December.
We'll get to hear more about Fat Amy's origin.
So how exactly did she get that name? It's not something that you simply label someone with unless you're a complete jerk. Maybe Pitch Perfect fans know or have a theory why the character was slapped with this label, but in the next film there have been hints that we'll get to learn more about it and just why she seems okay with it.
The Bellas aren't at Barden anymore.
It's time to head out into the world and see what it's all about. Just imagine USO shows and getting to travel while doing what you love. This is going to be a part of the story line and an important developmental process that will take place in the film.
It features a new director.
Trish Sie will be taking over as the director as Elizabeth Banks is going off to another project and has passed the baton to another that will take the Pitch Perfect brand in the desired direction. As of now it's still in its final edits and will be ready to go in December.
There's still room for a Pitch Perfect 4.
Don't get too excited yet. There's lots of material, lot's of potential, and lot's of time left to develop it. But keep in mind that actors and actresses tend to get busy and schedules do happen to change. So if it happens, as it should, the dynamic and group might very well change.
So that's what we know that you now know. Pitch Perfect 3 will be out this year, and it is expected to give the fans everything they want and more.
Check out the trailer below:
Save