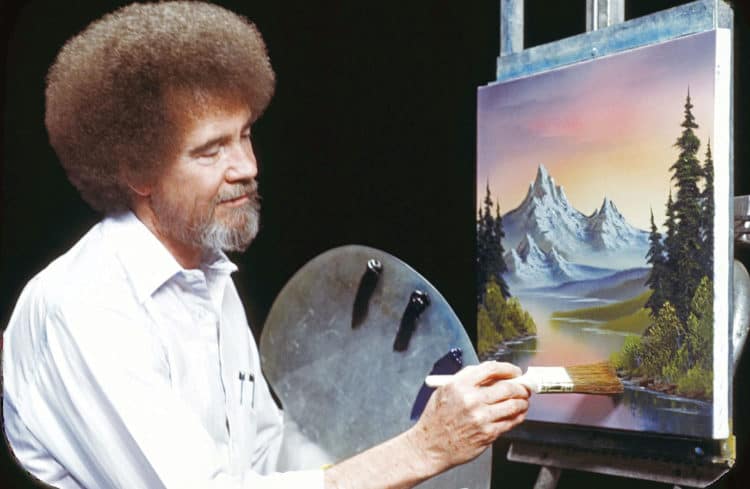 It is just a little hard to imagine but Bob Ross is getting even more popular now than he was back in the day, and now that his entire series is going on YouTube for free it's likely he'll be an even bigger sensation if only because his positive energy and calm demeanor is, as Jeremy Dick of TVWeb states, really needed right now. To think that a show started in 1983 would still be popular today isn't too much of a stretch since a lot of people still remember some of the older shows and still happen to care quite a bit about them. Bringing them all back wouldn't be the best idea really, especially since, like Bob, some of the stars have passed away. Bob passed in 1995 so anything we've seen from that point on have been reruns and possibly episodes that might not have been seen in their entirety. But there is something very cathartic about this show and the way it can lull a person from a bad day or a bad mood into a state of calm acceptance simply by watching Bob paint. He goes through pretty much every little thing he's doing and doesn't leave the audience feeling left out as he encourages them to practice along with him and offers tips and hints here and there to help them out.
Without any offense to the show or the late Mr. Ross, it's also a good way to induce a nap as well, since Ross's voice is just that soothing and the show is enough to lull someone into a nice, deep slumber if they're feeling exhausted or even just a little tired. There's nothing wrong with it, some shows are just adept at putting people to sleep for a little bit either because they're that boring or, in the case of Bob Ross, are just so mellow and laid back. But apart from taking a nap his is a good show to actually learn something while doing it as well. The brushes he uses might appear to be a little big but if you can paint with a house brush then you can paint with anything really. Some people might want to argue that point but it's the same with anything that takes a good amount of skill, if you can perform said skill with the most basic or the most unlikely of tools then it's not the tool, it's your skill level and your confidence in what you can do. Obviously there are limits to this belief, but if you've ever had to do fine touch-up work on a job with pretty much whatever just happens to be lying around, then you've learned how to do what you can with what's there and might have learned how to dab with a house brush in a way that doesn't make a mess but produces a very superb look when all is said and done. A lot of people might think that a brush that big is no good for work like this, but obviously Bob has proven in the past that this just isn't the case.
Another great aspect of this show is that Bob never really became so technical-minded that he started throwing out terms that were too hard to understand. He kept everything simple, from his tools to his explanations to the manner in which he began and then finished a painting. It's amazing to learn what people are willing to pay for a Bob Ross painting really, even though the name alone is likely what makes any of his works worth as much as they are. He's been a pop culture icon for so long that it's hard to remember a time when he wasn't around if you're a child of the 80s or 90s. Danny Hajek of NPR has a few other things to say about Bob Ross that some people might not have known. This is just one of the people that we grew up with and that was always there when we turned on the TV. A lot of us might have watched for a little while if there was nothing else on, some of us might have even watched and then tried to emulate Bob a bit, but it's very possible that a lot of us didn't have the patience or the skill level to really dig in and do what he was doing. This guy could paint a picture with barely any effort, or at least it looked that way. From start to finish it always appeared that he knew what he was doing, that he was in complete control, and that he didn't stress over anything. Obviously all of that was true since on screen Bob was one of the coolest guys around and didn't ever raise his voice or do or say anything that made people think he was anything but in the moment and completely relaxed with what he was doing. In terms of needing to chill out and just feel positive, this is likely one of the best shows a person can find right now.