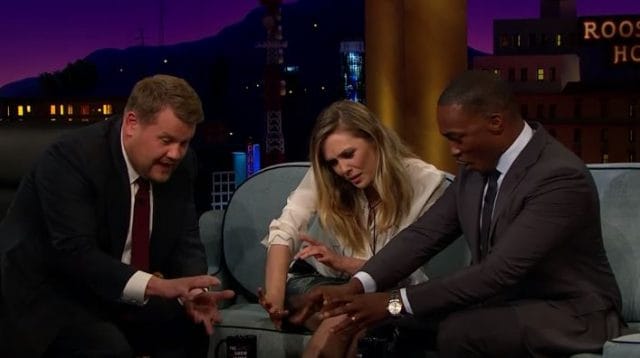 Even though Captain America: Civil War debuted in theaters in the U.S. on Friday, its stars are still hitting up the late night talk shows to promote the Marvel film, and two of the movie's biggest players, Elizabeth Olsen and Anthony Mackie, were guests on The Late Late Show With James Corden last night. When the three of them began talking about the movie, Corden was quick to point out how incredible the action in the film is, particularly the stunt work.
"Well, you have so many intense stunts in the movie," Corden said. "Everybody's jumping off stuff and flying around."
"Some us had intense stunts," Mackie said, joking that Olsen's Scarlet Witch is "at a rave the whole movie."
Mackie followed up his comments with some pretty hilarious hand gestures that he continued to do throughout most of the interview. However, after Olsen actually demonstrated what she did for the movie, Corden and Mackie both did their best to replicate Scarlet Witch's "choreography" as they pretended to move a coffee mug with their minds. Neither of them really was able to nail the motions as well as Olsen was, though.
Watch Elizabeth Olsen try to teach James Corden and Anthony Mackie Scarlet Witch's moves in the video below:
[Photo via YouTube]
Tell us what's wrong with this post? How could we improve it? :)
Let us improve this post!