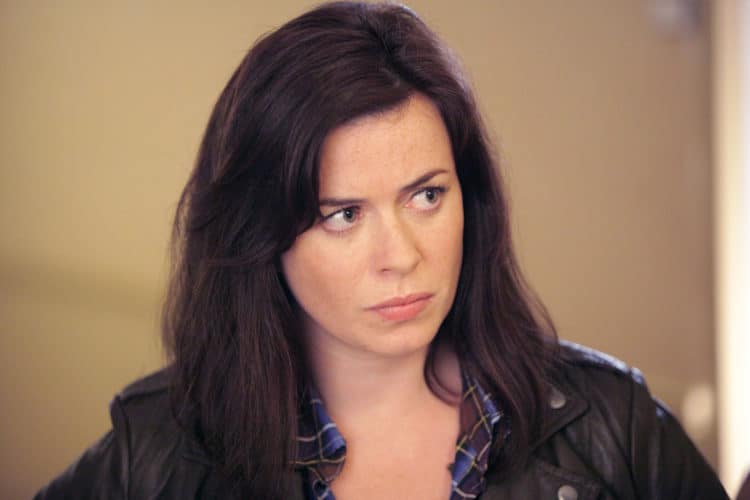 Eve Myles has been acting professionally for more than 20 years. Her resume includes lots of regular and recurring roles and her talent definitely knows no bounds. However, for much of her career, Eve was a relatively unknown actress. That is, until she was unexpectedly thrust into the spotlight in 2017 when the series Keeping Faith became a huge hit. Although Keeping Faith is a Welsh series, it's become an international hit, and so has Eve. Now that more people have been introduced to Eve and her abilities, there's no doubt that we'll all be seeing much more of her in the future. Continue for 10 things you didn't know about Eve Myles.
1. She's Married To Her On Screen Husband
There's a reason why Eve and her on screen husband in Keeping Faith have so much chemistry; it's because they're actually married in real life. Eve and her husband, Bradley Freegard, met when she was just 16 years old while studying at the National Youth Theatre of Wales. They have been married since 2013 and have two children together.
2. She Struggles With Anxiety
There's a misconception that people who have careers that require being in the spotlight don't deal with feelings of anxiety and nervousness, but that isn't true. Lots of celebrities have expressed that they've dealt with anxiety and Eve Myles is one of them. She hasn't gone into detail about how anxiety has impacted her life, but it's likely presented some challenges during her career.
3. She Likes To Go Camping
At this point in her career, most people would consider Eve a star, however, she doesn't like to get wrapped up in all that. She really enjoys the simpler things in life. She and her husband owned a camper van and they enjoy getting out into nature whenever they get the chance.
4. She Didn't Always Speak Welsh
Being cast in Keeping Faith immediately posed a challenge for Eve because each scene of the show is filmed in Welsh and English. Despite being born and raised in Wales, Eve never learned Welsh. As a result, she turned down the part four times before finally agreeing to take the job.
5. She's A Big Johnny Cash Fan
There's Johnny Cash fans, and then there's Eve Myles. She is a huge Johnny Cash fan and that extends beyond music. She told Under the Radar Magazine, " I even named my car after Johnny Cash. I love Johnny Cash, I love all the old stuff…" Eve also likes hip-hop and is a fan of Jay Z.
6. She's Not Very Active On Social Media
Eve has built a huge fan base over the years, but unfortunately for those who want to keep up with her, you won't be able to do it on social media. Although she has accounts on both Instagram and Twitter, she isn't very active on either platform. In the last six years, she's only posted on Instagram 19 times.
7. She's Narrated Audio Books
Eve Myers isn't only a natural in front of the camera. Apparently, she's also a natural in front of the microphone. She's has narrated two audio books so far including In the Shadows by Joseph Lidster. She also had a voice role in the 2011 video game, Dragon Age II.
8. She's Not Concerned With Her Appearance
The entertainment industry is known for putting lots of pressure on people to look a certain way, but Eve doesn't buy into any of that. She told iNews, " If I thought for a second about my appearance or my tummy sticking out or my butt showing in Keeping Faith, it would ruin it. I just don't care. As a middle-aged woman, I find myself really drawn to actors who are raw and allow us to see all our beauty and ugliness. I love to see the lines on people's faces. We are playing people, not aliens."
9. She Almost Quit Acting
Before taking the role on Keeping Faith, Eve had reached a point in her career where she was simply over it. Although she had a good amount of success, she was starting to feel a little frustrated that she had been overlooked for major opportunities. She contemplated walking away from acting and told the Mirror that she almost decided to go into midwifery
10. She Won A BAFTA
In a lot of ways, it took Eve went years without getting the recognition she deserved. However one place where her work has always been appreciated is the BAFTA Awards (in Wales). She has has won two BAFTAS for Best Actress, one in 2007 and another in 2018.
Tell us what's wrong with this post? How could we improve it? :)
Let us improve this post!