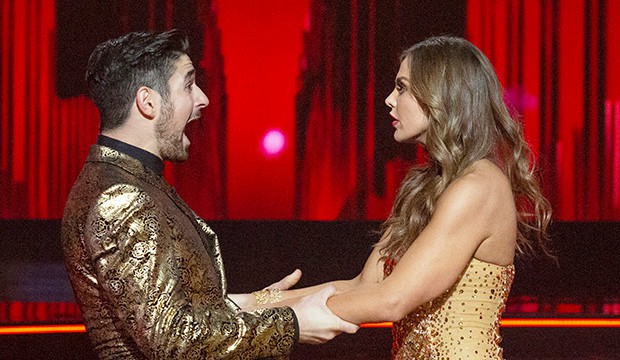 You might be wondering who Alan Bersten is, but if you've seen Dancing With The Stars before, you'll definitely recognize the face on this dancer. As a matter of fact, Bersten has danced on TV plenty of times before, and with the latest season of DWTS: Athletes, we all saw more of Bersten's amazing dance skills on the screen. Bersten is proficient in many styles including Contemporary, Jazz, Hip Hop, Broadway, and even Bollywood; this is exactly what makes him so great on DWTS. If you've ever wondered, as we're sure you have, here are 10 things you should know about Alan Bersten.
Bersten was born in Minnetonka, Minnesota, but his family is from Russia. He stayed in the state all his life and even attended the University of Minnesota. In the last few years, Bersten has traveled all over the nation for DWTS. Nowadays, he's based in Los Angeles, since this is where DWTS records their shows.
If you've ever wondered among your siblings which one is the best, Bersten might be able to give you an answer. The youngest of 3 siblings, Bersten might be the most successful out of them all. He has been doing what he loves to do since he was little, and now he is a dancing professional. Even more, he dances on television where he's got a massive audience.
Bersten started dancing fairly young. He was only 7 years old when he picked up dancing, and since then he's learned so many different styles. His concentration now is on ballroom, but he knows how to dance them all. He's also won a few awards and recognitions along the way. Just three years after he started dancing, he saw DWTS for the first time; it was destiny in the making.
Bersten was not the only dancer in the family. As a matter of fact, Bersten's older brother Gene was the one who taught him how to dance. Interestingly enough, Gene also happened to audition for the same exact show that Alan did: So You Think You Can Dance Season 10. The brothers auditioned together, and Alan went as far the Top 6 Males. Gene, however, didn't do as well, but he'll always be credited as the one who taught Alan all he knew.
After SYTYCD Season 10 ended, Bersten toured with the company and afterwards joined Burn the Floor's world tour. When he was done touring, Bersten decided to stay put for a bit and actually got a recurring role on Season 6 of Glee. Bersten was part of the New Directions' choir nemesis Vocal Adrenaline. Time to go back to those episodes and try to find Bersten among the faces.
When he's not working with celebrities on DWTS or dancing elsewhere on television, Bersten teaches dance at Dance With Us America. Dance With Us America is a professional ballroom dance studio located in the Midwest. It also just so happens that Bersten's brother Gene and his wife Elena both own the studio and are also teachers. Talk about keeping the passion within the family.
When he was younger, Bersten said that he used to love playing guitar. It isn't an unusual thing for artists to have multidisciplinary interests in the arts. It's common for dancers to also be able to play an instrument or be able to sing. It could be because they know how to keep rhythm so well. Either that or people are just naturally multitalented just like Bersten is.
Bersten auditioned for SYTYCD back in 2013, and at the time he was only 18 years old. He was a fan favorite straight away, but he was eliminated with Ingrid Michaelson's Can't Help Falling in Love. He danced with Jasmine Mason for that song, and according to the judges, the pair just couldn't get the right emotions across.
He had been touring with DWTS Live for five years before he became pro for Season 25. He did replace the main dancers a couple of times due to constraints, and the producers must've liked him enough to put him in the show full time.
Bersten's been in the news recently due to a tumor-removal surgery he had to undergo before this season of DWTS started. It gave Bersten a new perspective on life, but it didn't change what he wanted to do with his life–the only thing he's been doing since he was little: dance.
Tell us what's wrong with this post? How could we improve it? :)
Let us improve this post!