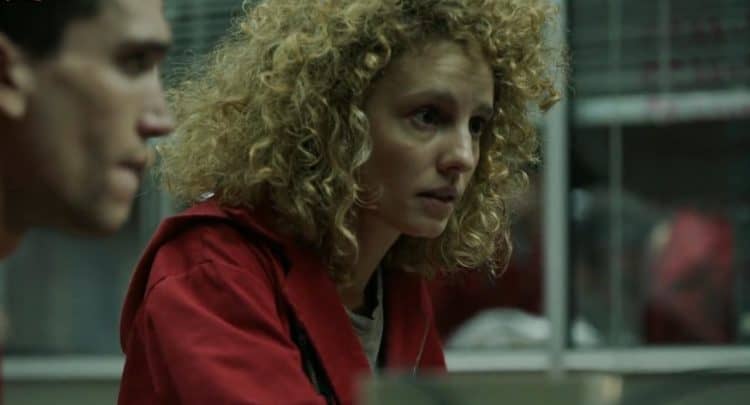 For many stars, the perfect opportunity doesn't always come early on. Lots of actors have to put in years of work before finding the role that changes their careers forever. For Ether Acebo, that role came in 2017 when she was cast on the series, Money Heist. Prior to the show, Acebo had made several on screen appearances, but none that could give her the amount of momentum she was looking for. Now in its second season, Acebo is back to show viewers why. Continue reading for 10 things you didn't know about Esther Acebo.
1. She Didn't Study Acting While In University
Many people who want to pursue a career in acting also decide to study the art form while in school. Esther Acebo took a different route, though. When she attended school at the University of Castilla-La Mancha, she wasn't focused on acting at all. Instead, she studied sports sciences and physical activity.
2. She Worked In Journalism
It's no secret that sometimes you need to try a lot of different things before you can be sure about what you want to do. Esther Acebo has definitely done her fair share of trying. In addition to her work as an actress, Esther has also worked as a reporter. She worked for the Cosmo Channel, also known as Cosmopolitan TV. The channel, which closed in 2019, was affiliated with Cosmopolitan Magazine.
3. She Has Two Dogs
All dog lovers know that the only thing better than one dog is two. Esther Acebo would likely agree with this sentiment. When Esther has free time from work, she loves to get outside and explore the world with her dogs, Djano and Petra.
4. She Began Her Acting Career On A Children's Program
When Esther began her acting career, she was doing something vastly different from the work she does today. She got her start on a children's program called Kosmi Club where she worked as the host for four years. When discussing her time on Kosmi, Esther said, With Kosmi Club it was more playing and acting."
5. She Has Theater Experience
Esther's TV work is what has made her famous to countless people across the world. However, working in theater was her first passion. During an interview with Unagi Magazine, Esther said, "Well, the theater in general brings me pleasure. The pleasure of being on stage is unmatched and until you experience it you don't understand it."
6. She's A TV Presenter
No matter how successful Esther gets, she refuses to get boxed into one category. She returned to her hosting roots to be a presenter on the show Non Stop People. The French TV show features a newscast format that presents celebrity news 24 hours a day, 7 days a week.
7. She Likes Comedic Projects
Most of Esther Acebo's rules have been on the serous side. However, she also enjoys laughing and bringing smiles to other people's faces which is exactly what she aimed to do when working on a project called A Night Like This.
8. She Believes She Is Living The Dream
If you ask most people how they feel about their job, their answer probably won't be that it is a dream come true. But Esther Acebo considers herself very lucky to be living what she calls a dream. Through her work, Esther gets to be fulfilled personally and professionally. Not to mention the fact that working as a professional actress can also come with a very significant amount of money.
9. She Considers Herself An Actress First
Many entertainers who are interested in different aspects of creativity often have a difficult time choosing which group they identify with more. For Esther Acebo, that choice is a no brainer. Even all of the different jobs Esther has had throughout the years, has been very clear about how her priorities are laid out in terms of her work. Regardless of her diverse work history, Esther says that she is an actress before anything else. However, her desire to try new things like will probably never go away.
10. She Loves Collaborating With Others
Unless an actor plans to have a career as a one person show, the ability to collaborate will be a very important thing to have. While some actors shy away from heavy collaboration, Esther Acebo welcomes it. She loves collaborating with others actors and believes that working together helps ensure that each project turns out to be its absolute best.
Tell us what's wrong with this post? How could we improve it? :)
Let us improve this post!