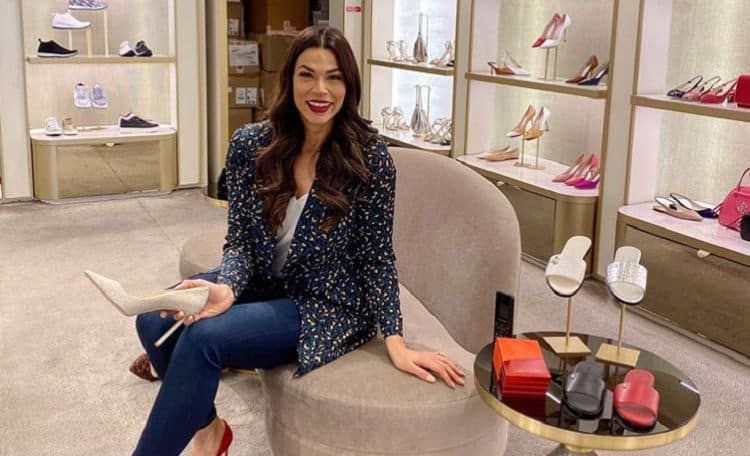 "The Biggest Loser" has given hope to many people who have, for a long time, dealt with being overweight. While most of the trainers cannot relate to what the contestants go through, Erica Lugo sets herself apart in that regard. She went from 322 pounds to 150 pounds and is now a trainer on the reality show. While it may have been a far fetched dream five years ago, today, Erica is a size eight and is glad to help others accomplish what she has. These facts will tell you more about her inspirational journey.
1. An accident led to her discovering she had cancer
At 31, Erica felt she had the world at her feet until one day when she was driving, her vision changed, and before she knew it, a man was pulling her out of the vehicle. A month later, she was diagnosed with thyroid cancer that had developed to stage 2. Erica thus needed radiation treatment as well as the removal of 33 lymph nodes and her thyroid gland; she had the surgery in January 2019.
2. What made her want to lose weight?
When people say they would do anything for their child, most say it for the sake of coming off as loving parents. Erica proved she could do anything to spend more time bonding with her son. When he was about three, Erica's son, one day, asked his mother to play with him. However, Erica was tired after working her 9-5 HR job, and her comfort was in eating Cheez-Its. She did not have the energy to play with the toddler; hence she declined and then realized it was time to make a change and prioritize her son. Therefore she began eating healthy and working out.
3. How she lost weight
When Erica began her weight loss journey, she had no idea what to do. Therefore she downloaded an app that would help to check her daily calorie intake, which she wanted to limit to 2,000 per day. She also exercised for 30 minutes four days a week, and within 13 months, she had lost 122lbs. After that, Erica concentrated on building muscle leading to a loss of 38lbs. In three years, Erica had lost 160lbs, and since she wanted to maintain her trim figure, she continued working out six days a week with cardio sessions that ran between 20-40 minutes.
4. She once dealt with body image dissatisfaction
It was disheartening for Erica that after doing everything to be healthy, she still got cancer. She revealed that it was like a slap to her face-losing 160 pounds, exercising every day, eating healthy meals, and then being diagnosed with cancer. Therefore even after she got home from the hospital and looked at herself in the mirror, she felt like a failure. She looked terrible with her puffy eyes and white skin, and all she could do was cry. Fortunately, she had a supportive boyfriend who reminded her she was beautiful and had achieved so much. That was the encouragement Erica needed to not dwell on the negative thoughts as she told Talk Nerdy With Us.
5. Her advice to those who want to lose weight
According to Erica, going on a successful fitness journey will be heavily dependent on your mental health. She said that unless you are feeling good about yourself, then all other facets of your life will be negatively affected. The trainer, therefore, advised everyone to combat their inner critic before it ruins their working, social, and family relationships.
6. She prefers minding her own business
Erica may be a fitness trainer, but she does not go dishing out her opinions unless someone asks for them. Therefore even when fellow trainer Jillian Michaels condemned Lizzo for applauding her body yet she is overweight, Erica said she is not a doctor to advise on anyone's health. Erica added that unless a doctor says one's blood work is not okay, she believes that one should be happy in whatever size they are comfortable in; after all, she is a size 8 with curves and loose skin, and she is content.
7. She started adding weight while in middle school
Nothing is appreciated in a family-like a good meal, especially when it is home-cooked. Therefore in Erica's family, the best way they showed each other love is by sharing a meal. In middle school, when children suddenly require more calories, Erica used to raid the pantry and ate whatever she found. Eating pizza and fast food every day was not a problem, and although she kept on putting on weight, it did not bother her because no one told her she was overweight. By the time she joined college, Erica was comfortable in her size and did not ever go to the gym.
8. How her fitness enthusiasm has affected her son
They say children are the best apprentices; therefore, if you want a child to learn, do not tell them what to; instead, do it, and they will copy you. Consequently, Erica's regular trips to the gym have made Connor, her son, view working out as a way of life. Since his mother incorporates it in her daily routine, Connor knows that exercising is not something to do in your spare time but rather should be a part of your everyday life. The same goes for eating healthy meals because he sees Erica spending her money on healthy ingredients regardless of how expensive they can be.
9. She is getting married in April 2020
Erica does not talk much about her first marriage; thus, even the name of her ex-husband remains a mystery. She is nevertheless happy that she got to be a mother since she had always yearned for motherhood. Unfortunately, she was forced to raise her son alone after she and her husband divorced. It was such a trying time for the fitness trainer who was so broke that she had to file for bankruptcy, according to Mamas Latinas. At 23, Erica could not even afford to feed her child hence she sank into postpartum depression. Her knight in shining armor came, and he has stuck with her through her worst times, and they will exchange their vows in April.
10. She has to live with EBV
Before Erica was diagnosed with thyroid cancer, she had also been diagnosed with EBV (Epstein —Barr Virus), which unfortunately has no cure. The virus can lead to other infections, including mono, and Erica had to handle the fatigue that accompanied the illness. To make matters worse, at the same she had to deal with Addison's disease the caused her adrenalin glands to malfunction.