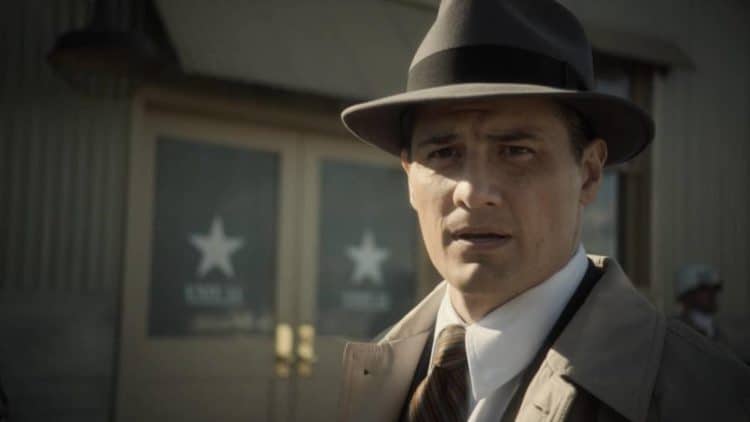 Enver Gkokaj has been doing his thing since he made his first on screen appearance back in 2006. In the years since, he has appeared on several popular TV shows including Law & Order: Special Victims Unit and Rizzoli and Isles. He's even been in some movies along the way. He is probably most well-known for his role in the TV series Agent Carter. Now he's getting the chance to bring his infamous character back as part of the cast of Agents of S.H.I.E.L.D. Enver joins the show for season seven, and his fans are excited to see him bring Daniel Sousa back to life. Continue reading for 10 things you didn't know about Enver Gjokaj.
1. He Has A Twin Brother
If you've ever thought you saw someone who looks like Enver Gjokaj pass you on the street, there's a chance your eyes actually weren't playing tricks on you. Enver has an identical twin brother named Demir. Although Demir isn't an actor, made a guest appearance in an episode of Dollhouse.
2. He Has A Degree In English
Where are all my English majors? There's still some hope out there after all. Enver has a bachelor's degree in English from UC Berkeley. He eventually went on to earn an MFA from New York University's Tisch School Of The Arts. During his time at NYU he was also a Rhodes Scholar.
3. He Started Acting At A Young Age
Once you get bitten by the acting bug it's hard to think about anything else. Enver discovered his love for acting at an early age. He got his start by appearing in school plays and other local shows during high school. At that point, it didn't take him long to realize that he wanted to have a career in the industry.
4. He Has A Patent
Not only is Enver a talented actor, but apparently he's an inventor to. There is a patent registered under his name for a focusing system for motion picture cameras. According to the patent, the system uses "A method of determining a focal distance between a principal camera and a target object utilizes first and second video cameras mounted in spaced apart positions relative to a principal camera.
5. He Was Surprised To Be Brought On For Agents of S.H.I.E.L.D.
Since Agent Carter ended in 2016, Enver has always hopes the character would be brought back in some capacity, but he didn't expect it to happen the way it did. He told TV Line that the call to be on Agents of S.H.I.E.L.D. was "very unexpected." Although there had been talk in the past about adding his character to the show, the timing came out of nowhere. However, he couldn't have been more excited about the opportunity.
6. He Appeared In The Avengers
Long before Enver was Daniel Sousa, he still had a foot print in the Marvel Comics Universe. He made a very quick appearance in 2012's The Avengers as a police officer. At some point in time, there was even talk about tying his role in the movie into the Daniel Sousa character.
7. He Loves Dogs
Enver Gjokaj has always been a very private person as far as celebrities go. He doesn't like to share many of the details about his personal life, but if there's one thing we do know about him it's that he likes dogs. He is a dog dad to a cute pup named Sawyer and he never hesitates to show him off on social media.
8. He Loves To Travel
Technically has replaced a lot of things, but if there's one thing it can't replace it's the experience of traveling. Nothing can quite compare to actually getting the chance to visit a new place and be surrounded by different cultures. Enver is an avid traveler and has been to places like Australia, Thailand, and New Zealand.
9. He's Half Albanian
Enver was born and raised in Orange County to an American mother and an Albanian father. Enver's name is common in Albania and other parts of southern Europe. According to FirstNameMeanings.com, the name Enver is Turkish for "radiance" or "luminous".
10. He's An Advocate For Mental Health
Mental health is often overlooked by a lot of people, but it's one of the most important factors to overall health. This is something Enver understands from first hand experience. After spending several years in the industry, he eventually realized that he needed to focus more on his mental health. He told Men's Health Magazine, "Whatever I've learned about mental health mostly comes from doing a lot of things wrong that I found didn't serve me."
Tell us what's wrong with this post? How could we improve it? :)
Let us improve this post!