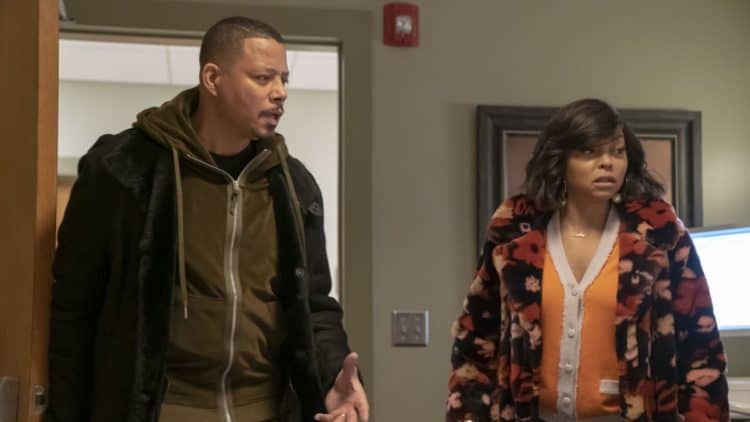 Anyone who isn't watching Empire already needs to put down their phone or whatever else they're doing and catch up with the rest of us already. Lots of shows are good, but only a few are record-breaking nonstop hits. Empire is topping the charts for all the right reasons. The writing is dynamic and draws you into the story immediately, and the cast is perfect for the job. That's not all though, the music is brilliant, and those costumes are truly next level. If any show on the air today needs a spinoff, or three, Empire could undoubtedly branch out and invade a few nearby timeslots.
1. Empire Afterhours
Shows that feature in-depth information about our favorite ongoing series have become more popular lately. A show like Empire has enormous potential for an after-the-main-act edition. From the wildly popular music to the on set real-life scandals, there's a ton of material to go over. The fashion alone is worthy of a miniseries but incorporated into a wrap-up extension; we think fans would be mesmerized.
2. Unmentionables
Life after the year 2000 seems like a place where we've come far enough to have serious adult conversations rather than avoid the uncomfortable. A show featuring gay musicians in hip-hop, hardcore rap, and other seemingly unlikely venues is overdue. Not a show with a character who is also gay, but a show where the plot revolves around the struggles of being acknowledged as a valid contributor without having to hide who you love. The subject is clearly still a touchy one, or it would have been done already, but it's worthy of a more in-depth look.
3. Prequel: Cookie
The sassy mama with a solid steel spine and attitude for days has more history than her time in jail. She is worthy of more than just flashbacks. Her story hasn't been fully explored, and we think she'd make a great prequel story on her own. Young Cookie got that swagger and fight from her life. We want to meet her before she got with Lucious and know how she came up in the world. She has so much personality it could literally fill a series on its own. Cookie back in the drug money days is a story worth telling completely.
4. Prequel Lucious
It doesn't take much effort to imagine that going into all the dark, gritty detail about Lucious' youthful endeavors would make for some compelling storylines. Covering more of those in-between years where he had to hustle and build everything and raise three boys alone would be a great way to ad perspective and round out the Empire world with a second series.
5. Thirsty
Who doesn't love an excellent crooked lawyer? Thirsty is a great lawyer with some serious skeletons in his closet. We think that closet could use some airing out, perhaps on its own show. Just as Gotham shows life before Batman, he could be worthy of a spinoff about the rest of his dealings. We think Thurston Rawlings has potential beyond the courtroom.
6. Inside Outside
Not every spinoff is a direct link to the original story. Sometimes it's just an inspiration. Lucious tried to rule his kingdom from inside a jail, and it didn't go so great. There are other wealthy men who have tried the same thing to keep their lives outside of the penal system together so they'd have something to go home to when their time has been served. Following that storyline down a rabbit hole or two with the same writers and casting director, and set in the same world as Empire would be a fantastic extension of the show. Watching those with the most to lose try to hold on, some successfully and some much less so, would make a vivid and dichotomous backdrop for a show.
7. My Brothers
The Lyon family has never been what you might call traditional. We love them for who they are, but there was a time when things would almost have been 'normal,' in their earlier lives. For the three sons of Lucious and Cookie, there was a time when there might have been sit-down family dinners and something more akin to what non-billionaire families do. All that changed when their mother went to jail, as their father built his Empire and struggled to raise them right. The story of the boys' childhood is one of epic transformation, and it shaped three unique characters.
8. Quincy
Maybe we shouldn't love him so much, but Quincy is compelling. We like his style and his backstory. He will no doubt be bringing more to the table for the show, but he could become his own spinoff story. We all remember the moment when Andre hands him Moneyball. He has more dimension than most characters you find in jail scenes, and we like him for an offshoot that may or may not have anything to do with the Lyons.
9. Behind the Scenes: Empire Music
Sure, we already mentioned that an after show recap program would be nice, but there's still room for a music-centered look at the fantastic vocal talents who fill out the cast list on Empire. A look at the casting couch and how they go about choosing their vocalists would make for a nice bit of lyrically lovely ear candy. After all, there's always time for an encore.
10. Becoming Camilla
We know, some fans loved her and others hated her, but either way, we didn't see as much of Camilla as we wanted to. Like Cookie, she had so much fire, and it's easy to see how there's another story to tell in her. Starting with the time she was between appearances on Empire, but working backward. The story of who Camilla was before she became that icy seductress is one we're curious to hear more about. We're betting there are some secrets in her tale and more than a few brilliant plot twists that led to her untimely demise.
Final Thoughts
So much epic drama, it would make a telenovela director proud, Empire is everything that is just right about drama on TV today. Shows like this prove that music-based TV doesn't need to be whimsical, cute or filled with teen love stories. Seeing something as genre-bending and perception expanding as Empire is always going to make the top of our playlist. We hope they have a dozen more seasons and at least three great spinoffs, but even if they don't, Empire is on our binge watch again list forever.