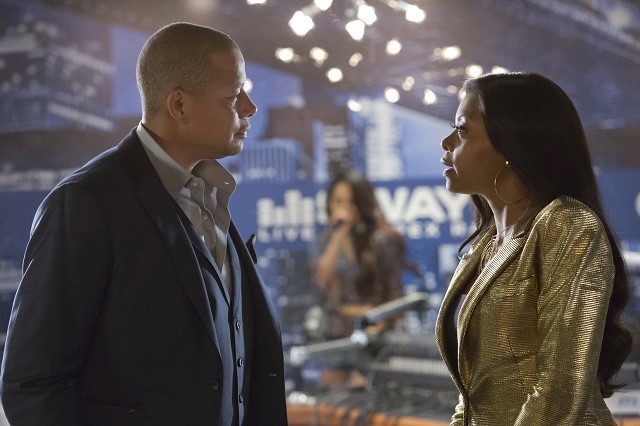 Empire's bloodthirsty leader is back with a vengeance, and it's take no prisoners. Lucious Lyon has been released from his cage and this week he has target set on everyone who betrayed him.
Lucious's release from prison has the District Attorney seeing red, and his family on high alert. Lucious publicly announces his return to the world, even though he is not allowed to set foot inside the company's building. Lucious then summons everyone for a family dinner to make it clear that he disapproves of everything that has happened, but he wants his family together nonetheless. Cookie declines, so Lucious takes a crack at Anika. He bets on Anika being miserable with her current situation, and he's not wrong. Anika is still very angry with Lucious, though, so she decides that working with Cookie is the lesser of two evils.
Cookie doesn't let Lucious slow her down. Hakeem puts Cookie in a tough position when he announces that his girl group "Mirage a Trois" will be ready to perform live on the air in three days. To make matters more difficult, Hakeem wants to jump in with both feet, declaring himself the only producer to work with the girls. What, did he just meet Cookie? Hakeem needs to learn to ask for help when dealing with temperamental women. Drill Sergeant Cookie knows how to whip these girls into shape, using the skills she learned from prison, of course.
Mama Lyon is a multitasker, and armed with the information Anika has provided, she decides to crash a party Lucious is throwing at Lavidicus. (Here I am going to take a moment to bow down to the brilliance that is Pitbull and Jamal doing a song together.) Looking very much like a lion with a full-on mane, Cookie rubs Lucious's face in Hakeem's new sound, complete with a surprise cameo by Timbaland, making everyone stand up straight. Cookie makes sure to record this well-calculated stunt to jumpstart Lyon Dynasty. Jumpstart it does, with phones ringing off the hook the next day, and Portia yelling at people to be quiet so Cookie can speak. However, all of the progress Cookie makes is undone when Lucious buys controlling interest in the satellite radio station, cutting off Cookie's direct line of advertisement. Oh, he also steals Valentina from Lyon Dynasty for good measure.
The scenes which pulled at the heartstrings the most were those surrounding Andre and Lucious. Lucious is not being kind to Andre, making his son jump through hoops to get back into his good graces. Andre is willing to do what it takes to get back to Empire, but the one thing he is extremely reluctant to use is his unborn child. Surprisingly, Cookie encourages Andre to be honest with his father if he really wants to get his foot back through the door. Lucious is happy at the prospect of being a grandfather, but his initial reaction is fear of the genetic tendency of bipolar to run in his family. So he coldly rejects Andre and denies him his chance to come back to Empire.
Lucious is also making Jamal jump through hoops, scolding him for not being able to handle negotiating terms with new talent from the ghetto, Frank Gather's daughter Freda. She is talented, but all it takes is a temper and a gun to erase all of that. I'll give a whole lot of credit to the writers here for recognizing an opportunity to tell a story from the beginning about an artist whose anger could cancel out a fruitful future in a split second. Lucious intends on saving her from herself, even though he has D.A. Ford stalking his every move. Basically, this episode was all about everyone who hates Lucious, and what he did to make them hate him more. The only good thing he does in the hour is agree to produce Jamal himself.
Final Note to All: Download Pitbull and Jussie Smollett's new song, "No Doubt About It," IMMEDIATELY.
Cookie's Quotables: (Reader discretion is advised)
"I'm not talking to you Guadalupe! You need to find your draw's!"–scolding Valentina for her unprofessional behavior
"I guess you missed that while you was up here Living La Vida Loca."–scolding Hakeem for getting involved with Valentina, the star he's producing
"I doubt if Jesus Christ himself could save you by burning his hands, but I'm gonna save my sons."–refusing Lucious's olive branch
"I'm always gonna eat, just not with you."–clearing Lucious's dinner table her way
"Let me guess; those five job offers never happened? Are you knees sore? Did you run out of lubricant?"–Insulting Anika is one of Cookie's favorite pastimes
"Sometimes you have to pull at someone's heartstrings to get paid."–encouraging Andre to tell Lucious he is going to be a grandfather
"I want push-ups with your knees up. You ain't no punk!"–training Mirage a Trois prison style
[Photo credit: Chuck Hodes/FOX]