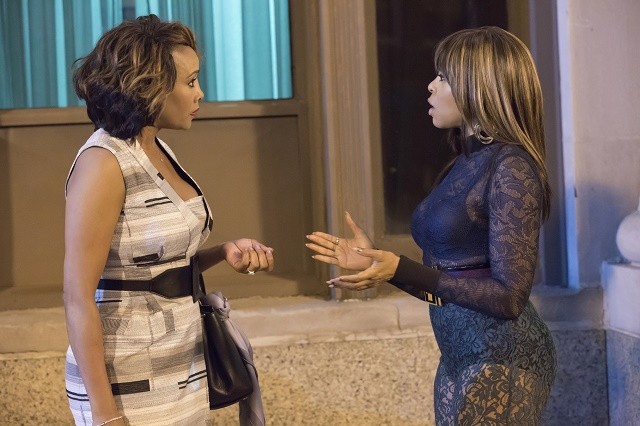 Anyone who watches Empire knows that Lucious and Cookie have good children in spite of their parents' attitudes. Lucious takes desperate measures to get Hakeem back under his influence, but his approach comes back to bite him in a profound way.
Becky begs Lucious to reconsider this next move, but Lucious doesn't know any other language other than tough love. This couldn't come at a worse time since Hakeem and Laura are doing well, and Hakeem is finally getting his confidence back. Whoever invented the concept of a battle of words probably had no idea how literal this would become. Cookie and Lucious continue to win the award for Worst Show of Supportive Parenting by betting on Hakeem and Freda's battle, with control of their son's career as the prize.
Jamal is under pressure to submit a strong song to be the new Pepsi artist. Jamal is working well with Cookie, but all she can think about is that this is the perfect opportunity for Jamal to realize he needs to come back to his mother. Lucious comes up with a song of his own for Jamal. Jamal enjoys working with both of his parents; he just can't find the right balance, so he calls both of his of them to the studio in the hope that they can all work together to collaborate on a terrific entry for the Pepsi contract. All Cookie and Lucious accomplish is embarrassing Jamal and themselves in front of a room full of musicians. Hakeem actually dispenses the best advice to Jamal for dealing with their parents. He tells his brother that he needs to take the best of both of them and put it into his music. That's exactly what Jamal does, and it pays off. In return, Jamal advises Hakeem to use his experience as a performer to steal the crowd in his upcoming battle.
Lucious is also desperately trying to close a deal with Swift Stream Media. His desperation is too apparent and too dangerous for so delicate a deal. Andre warns him that Empire can't afford to lose this deal by being reckless, but Lucious answers to no one. You know things are bad when even Thirsty is shaking his head. The deal seems even more dangerous since Mimi is clearly distracted and shows up late to the meeting to sign the contract.
I would say that the Lyons are having a tough week, but not nearly as bad as they think they are. Anika turns up pregnant with Hakeem's baby. There are no words for that particular bombshell. Anika feels completely overwhelmed until she has a chance encounter with Rhonda. Rhonda explains how nice Lucious has been to her after years of ambivalence now that she is carrying his grandchild. This helps Anika gain the confidence to tell Hakeem the truth, until he tells her he's falling in love with Laura. Instead of backing off, or telling the truth, or doing anything remotely rational, Anika wears a wig to stalk Laura. Look what this family has done to Boo-Boo Kitty.
So the battle rages on. Freda has a few good shots insulting Hakeem and basically every member of the Lyon family, but Hakeem has the last laugh. He works the crowd just like Jamal told him to and wins the battle. What's more, Hakeem boldly smashes his last name and announces he will officially be dropping it, thereby severing the chokehold he feels Lucious has on him. Flashback to a young, homeless Lucious looking up at a lion statue for inspiration shows just how much this actually hurts him.
As if all this wasn't enough family drama, in walks Vivica Fox in her debut as Cookie's sister Candace. In the span of two minutes, we learn more about Cookie and her sisters than in the last season altogether. Can you believe Cookie's real name is Aretha? Candace married up to get out of her neighborhood and has barely seen either of her sisters since. She walks back into her sister's life to let Cookie know that Carol is in serious trouble. Since she has abandoned her children, this time it's serious. We'll pick up this family reunion next week when the sisters head home to find Carol.
Who made the splashiest entrance and/or exit on this week's episode?
[Photo credit: Chuck Hodes/FOX]