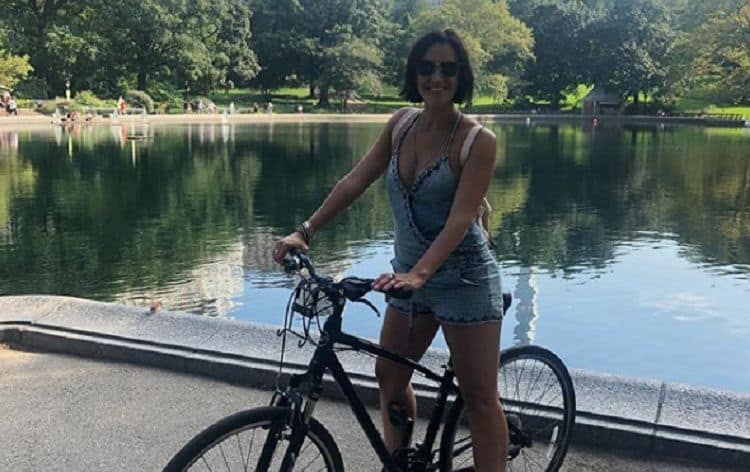 Emma Hunter has been making people laugh for more than a decade. The talented actress/comedian has brought her skills to the screen more than a dozen times, and each time, viewers have been happy to see her. While her work is best-known in Canada, she has officially reached the U.S. audience thanks to her role as the host of Fridge Wars. The unique cooking competition show originally aired in Canada earlier this year, and has recently made its debut in the United States. While the chefs and their unique meals are the focal point of the show, Emma is truly the shining star. Keep reading for 10 things you didn't know about Emma Hunter from Fridge Wars.
1. She Married Her College Sweetheart
There are lots of people who believe that young love doesn't last, but Emma and her husband are proof that it does. Emma met her husband, Tom, when they were both studying at Queens University. She was just 21 at the time and they quickly started dating. Four years later, Tom popped the question.
2. She's Classically Trained
Those who are not familiar with Emma Hunter and her work may see her hosting Fridge Wars and think that she's new to the scene. However, that couldn't be any further from the truth. Emma has been acting professionally for over a decade and is a classically trained actress who studied theater while at Queens University.
3. She Doesn't Have A Big Social Media Following
Even though she has been in the industry for quite some time, her social media following doesn't reflect that. She is active on both Instagram and Twitter. At the moment, she has just over 2,000 followers on Instagram. Her follower count on Twitter is a little higher at 4,127.
4. She Was A Dancer
Emma was born to be a performer and she has been passionate about entertaining people for as long as she can remember. Before Emma decided that she wanted to seriously pursue acting, she was a dancer. She took dance lessons for 10 years before deciding to hang up her shoes.
5. She Has Theater Experience
Emma has found lots of success on TV throughout her career, but like many other actors she actually got her start on the stage. In fact, her mom was involved in a local community theater when Emma was younger which helped expose her to the world of acting. Emma eventually went on to appear in several productions of Shakespeare's work where she played characters like Juliet and Perdita.
6. She Loves Spending Time Outdoors
The entertainment industry may be known for being glamorous and over the top, but Emma prefers a more simple approach to life. She enjoys appreciating the beauty of nature and likes to spend time outdoors. Some of her favorite outdoor activities include hanging out at the beach and exploring local trails with her family.
7. She Loves The Unpredictable Nature Of Comedy
Emma has been able to do lots of different things over the years, but comedy has a very special place in her heart. While making people laugh is a big factor, she says her favorite thing about comedy is the fact that you can never know what's going to happen next.
8. She Studied French And Spanish
Acting isn't the only thing Emma has put a lot of effort towards. She also studied French and Spanish for several years. However, it's unclear whether or not she is fluent in both languages. Either way, being able to speak multiple languages is always a good skill to add to the resume regardless of what you do for work.
9. She's Had Some Strange Jobs
Most people can relate to working odd jobs to stay afloat, but Emma's experience might be one of the most bizarre of them all. She told Comedy Uncovered that she once had a job where she "had to jump out of closets as a fairy for birthday parties". She added, " I did this when I was 24…so some of the parents would have been the same age as me. They'd be filming me prancing around, doing an English accent at their three year old's birthday. It was humiliating. I mean, just kill me please. I'm going into PTSD right now just thinking about it. It was pretty bad!"
10. She Hopes To Do More Work In The US
As a native of Canada, Emma has done most of her work in Canadian productions. However, she's also been involved with some American projects as well. She hopes to get the chance to do more work in the United States are her career progresses and she continues to establish herself as an international star.