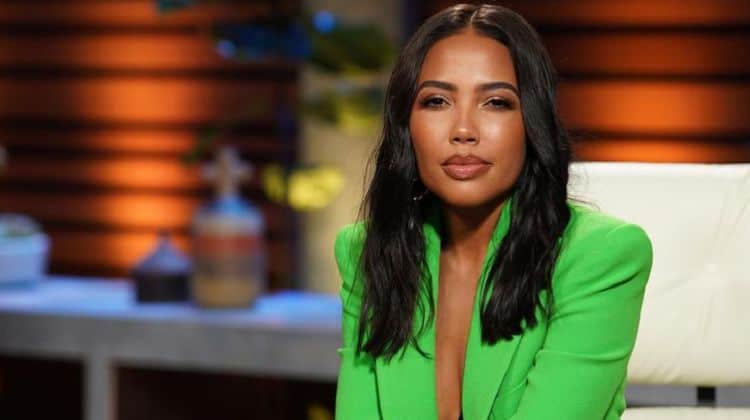 Emma Grede is your everyday woman with a mindset that is not your everyday woman. She's a woman in her late 30s working hard to live her dream, and she's not afraid to hustle. She respects it, she owns it, and she is a woman who uses her own confidence to get what she wants – even when she can look back and say that she was naïve because she simply did not know 'what could go wrong' or just how scary things could be when she went for it. Thankfully, that mindset is one that worked out well for her, and now she's thriving. She made history as the first black female to take a seat in an investment chair on the hit show, "Shark Tank," and she's ready to take on a lot of things that might seem scary but simply seem like a good idea. Just who is Emma Grede the extraordinary business mind?
1. She's CEO of Good American
Grede is a woman who knows a good thing when she sees it. She's gotten to co-found and work as CEO for the Good American brand of denim, which is among the biggest denim brands in the world. She knows a good thing, and she knows how to make it make money for her.
2. She's Working with Kim Kardashian
One of the projects she's lent her money to and invested in is a big one with a big name behind it. Kim Kardashian is a worldwide celebrity, and she's managed to turn her literal existence into a profit. She has her own shapewear line called SKIMS, and Grede is a founding partner of the major brand.
3. She Looks for Two Qualities
If you want to see this woman invest in your own business and your own future, you better bring your hustle to the table. You also better bring your passion to the table. If you are passionate about what you are doing, and you are doing what you are passionate about, she's going to see it. You must be willing to do anything it takes to win her over, to make your business a success, and to make it big.
4. She Got Started Young
She was 24. She was working as an event show production company that was hosting some fashion shows. She did the job, she saw what she could do with what she was thinking, and she founded her own marketing agency. She may not have had the experience or even known what was what or how she was going to make it work, but she made ITB Worldwide work. She was able to land some of the biggest clients in the industry 15 years ago – think Kris Jenner, for example.
5. She's British
Emma Grede is British. She attended The London College of Fashion (before dropping out), and she worked hard to begin her career in London. Though she is British and spent so much of her life in London, she's currently living and working in LA. She lives with her husband and their two children.
6. She Doesn't Believe Being Famous Means You Can Sell
Some people seem to think that if you have a famous face, you can sell anything. Emma Grede does not agree with that assessment. She once told Elle.com that "Not all famous people can sell stuff," and went on to say that if you're not authentic and you don't align with the product, it simply does not work.
7. She is All About Female Empowerment
She is looking to help her fellow women make big moves, and she's excited to do it. She is looking to make sure that every aspect of a woman's business mind is covered, is recognized, and is given the chance it deserves, and that is how she is going to focus on her Shark Tank appearance.
8. She Says No A Lot
In a world where too many people feel bad saying no and they overextend themselves too much, Emma Grede is going against the grain. She's not worried about hurting anyone's feelings. She's worried about making good decisions that work for her, her business, and her family. She says no a lot, and she doesn't let the guilt get to her. It's a great way to live.
9. Her "No" is Easy to Figure Out
If you want to know what she's doing and how she's doing it, here's the deal. When she says no to someone, it's nothing personal. Her entire motto is simple. If she's asked to do something that will not bring her closer to her goals, she does not do it. No, thanks. Is a complete sentence, and it would do well for all of us to remember that when opportunities present that are not good for our goals.
10. She's a Role Model
If Emme Grede is one thing (and she's so much more than one thing) we'd call her a role model for all. She's just amazing, and she's doing big things we should all take note of. Study her, learn from her, and take her advice – she's someone who gives the good kind.
Tell us what's wrong with this post? How could we improve it? :)
Let us improve this post!