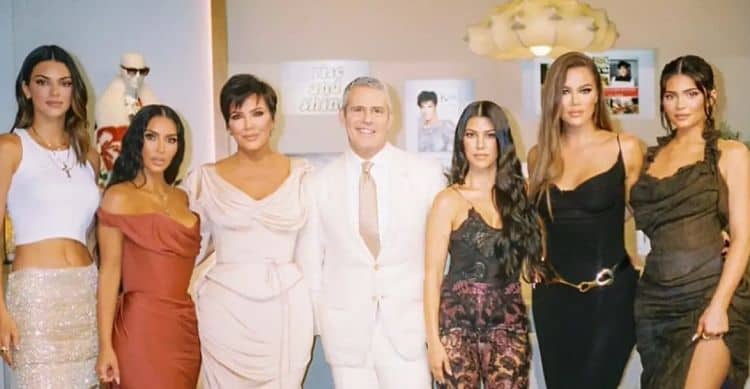 Kristen Mary Jenner needs no introduction. She is an American socialite, media personality, businesswoman, and producer. She is best known for her work on the reality television series Keeping Up with the Kardashians. She has four kids from her marriage to Robert Kardashian: Kim, Kourtney, Robert, and Khloé. Besides, Kris has two kids from her marriage to Bruce Jenner (now Caitlyn): Kylie and Kendall. She likes spending more and more time with her daughters. However, her relationship is not the same with each of them.
Which daughter is tough to work with?
During an episode of Keeping Up With the Kardashians, Kris Jenner reunited with her daughters, and host Andy Cohen grilled the world's most popular momager for secrets on her family-run empire. Andy asked her plenty of interesting questions, and Kris looked confident while answering them. One of the questions was which daughter is the most difficult to work with and if she feels guilty taking a cut from her kin. Andy didn't want to confuse Kris, so she questioned her role as a manager and Kris revealed that a manager is someone who could organize all the chaos and was coming up with outstanding ideas to work together. In the meantime, the manager could collaborate with his or her children.
The conversation continued
The conversation continued and Kim Kardashian and Kendal Jenner came forward to defend Kris Jenner, saying that their mother had never leaked stories to the press and had never ever manufactured drama for the gain of the family. Kim Kardashian went on to say that Kris Jenner is the best mother in the world and that they are such a close family. They love each other and have a lot of respect for one another. Afterward, Andy asked the question about the most difficult daughter and Kris said that it is her eldest daughter Kourtney Kardashian.
Kourtney Kardashian agreed with her mom
Hearing this, Kourtney Kardashian agreed and explained that she doesn't want to do something she has no interest in. She likes to say no to most things, and she doesn't agree upon anything until she is provided with all the details. Kris Jenner admires the relationship of Kourtney Kardashian and Travis Barker Despite being a difficult daughter to be with, Kourtney makes her mother feel good. Kris Jenner also supports her and wants her to get settled with Travis Barker as soon as possible. During an On-Air With Ryan Seacrest appearance, Kris Jenner shared her taught on Kourtney's relationship with Travis. "Isn't it great?" 65-year-old Kris Jenner said. "I know, it's the best." The mother thinks that Travis and Kourtney look good to each other and they should spend their lives together because the chemistry between them is simply the best.
Kris Jenner's love for her other daughters
In addition to Kourtney Kardashian, Kris Jenner tries to maintain a strong and friendly relationship with her other daughters. For example, she took a stand when Kim Kardashian and Kanye West filed for a divorce. She wanted them to solve their problems, but this could not happen. Kris was once asked to clarify a Kardashian shared on her Instagram Story when she re-posted a photo of a vial of the Blink-182 drummer's blood. "Here's the thing, I don't know what that means," the mom of six clarified. "I've got to have a little chat with Ms. Kourtney and find out what's going on." Please remember that it is not the first time Kourtney Kardashian has been called the most difficult person in the family. Khloe Kardashian once said that Kourtney was frustrating on Keeping Up With the Kardashians because she did not want to share all the secrets of her personal life. In the meantime, Khloe Kardashian said a lot of positive things about Kris Jenner. Like Kim Kardashian, she called the mom the best one in the world. She said that Kris works too hard; nobody can work this much. She used to work for hours at the beginning of her career. She was basically a hard worker. She believed in her strengths and always encouraged her daughters to be the best versions of themselves.
Kourtney's relationship with Travis
The two are often seen together. Some people say that they have secretly tied the knot, while others think that they are still dating. Most recently, Travis and Kourtney were in Las Vegas for a private trip. This sparked engagement rumors. Barker's daughter Alabama then shared a post on social media and wrote that she was happy for them.
Tell us what's wrong with this post? How could we improve it? :)
Let us improve this post!