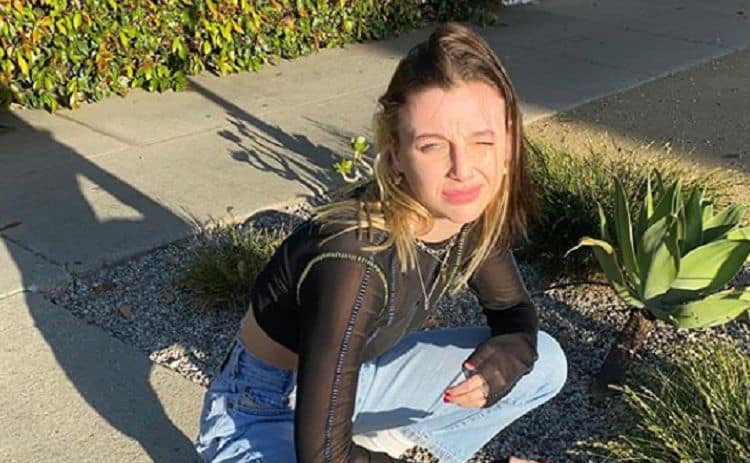 If you are a fan of YouTube, then you must know Emma Chamberlain; she is all over YouTube feeds and Instagram ads. YouTubing is a career that most people have begun developing an interest in due to the possibility of making a lot of money. It has become a gold mine, and YouTubers continue to double their efforts in making a living. Emma's popularity and wealth came from YouTubing, and she now has many followers on both Instagram and YouTube. How much do you know of this famous YouTuber? Let me take you through some facts about her so that you can understand her beyond YouTubing.
1. She started YouTubing while doing DIY projects
Emma's fame as a YouTuber makes many people think that she took her time to train on it. The assumption is not correct as she started as a DIY girl posting videos to her fans. She revealed that she had no idea on crafts, but was trying to imitate the popular arts at that time. At first, the skills did not get her anywhere, but she later practiced and gained the best out of it.
2. She is in the sister squad
Emma is a member of the Sister Squad that is formed by the Dolan twins, Charles, James and Emma. The group came together in 2018 through a beauty vlogger, and together, they make hilarious videos. They pose in most of the videos as best friends, and the captions in the videos suggest that indeed they are.
3. She might be in a relationship with Ethan Dolan
The relationship of Emma is not confirmed, but she might be dating Ethan Dolan, who is a fellow YouTuber. According to Seventeen, the fans have been speculating about the relationship for some time now. The two spend some of the time together, as seen in some of the Instagram photos. Grayson Dolan, who is Ethan's brother, just confirmed it after Ethan posted a video. The fans reacted differently with some not believing the claims, but with time, everything will come to light; it always does.
4. Her net worth stands at $2.5 million
Because of the large number of fans and viewers on her social platform, it does not come as a surprise that Emma is wealthy. She has amassed a net worth of $2.5 million from YouTubing. She makes $6,000 a day or more through her video engagement. Most of the earnings are through product endorsement deals from various companies and individuals. The leading companies that she has product advertisement deals with are Hollister and Curology. Emma posts around one video each week with ads of some of the companies that pay $0.01 per view. The large number of viewers translates this to a reasonable sum of money.
5. Her first video to go viral was in 2007
After she started YouTubing, she did not have a good fan base at first, but things later changed in July 2007 when her video went viral. The video was about owing an apology to the dollar store. It currently has over 4 million views, and it introduced most of her subscribers to her channel. The video portrays her goofy and sarcastic personality.
6. Her family experienced financial problems when she was growing up
Despite her current net worth of $2.5 million, Emma's family was not financially stable when she was young. She admits that there were times when she could fail to go to the movies because there was no money for her to buy the tickets. Her dad was an artist, and hence, the income was not stable. Emma may have struggled to get finances when she was young, but today she is a happy woman. All she needs is post a video and wait for the clicks to trickle money her way.
7. She was a cheerleader while in school
Emma was previously a cheerleader, and she describes herself as a sassy one. She was in cheerleading for nearly five years, and cheerleading was her way of becoming famous as Emma always dreamed of fame. Emma was a member of the All-Stars cheer team in California as well as the cheerleading team in high school but later left the group. Cheerleading prepared her path of YouTubing as she learned how to deal with fans, and the skills have been beneficial to her career.
8. She is a vegetarian
Emma shared that she is a vegetarian in one of her videos. In some of the videos that she posts about her lifestyle, Emma insists on anything vegan. Although Emma is a vegetarian, her brother posted a video of her trying meat for the first time. Despite tasting meat, she seems to remain a vegetarian as she is in love with that kind of lifestyle. Emma also loves coffee and has one video of her preparing her favorite coffee. Emma's passion for coffee is so deep that she tells her fans that they need to watch the video of her making it and also try it.
9. She has vast followers on Instagram and YouTube
The life of Emma mainly revolves around Instagram and YouTube. She has over 7.6 million subscribers on YouTube and over 7.4 million followers on Instagram. The rise in the number of subscribers on YouTube is due to the comedy in most of her videos. She knows how to capture the attention of her fans to pass some message in the funniest way possible. It is this huge fan following in these platforms that makes most companies approach her for product advertisements.
10. Her parents divorced when she was young
The early life of Emma was not that good. It was full of challenges, but they became a stepping stone to her prosperity. Emma was born to Sophia and Michael in California. The parents went through many financial struggles and later divorced when she was five years. She was left behind with the father who struggled to make ends meet. The reasons for the divorce remains unknown, but it might be due to the challenges that they were facing.
Tell us what's wrong with this post? How could we improve it? :)
Let us improve this post!